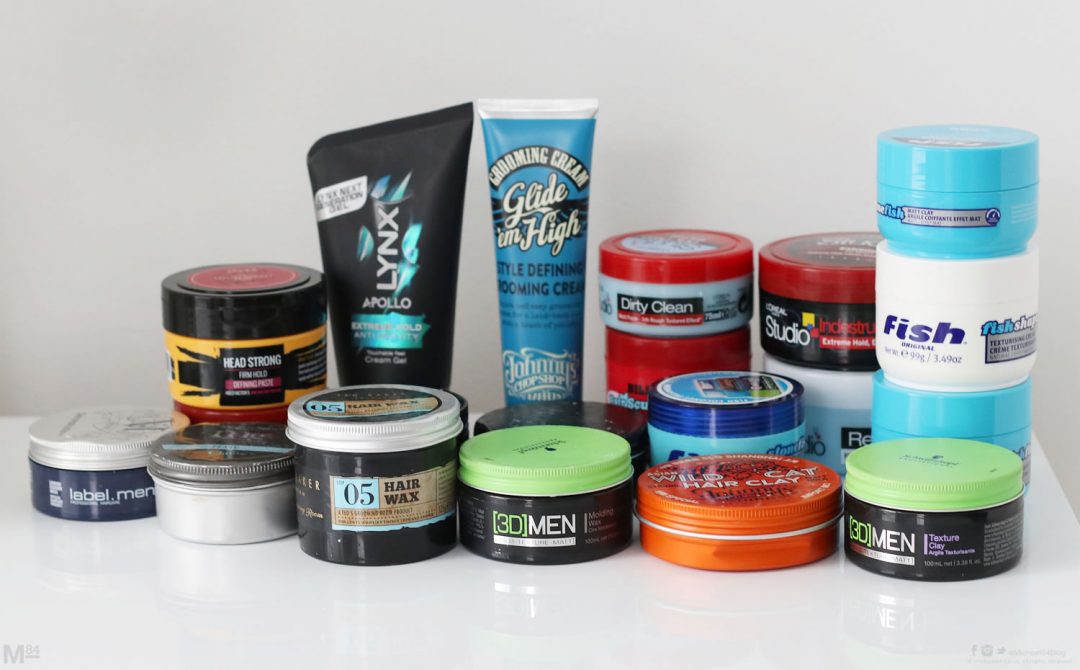 Should I buy clay or wax?
What is hair pomade?
What hair product do I need for a low shine look?
If you've got questions like this, you're not alone. If you're wondering what are the best hair products for men, you'll find them in this guide.
The world of hair products for men is a large one. From Wax to pomade, powder to clay, there's a ton of styling products out there.
I'm going to go into exactly what each product is for, along with some of the best brands depending on your type of hair.
But what type of hair product should you be using?
With so many different types to achieve different styles and finishes, not to mention the many different brands, buzzwords and variations of each type.
Whether you're confused or just looking for some tips or advice, here's everything you need to know about grooming and men's hair care products.
Men's Hair Product Types
There's a vast array of different product types, and just to confuse things further, different brands will have different types of compounds, so you can get a wax which could be more creamy from one, and a wax which is more greasy than another. The main product types are:
Gel
Wax
Paste/Putty
Styling Fibre
Pomade
Clay
Cream
Hair Spray (Variations of hold)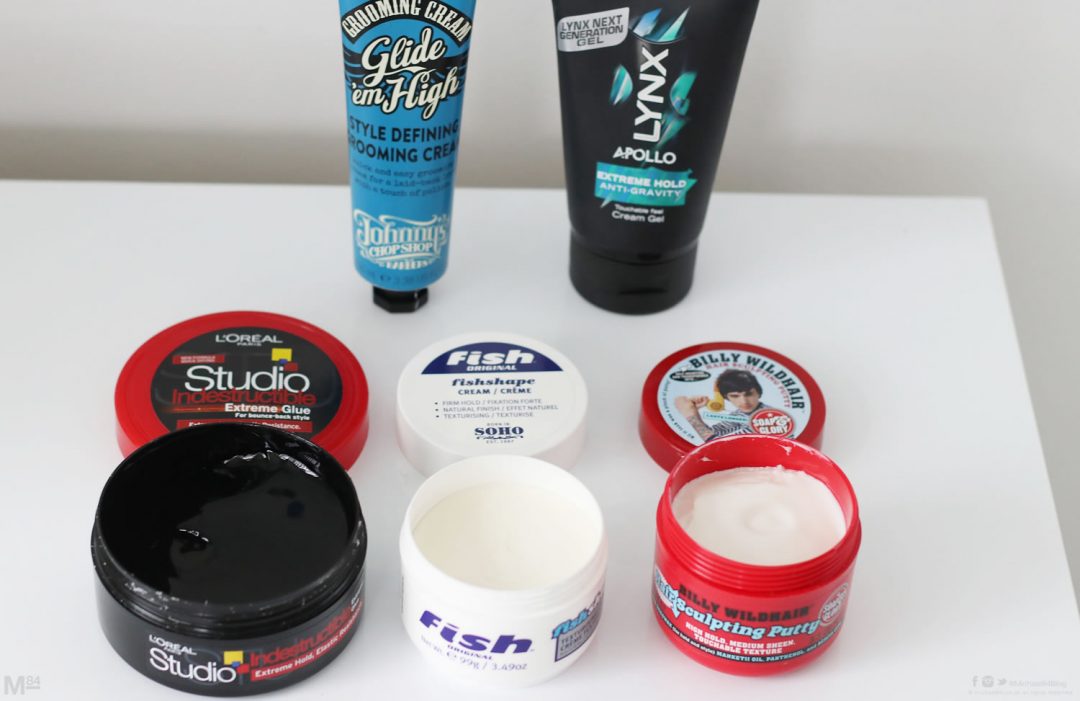 Hair Gel (High Hold, High Shine)
Do you want an absolute definitive style which won't move and be nice and shiny? Gel would be the way to go.
If you're looking to have a wet look, gel is the way to go. Back in the good old days of the 90's it was the most popular product, but as time has gone, male grooming has evolved. Styles have changed and newer products have been introduced, and it has slide down in the popularity charts. Gel works well in short and medium hair styles.
Key Points
High hold, maximum shine. The wet look.
Easy to apply
Stiff and dry feel
Hair becomes dry
Gel flakes are inevitable and not a good look.
Best Men's Hair Gel
The best men's hair gel you can get for my money is the L'Oreal Indestructible range. From the L'Oreal Studio range, they have a long standing good reputation of producing good hair products across the board.
If you're looking for a high hold, a wet look and shine, this is the one to go for. You can pick this up for under £4.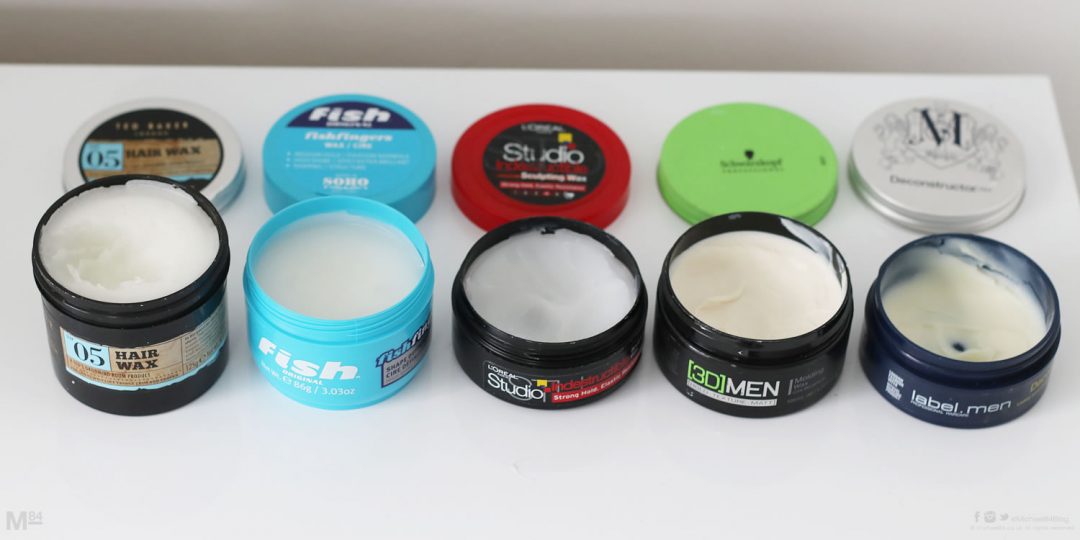 Hair Wax (Medium Hold, Medium Shine)
If you want to have a little bit of hold with a little bit of shine, hair wax would be a good choice.
Wax is quite a versatile hair product, in that it can achieve a number of different looks, and work with different lengths of hair. If you're just looking to add some texture, get a messy bed head look and want some definition without a strong shine, this would be a good choice.
Waxes can differ from brand to brand. Some are more 'waxy', and can be quite greasy, while others can be more creamy, which gives a duller shine but provides slightly less hold.
Key Points
Medium hold, medium shine
Easy to apply
Hair will have a soft feel
Can result in clumps if used in the wrong hair or if used incorrectly.
The Best Men's Hair Wax
When it comes to hair wax, the best options out there include Schwarzkopf 3D Men range, along with the Label.Men range deconstructor product. These are easy to apply, give a medium hold which is perfect for short to medium length hair, and leave the hair feeling soft.
Paste/Putty (Medium Hold, Medium Shine)
Paste is similar to wax when it comes to shine and finish, but is usually a less greasy compound. It provides a really nice matte finish, and is easy to work into the hair when it's dry or damp. Great to use if you're going for a style which needs to stay down, when you want to add a bit of shine to your look.
Key Points
Medium hold, medium shine
Easy to apply
Hair will have a soft finish
Hair Styling Fibre (High Hold, Low Shine)
Styling fibre is my personal favourite product. It's really easy to use, the compound is flexible with a cream like feel making it easy to work into the hair, however once applied it provides a good strong hold.
Good for short and medium hair, it will keep your hair up while also giving you a matte look.
Key Points
High hold, low shine
Easy to apply
Hair has a medium-soft finish.
The Best Men's Styling Fibre
When it comes to styling fibre, the best I have used has been the Toni and Guy styling fibre. It's easy to use, is a really nice compound which is easy to work into the hair, and leaves a really nice finish.
American Crew styling fibre would be another contender, which has a very good reputation of being a quality hair product for men.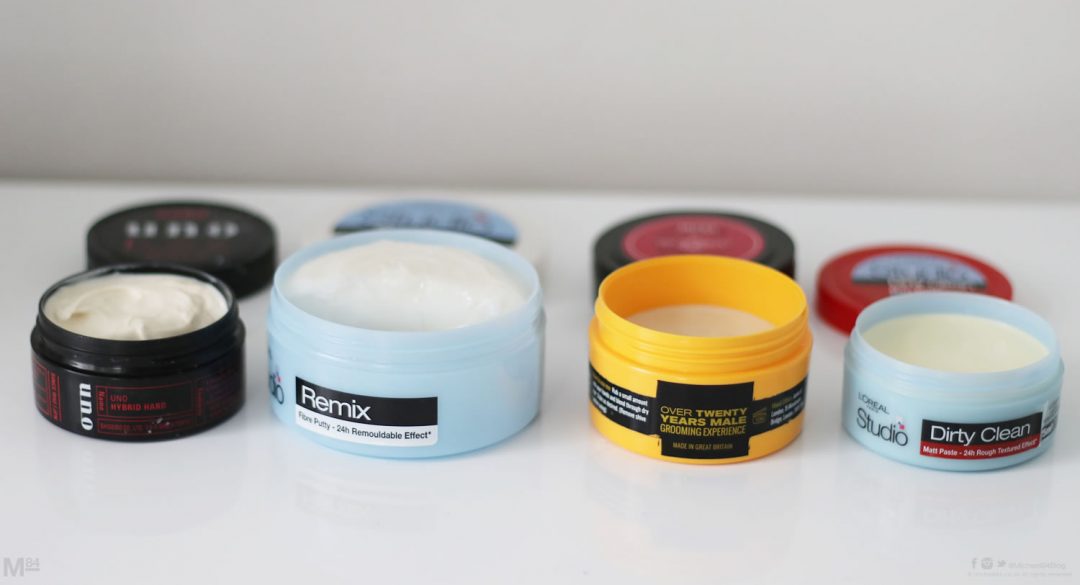 Pomade (Medium Hold, Mid to High Shine)
Whereas you could say gel has been on it's way out for a while in terms of popularity, Pomade has taken it's place. It doesn't have as much of a hold and doesn't usually provide the same wet look, it does usually provide a medium hold and a high shine.
They are superior however in that they are better for the hair, looking after it more. Pomade can be oil or water based, with the latter being preferable, and are usually creamy in texture.
Key Points
Medium hold, mid-to-high shine
Easy to apply
Usually used to keep the hair down rather than up
Soft finish
The Best Men's Hair Pomade
When it comes to pomade, you've got to give American Crew pomade a look in. With an array of different variants on offer, there really is the right product which will suit your hair type, and the style you are going for.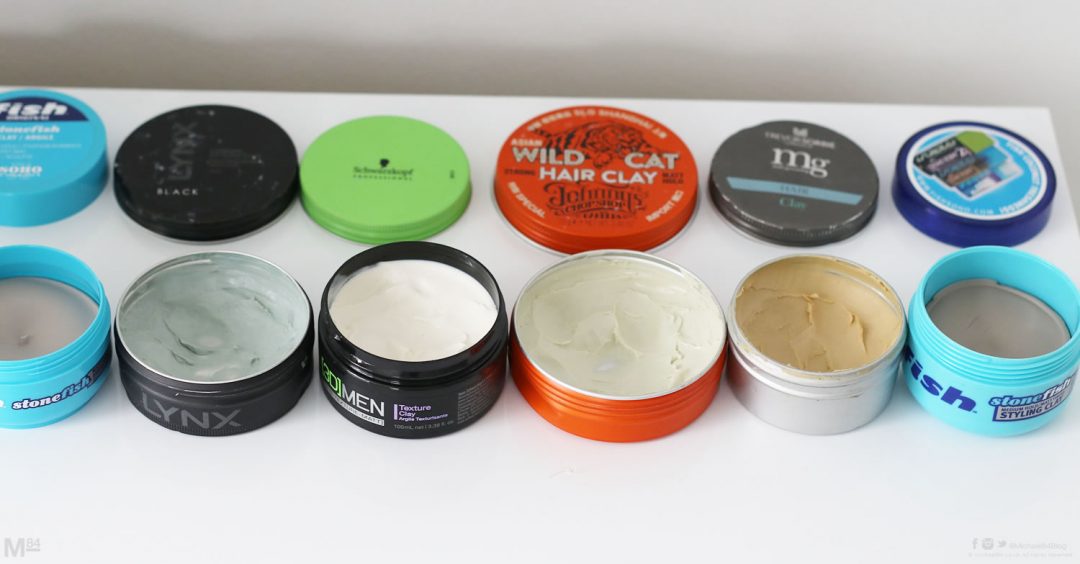 Clay (High Hold, Low Shine)
Looking for a high hold for your hair style with a matte finish? Clay is the way to go. Clay can be incredibly thick, which makes it hard to work into your hair, meaning it's better for shorter hair styles.
It provides a dull matte look, and has a high and firm, so will keep your hair up for a long time.
Key Points
Firm hold, matte look
Harder to apply
Soft dry finish
Keeps hair up
Best Men's Hair Clay
When it comes to clay, Schwarzkopf 3D MEN Texture clay wins hands down. It's silky smooth when it comes to the application, but once it's on your hair, it will not move. A special shout out for Fish Clay, which is a harder compound in texture, but still gives a nice finish once applied.
Cream (Low Hold, Low/Medium Shine)
As the name suggests, cream is a creamy like texture, and has a low hold and low to medium shine. This makes it a good choice if you have longer hair, the creamy solution is easier to work in and through the hair.
It will leave the hair soft rather than hard or stiff like a gel or clay, and is a good lightweight option if you want to add some product to your hairstyle, but don't want anything extreme.
Key Points
Low hold, low/medium shine
Easy to apply
Soft finish
Gives longer hairstyles a bit of dimension
The Best Men's Hair Cream
One of the original lads hair product brands, Brylcream do a nice hair cream. It's really easy to work into your hair, and leaves it with a soft finish and a low hold, perfect for longer hair.
Hair Spray (Finishing)
Hair Spray is used commonly by ladies, but can also be used by men to finish off their hairstyle. You can think of this as adding an extra layer of protection to your style, the spray should hold it in place when you're moving around throughout the day, or just on a particularly windy day.
It's not a necessary tool to have in your armoury, for shorter hair you'll not need this, but if you have an extreme style you don't want to move, hair spray should get the job done.
Other Men's Hair Products
There's plenty of other hair care products you can buy or try to change or maintain your style. From dry shampoos to powders, serum, moose and lotions, and don't forget caring for your hair by using shampoos and conditioners.
Hold vs Shine (The Finish)
There's two main characteristics when it comes to hair care products. These are the hold, and finish, and are pretty self explanatory. The hold will determine the 'strength' of the product, while the finish will be shine or matte.
The two properties intersect, so you can have low hold with high shine, high hold with low shine, or any combination. Choosing the right product will give you the desired style you're going for.
On That Note
That is everything you need to know about men's hair styling products, hopefully that shed's a bit of light into the ever expanding world of men's hair products.
It's all about your hair type, the kind of style you're going for and the length of hair you have. The world of male grooming can be a minefield with so many products and different buzzwords, but hopefully this has broken them down.