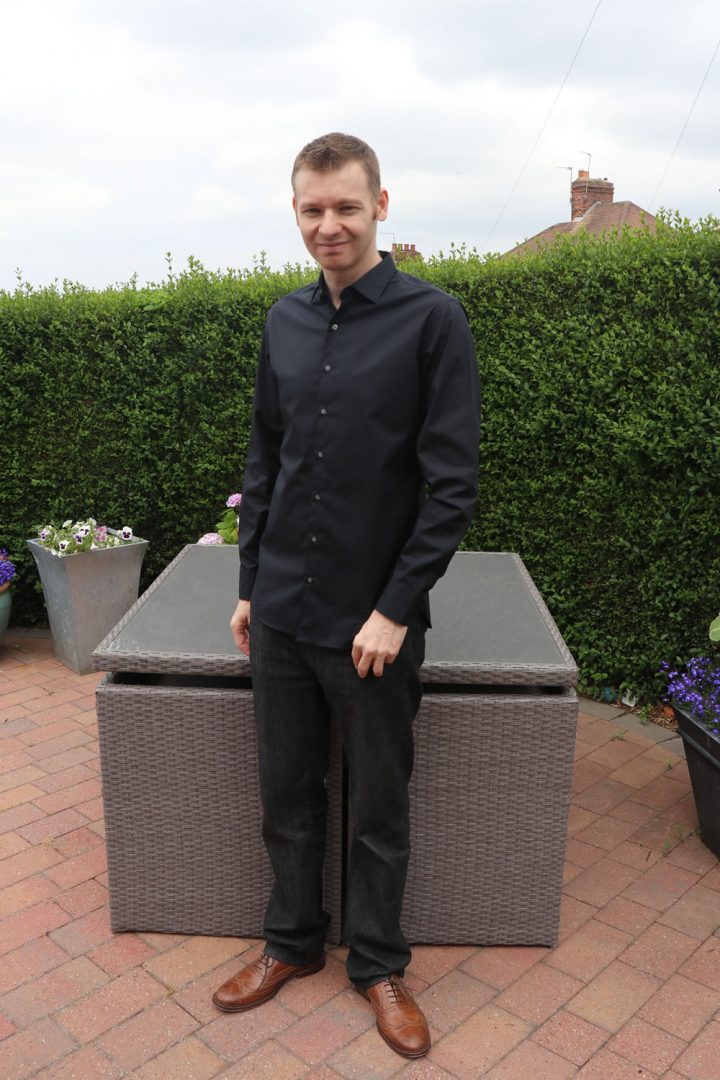 When it comes to dressing for your lower half there isn't too much choice for guys. If you're into denim and love wearing it, you may be wondering are jeans smart casual?
The answer is yes, but not always.
To wear jeans as a smart casual outfit, they should be a dark solid colour and fit well. Avoid distressed jeans or ripped denim, and no light blue washes.
Good dark colours of denim include indigo and black, and providing they're solid, can be worn as part of a smart casual outfit.
Of course you also have to get the rest of the outfit right to ensure you stay on the right side of smart casual.
The Right Fit Of Jeans For Smart Casual
There's no doubt about it, getting a bad fit can ruin your outfit. Choosing the best fitting jeans for an outfit when it comes to smart casual dressing is paramount. You don't want something baggy, and equally you don't want really skinny jeans.
The best fit will be one which fits your body well. For a lot of guys this is going to be slim fit.
Are Dark Blue Jeans Smart Casual?
Dark blue jeans or indigo denim can be considered smart casual. The denim should be solid and plain, with no distressing or rips, and should be of good quality with no signs of fading.
Under these circumstances, indigo denim is a great choice for a smart casual outfit. It's less harsh than black, and can be worn with a number of different things.
You can pair dark denim with almost anything. Try out dark denim with a white shirt or plain t-shirt, throw over a blazer and wear some casual shoes and you're set.
Are Black Jeans Smart Casual?
Black jeans are smart casual, and they're a really good option when you want to look your best too.
I love wearing my black jeans as part of a smart casual outfit. Once again they should be plain and solid colour, no signs of fading with no rips or distressing on them.
Pair black jeans with a plain shirt or t-shirt and some casual shoes, or in the cooler months wear them with a nice plain jumper.
Are Ripped Jeans Smart Casual?
Ripped jeans are casual clothing, and should not be considered for a smart-casual outfit. If you're looking to wear ripped or distressed denim, this will be a more casual or edgy outfit choice.
Can You Wear Jeans To Work?
Wearing jeans to work will depend on your own workplace and it's dress code. If it's business casual or smart casual, a plain pair of jeans as discussed above will be fine.
Dark jeans and black denim should be fine for most offices which have adopted a more laid back but smart dress code in modern times.
Wearing Jeans On A Night Out
A long time ago you'd struggle to get into bars or clubs wearing jeans. Thankfully times have changed, and you can get into most places wearing smart casual jeans.
If there's a dress code for a formal venue you'd need to follow that. But for most places in the UK, you'll be fine wearing jeans providing they're smart.
Summary: Are Jeans Smart Casual?
Jeans can be worn as part of a smart casual outfit, providing they're a solid colour preferably dark blue or black. They should be a good fit, and not be a distressed or ripped jeans style.
You can pair up your smart denim with other smart casual clothing including plain t-shirts, shirts and jumpers to give yourself a cool smart casual outfit.
When it comes to the jeans you need to own, a dark colour pair is definitely up there as a must have item in your wardrobe.