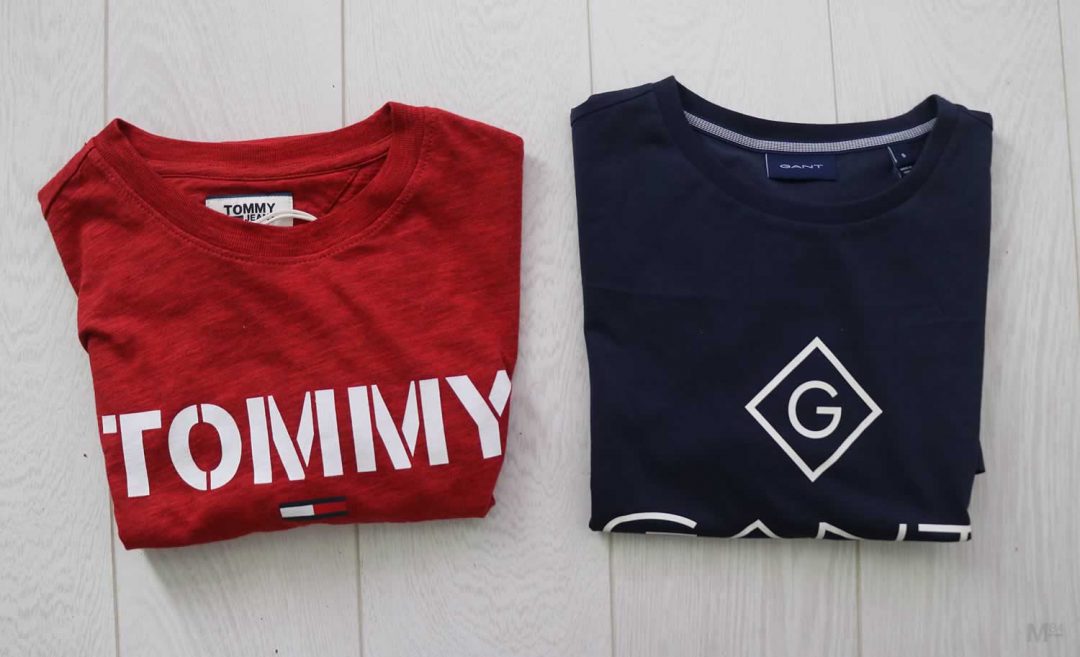 If there's one thing I'm not short of it's T Shirts. I have too many, but as I've said many times before: Can you have too many T-shirts?
The sales are so good right now it's hard to resist, and I didn't. I've added a few extra tees, and got myself these from Gant and Tommy Hilfiger.
As you'll have seen I recently got a few Calvin Klein T Shirts along with another No Nationallity tee too. I was having a look around and saw these two tees which were some of the biggest bargains I've came across.
If you've been following my instagram you'll know I've been doing my "T Shirt Of The Day" on IG stories, and I've had a lot of fun doing it over the summer. I have a lot of t-shirts, more than enough to wear a different one each day of summer, but I thought I'd add a few more to the collection while I can.
I do like tees and keep them for a very long time. As long as they're in good condition and they fit, I'll wear them.
Making room for them can be a challenge, and in recent times I've tried to build a more minimalist wardrobe in terms of the style and aesthetic. However I fancied getting some branding and printed to balance things out, so went for these.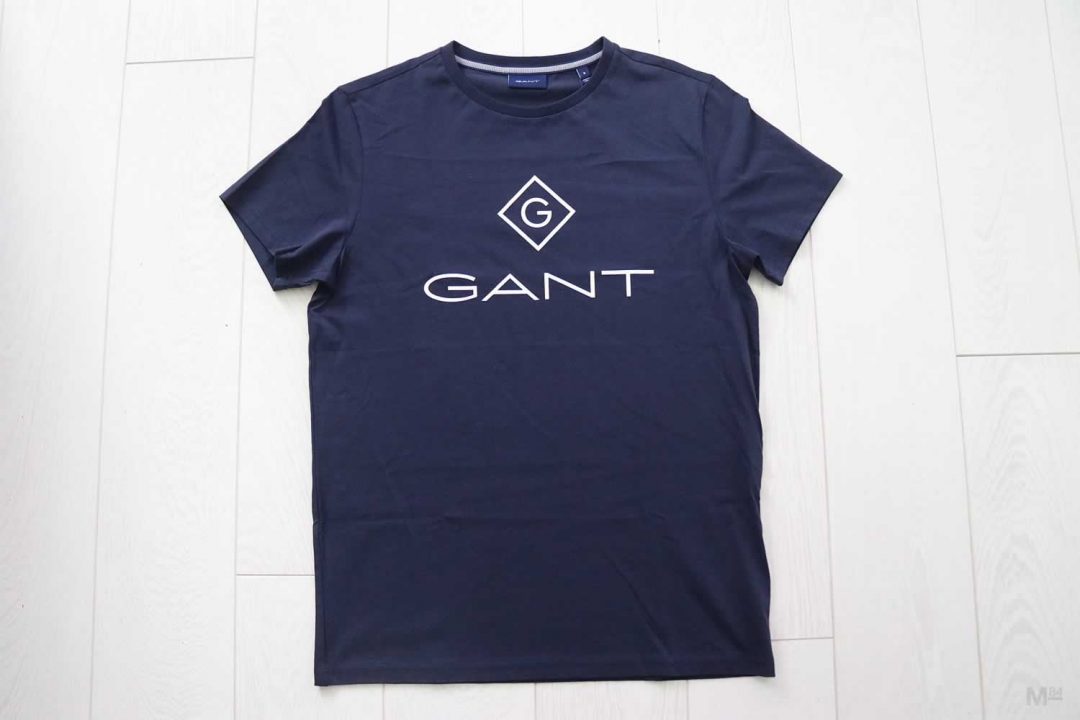 The Gant t-shirt keeps things classic and modern with the colour, navy. I really like the fit, it's ever so slightly longer than a standard tee length and also slightly fitted too, which I think is perfect. I really love the fit.
In terms of the material, the cotton is so rich and soft but fine at the same time. It doesn't have the composition on the tag, but it feels like there's an element of stretch, so I would guess at 95% cotton 5% elastane.
In terms of the design, it's a very simple Gant logo and wording to the front. Nice clean branding, simple but still shows off the label.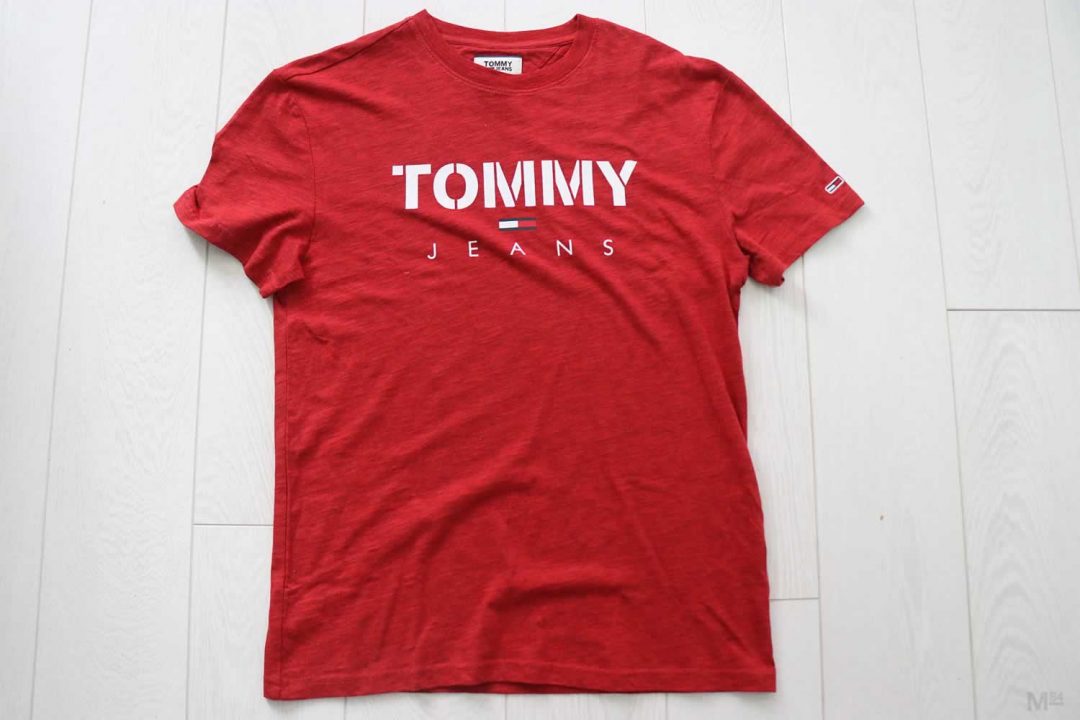 Next up is the Tommy Hilfiger T Shirt.
It comes from the Tommy Jeans line, and is red with a logo to the front. I really like red t-shirts, and apart from my great collection of Spain football shirts, don't own too many. I have a plain red tee which I really like, but this one is definitely more casual.
It has the Tommy Jeans branding to the front, which is quite noticeable, but that's kind of the point with a tee like this. It is however nicely done, it's not overly large or in your face, and is done in a classic way of doing branding.
The composition is a mix of viscose and cotton, giving it a kind of slub feel to it. Incredibly soft to touch, but it has that extra casual feel to it.
The fit is also on the larger side, which gives it more of a casual feel, along with the graphic and feel too. I can see this being the perfect weekend t-shirt to wear. When there's no need to dress up and I just want to throw on a nice tee, this works.
I feel like it's a t-shirt that would also work on holiday walking around in a hot country during the day. The colour, material and fit makes it a piece of clothing to wear when you're not taking life too seriously.
As mentioned they were incredible bargains. The tees would cost £75 for the pair . However the summertime madness sales means I got BOTH of these for £22!
Like I said, I have a huge number of t-shirts, but I could not pass up this bargain.
I'll put together some outfit posts wearing these t-shirts in the coming weeks.
If you're looking to add summer essentials to your wardrobe, there's never been a better time than now. There's two schools of thought:
Buy classic staple pieces at a good price which will last for many summers to come. Or you can buy branded or trendy pieces which you'll get the best wear out of for the rest of this year.
Either way, it's definitely a good time if you're looking for fashion bargains right now.
Thanks For Reading...Want More? 🙌
Hi, I'm Michael 👋 I'd love you to subscribe to my newsletter for exclusive content & updates on my blog straight to your inbox. (No spam, I promise!)