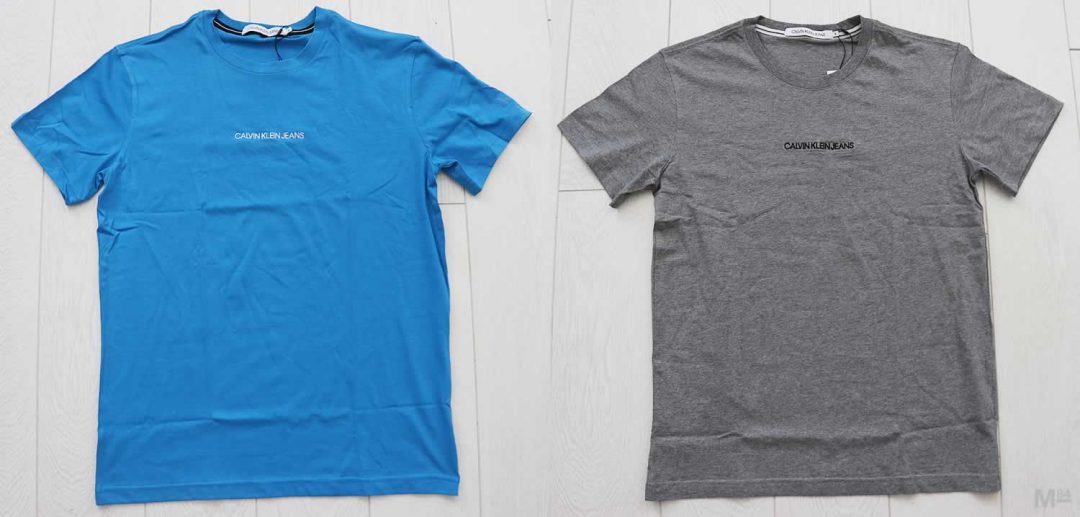 It's summer, I've recently had my birthday and there's sales on everywhere…I couldn't help myself and bought myself not one but two Calvin Klein T Shirts!
Can you ever have too many tees? Clearly not if you ask me.
I saw the grey Calvin Klein T Shirt in the sale and was going to buy it, and then I cam across the blue version. I really like the staple colours of navy, white, black and grey, so getting the grey was an easy decision.
But I've been buying quite a bit of grey clothing, and already have quite a few grey tees, so I did consider not getting it. After seeing the blue one I really like the colour, especially for summer.
I already have 1 or 2 tees in this colour blue, a kind of sea blue that looks good this season.
So what can you do?
I had to get both!
Small branding on clothing has been increasing in popularity for a few years now, and it's something I really like. The small or tiny text adds branding and a bit of personality to fashion, but keeping that to a minimum keeps the look clean.
It's gone all the way from luxury fashion to high street labels, with so many adopting this style of logo.
I do like logos and large branding, they do have their place. Sometimes you want the quality of the fashion label without any logos at all, but having small and subtle logos or text is a nice compromise of a plain or bold logo print.
Rather than the usual printed logos, both of these are embroidered on the shirt.
I'm looking forward to wearing both of these tees this summer and they should last for quite a while too.
Thanks For Reading...Want More? 🙌
Hi, I'm Michael 👋 I'd love you to subscribe to my newsletter for exclusive content & updates on my blog straight to your inbox. (No spam, I promise!)