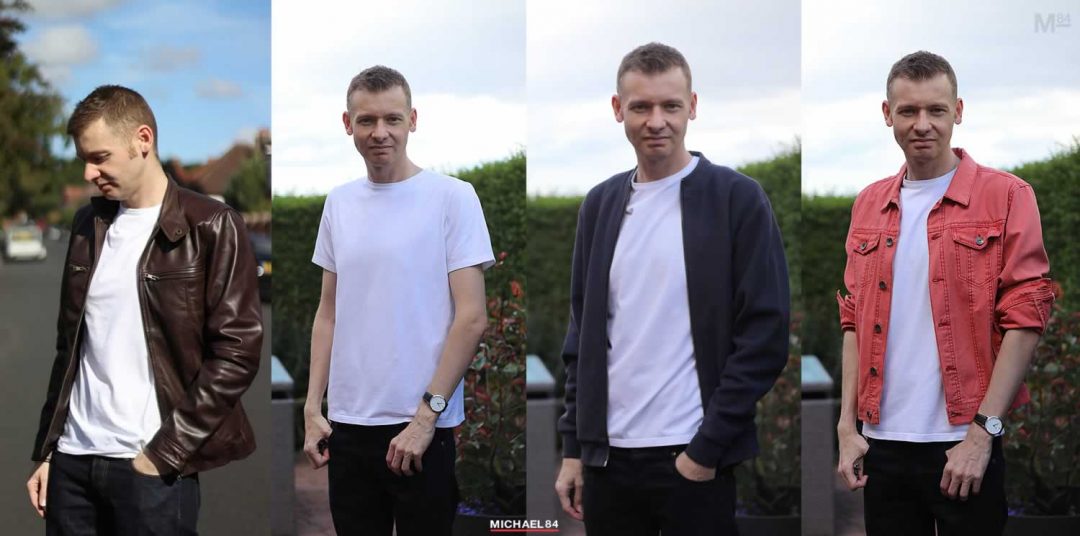 The humble white t shirt. It's one of the most basic and versatile items you can own. Some may call it boring, but not me.
I love a clean, crisp fresh white t shirt. When you're talking about building up an outfit, it makes a perfect base. It can be worn so many number of ways, so I thought why not showcase a few of them.
Here's ways you can wear a white t shirt, and look stylish.
Ways To Wear A White T Shirt
On It's Own (Untucked)
White T-Shirt & An Open Shirt
White Tee & A Bomber Jacket
White Tee & A Denim Jacket
White Tee Tucked In To Trousers
White T Shirt With Black Jeans
White T Shirt With Indigo Jeans
White T-Shirt With A Leather Jacket
White Tee With A Blazer Jacket
White T-Shirt With A Suit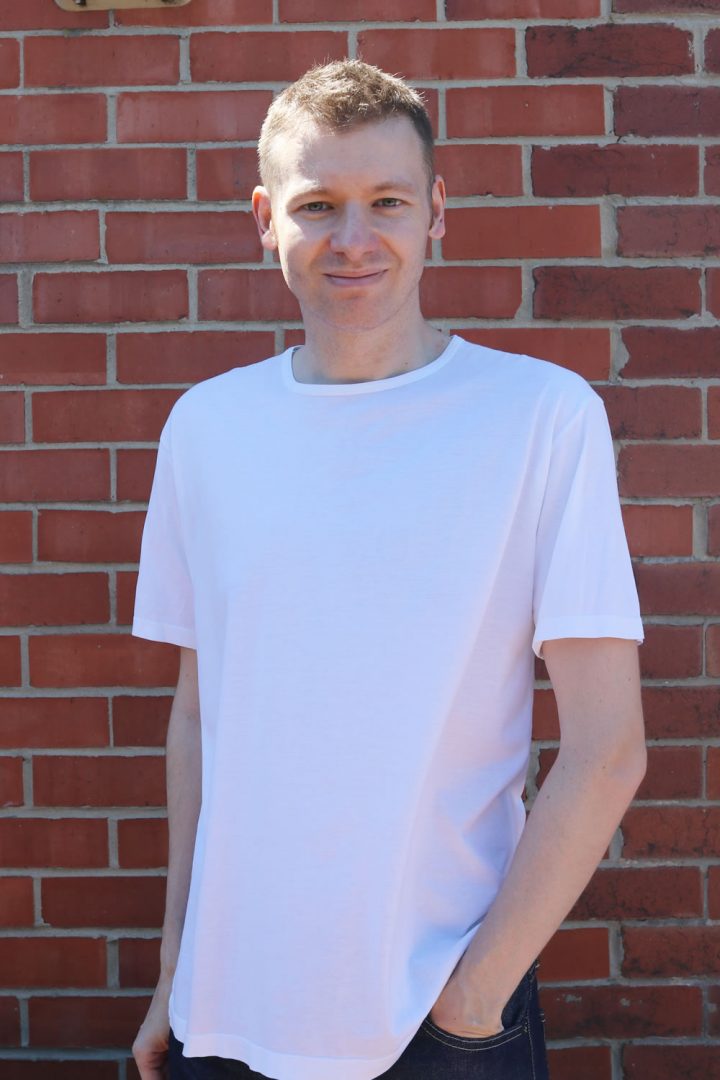 Wearing A White T Shirt On It's Own
The most basic item which you can wear with absolutely anything, it's the white t shirt. You can throw on the tee, and not even think about what you're going to wear with it. Everything works, and works well.
All you have to do is find your perfect size and fit, and of course go for one of the best white t shirt brands I've previously featured, and you'll be set.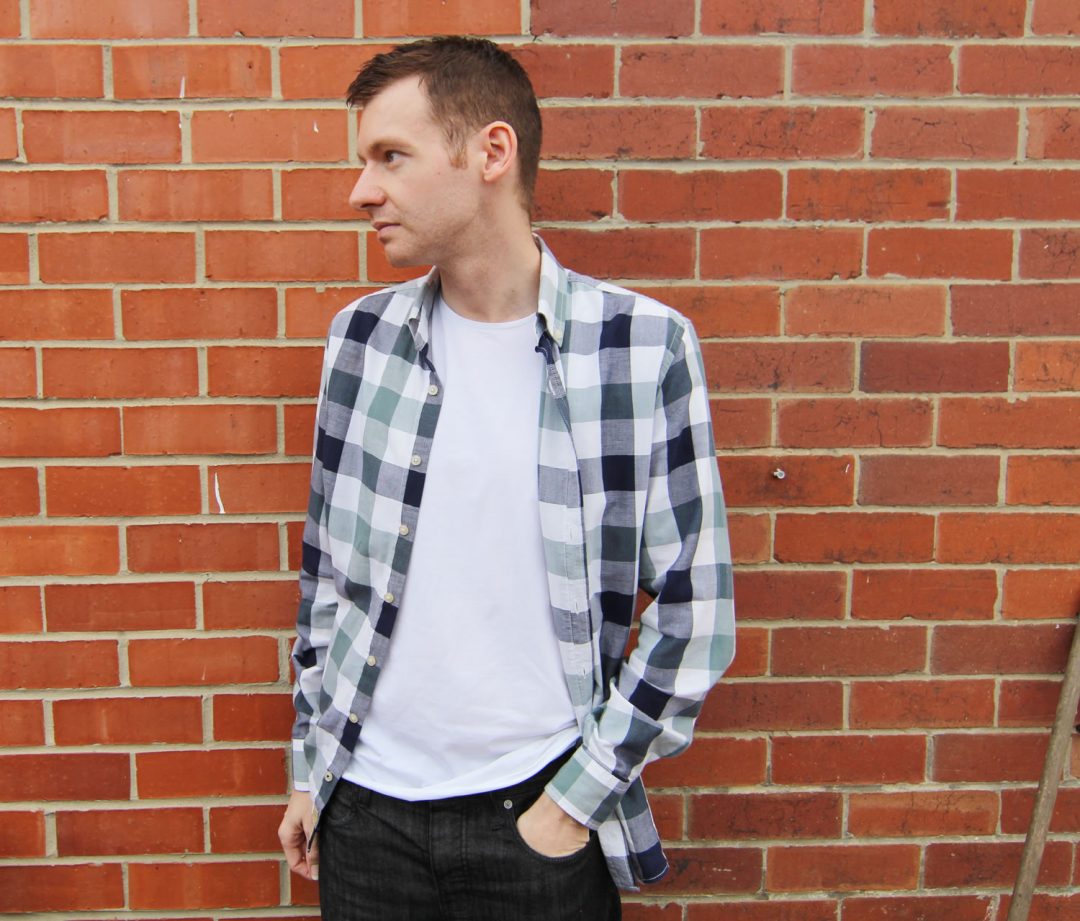 White T Shirt & An Open Shirt
If you want to add a bit of edgy style to your white tee, wearing it with an open shirt is one way of going about it.
Wearing the button up shirt completely un-buttoned and open makes it an even more casual affair. Although this adds an extra layer, it's best seen in the warmer months of spring and in particular summer.
The best choice of shirt to go for would be a casual shirt with a pattern. I'm talking about a check shirt or otherwise printed or patterned shirt. Layering it with a white tee creates a new dimension.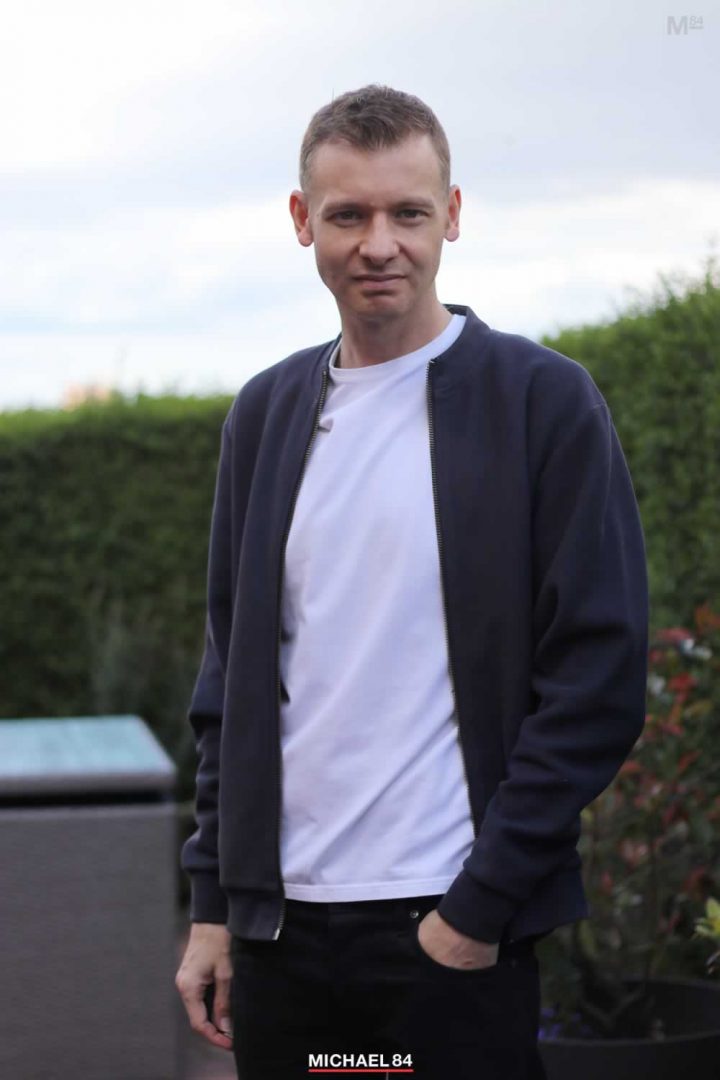 White Tee & A Bomber Jacket
One of my favourite looks has got to be a bomber jacket with a white t shirt. A good colour bomber jacket with a white tee just seems to work perfectly.
It's a good smart casual outfit working more on the casual side, but always looks on point. My favourite colour to go with would be the darker ones such as navy, black or a charcoal grey.
There's plenty of ways to wear a bomber jacket, and pairing one with the perfect white t shirt is certainly one of them. It works best in the cooler months of autumn and spring, but can work equally as well in the summer or even winter.
White Tee With A Denim Jacket
Another brilliant way of layering a white tee is with a denim jacket. This looks it's best in summer when you need something to wear over your pristine white tee.
Since a white tee goes with any colour, you can opt for any colour of denim jacket. It could be the classic mid blue, giving you those jean jacket vibes. You can also go for the darker shade of indigo denim. But there's other options too.
For the ultimate in contrast, you can pair up a black denim jacket with a white tee. The two go together so well. Another option is to add some colour to your outfit, and go for a more bold colour.
I really love my rust orange colour denim jacket, it stands out and makes a statement.
There is plenty of ways you can style a denim jacket, and a white t shirt is definitely right up there as one of the best options.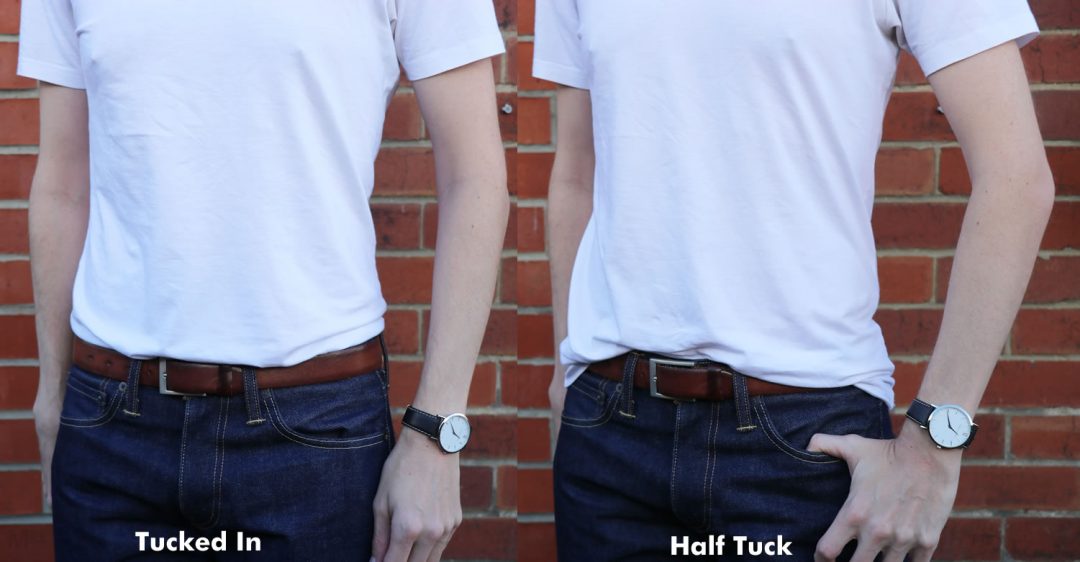 Tucked Into Trousers
When it comes to how to wear your white tee, there's two options you can pick, tucked in or un-tucked. There's a few ways of tucking in your t-shirt.
Tucking your T Shirt into your trousers can give off a more formal look, and is usually done if you're wearing something over your tee, such as a jacket.
There's a couple of different ways you can tuck in a t shirt too, such as the half tuck or full tuck.
White Tee With Black Jeans
Go for the ultimate in contrast, pair up your white tee with black jeans. As far as colours go, this pairing keeps things as opposite as you can get.
It will make your black jeans look darker, and your white t shirt stand out a lot more. The monochrome look is very stylish, and is really easy to pull off. This is an outfit choice which I really like to wear.
Since both colours are easy to match, a jacket of any colour can be added to the outfit as an extra layer if required. This could be black or white, another staple colour such as navy, or a bright bold colour to make a statement.
White Tee With Dark Blue Jeans (Indigo)
A white t shirt with dark blue jeans go together effortlessly. Both pieces are incredibly common and have been paired up with each other for years, giving them that familiarity look.
You're never going to look out of place wearing a pair of indigo denim with a white tee. Dark blue is not as harsh as black, but you still get that sleek style with a lighter touch.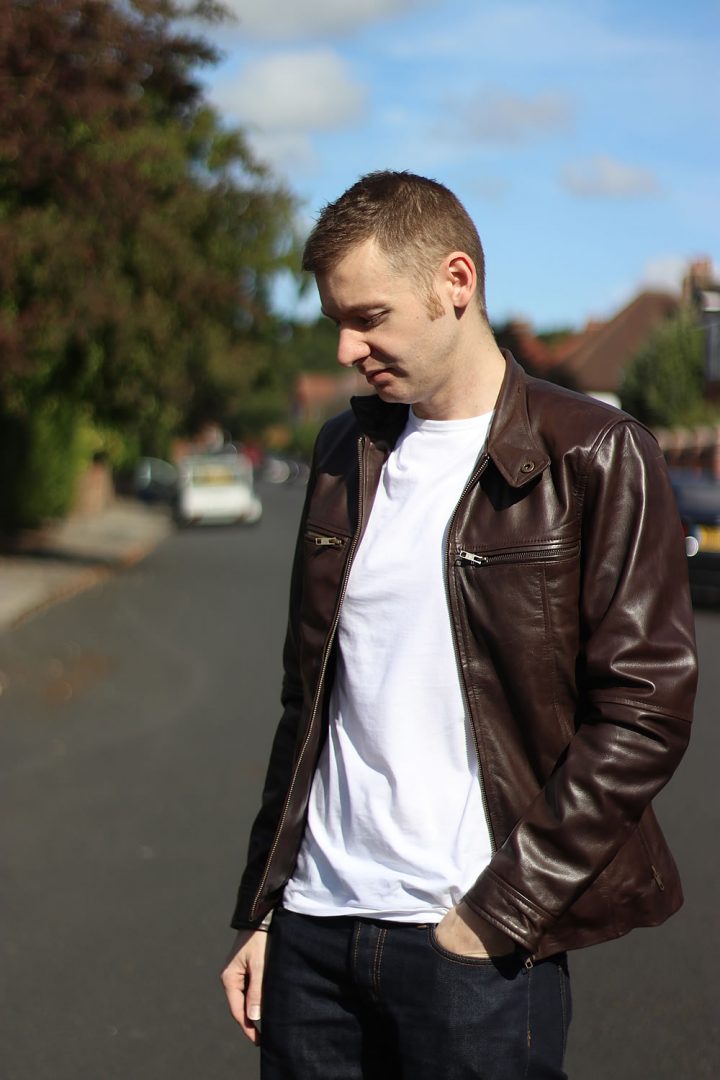 White Tee With A Leather Jacket
When you need to layer up in the autumn or winter and still want to rock a white tee, a leather jacket is such a good option.
A leather jacket is timeless, it will never go out of style. You can wear almost any colour leather jacket which will work well with a white t-shirt.
Go for black which will brighten up the white of the cotton t-shirt quite a bit, keeping your outfit on the dark side. For something different, go for a dark brown jacket.
This is still a classic but not as obvious as black, giving you some individuality.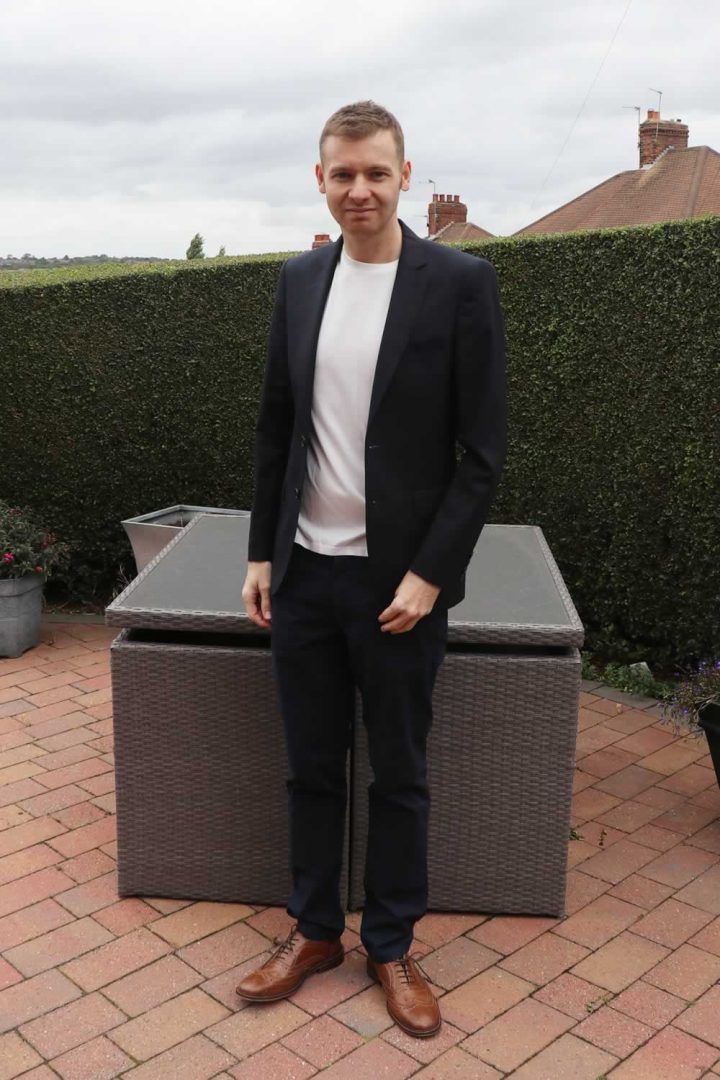 White Tee With A Blazer
If you're looking to dress up a white tee, wearing it with a blazer is one way of doing just that. There's no doubt that wearing a blazer with a t shirt is going to elevate your style, you'll be firmly in the smarter end of the smart casual dress code.
Getting the colour right is not going to be a problem. As with other options, you can go for a classic navy or blue blazer, shades of grey or even a dark green or burgundy colour which will work well.
If you're feeling brave in the summer, a beige linen blazer could be an option.
White Tee With A Suit
The ultimate in smart casual styling, with a big emphasis on the smart aspect is wearing a white T Shirt with a suit.
This is one look which is easier to pull off than it may sound. It's simply wearing your full suit, jacket and trousers with a t-shirt rather than a button up shirt.
Picking out a suit is usually a good choice when you want to be smart, and opting for a t-shirt over a formal shirt loosens up your style.
This outfit combination usually works best in the warmer month of summer. Sometimes you'll want to swap out that button up shirt for a light fresh tee.
Verdict
I love to wear my white tees, one reason is that there's so many different ways to style a white t-shirt. From dressing them up with blazers and suits, to wearing them casually with an open shirt.
Ensuring you get the perfect fit is always important. Check out my men's measuring guide so you get the best fit and look great in your outfit.
They are anything but boring, so if you're struggling to think of how you can wear your white t-shirts with style, this is a good starting point. As always, you can find more style tips if you're looking for advice on what to wear.