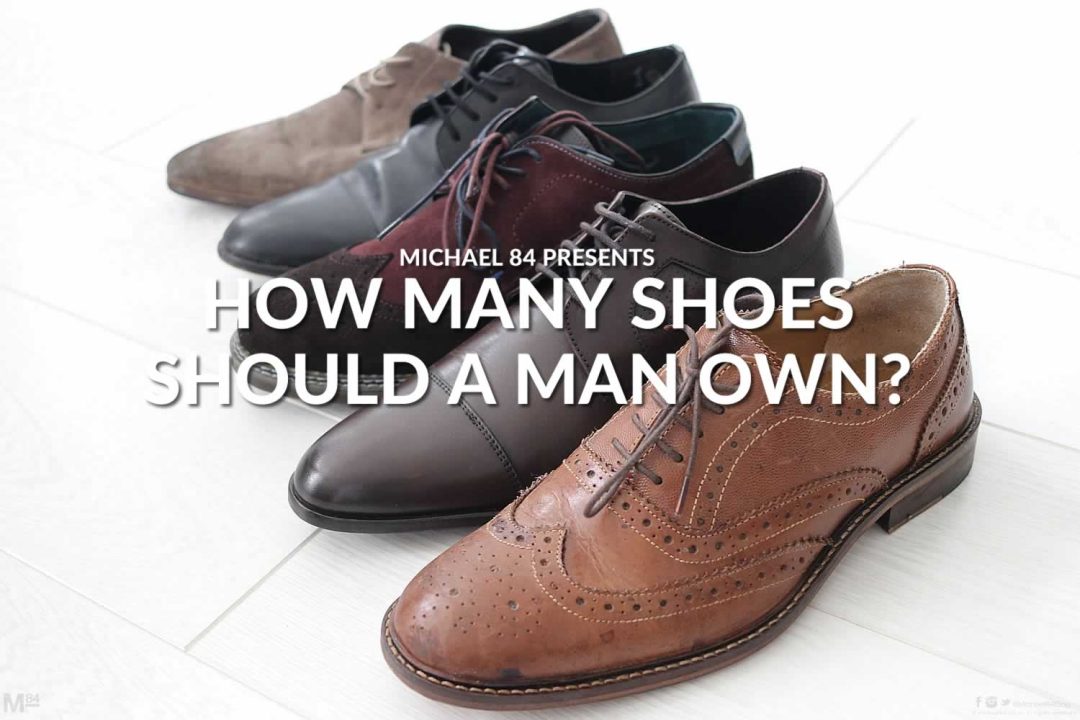 You're either wondering if you should buy another pair of shoes, or if you have too many.
Exactly how many is too many, and how many shoes should a man own?
I could say that a man should own at least 4 pairs of shoes. You need a smart pair of shoes for formal occasions, a more casual pair, a pair of smart trainers and finally a pair of sporty trainers for exercise.
If you're going for a minimal wardrobe, 4 pairs of shoes should be fine. But on average a man can own 10 – 20 pairs of shoes which can cover every occasion you'll ever encounter.
So exactly how many pairs of shoes should a man own?
To be honest, there is no magic number. But there are a few ways you can work out how many pairs of shoes is right for you, by checking out the styles of shoes that fit your lifestyle.
The Right Shoes For The Right Occasion
If you dress more casually or sporty, then you'll want a few pairs of more casual footwear. If your lifestyle consists of a job where you have to dress up and you attend formal events, you'll go down the smarter route.
But let's face it, we all have a pretty varied life. We could all probably buy an endless amount of footwear for all of the different things we get up to these days.
You can check out the detailed types of shoes for men blog post which highlights 12 shoes that men should own.
To cover every occasion, you can break it down to the following:
Smart Shoes – 1 to 2 pairs
Smart Casual Shoes – 2 to 3 pairs
Gym & Running Trainers – 1 to 2 pairs
Boots – 1 pair
Slip Ons/Sandals/Flip Flops – 1 pair
As already mentioned, you can scale up or down the type of shoe depending on your lifestyle and fashion choice.
If you're a minimalist looking for the least number of shoes to cover every occasion, 4 pairs of shoes should get you through every occasion.
What Types Of Shoes Does A Man Need?

Here's a small breakdown of the types of shoes by occasion, and then the styles of shoes you can get in each one.
Smart Formal Shoes (Dressy)
When it comes to formal shoes, you have a few choices. These are:
Patent Leather
Oxford Shoes
Derby Shoes
Monk Strap
Patent Leather
The most formal of all shoes. You'll only be wearing these if you go to black tie events. You're not going to want to invest in these unless you attend a lot of formal events.
Oxford Shoes
The smartest shoes you can wear for most dressy occasions. These can be considered your go to pair of shoes when you need to wear some smart footwear.
Derby Shoes
These are incredibly similar to Oxfords, but those in the know will spot the difference. They are considered ever so slightly less formal than Oxford lace ups, but still smart enough to wear for most dressy occasions.
Monk Strap
An alternative to formal and smart shoes are monk strap. As the name suggests these have a strap or double strap rather than laces to secure them to your feet. You can consider these a smart alternative if you're getting more than 1 pair of smart shoes.
Smart Casual Shoes (Semi Formal)
If you're looking for smart casual shoes, these are:
Brogues
Smart Trainers
Chelsea Boots
Chukka Boots
Brogues
Brogues are considered the most casual of dress shoes, so I've put them into the smart casual section. But they are in fact a smart shoe to wear in comparison to trainers. If you're looking for a universal smart and smart casual shoe, go for brogues.
Brogues make a great pair of shoes if you're dressing for a date and going somewhere smart casual.
Smart Trainers
When I think of smart trainers I am talking about a pair of low profile trainers with minimal styling. A good example would be Adidas Stan Smith. Plain white and clean looking. You can go for a similar style to this in other colours, Common Projects have been the choice of many in this style.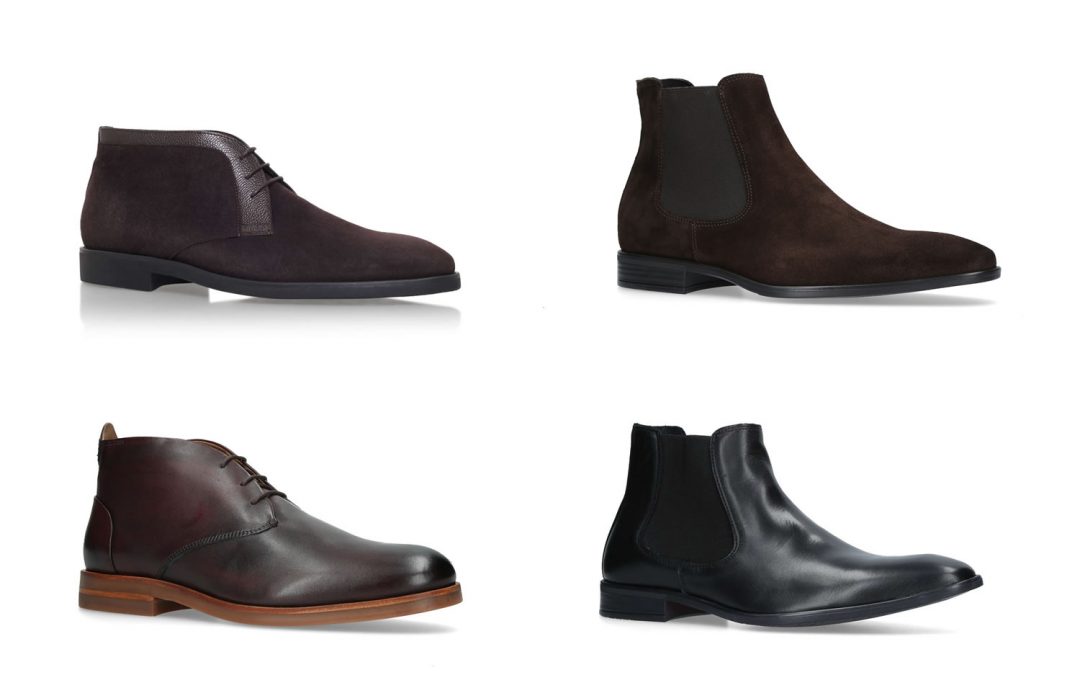 Chelsea Boots
For boot lovers or an alternative to a shoe, Chelsea boots are the way to go. These are the smart option when it comes to boots.
Chukka Boots
If you want something which still has a smart edge but is more casual in appearance, a pair of chukka boots is a good choice.
You can check out the differences between chukka and Chelsea boots.
Casual And Sports Trainers
Sports Trainers
Low Profile Trainers (e.g. Converse)
Hi Tops
Sports Trainers
When it comes to sports trainers, I love them and love having plenty of options. For reference, these are trainers such as Nike Air Max, and other sports trainers.
If you're a sneakerhead and trainers, you're going to want to own quite a few pair of these.
Low Profile Trainers
There's plenty of low profile casual trainers, but Converse Chuck Taylors and Old Skool Vans spring to mind. These are some cool and easy to wear casual trainers you can buy.
Hi Tops
As an alternative a pair of hi top trainers could be an option. Once again brands like Converse could be your go to for this style.
What Colour Shoes Should I Own?
Whether you're investing in only a few pairs of shoes or building a large collection, getting the colour right is important.
For maximum versatility, I would recommend getting different colour footwear, but keeping things simple.
If you're buying smart shoes and casual shoes, it's a good idea to have at least 1 pair of black shoes. These will give you ultimate versatility, wearing for anything from a funeral to a christening.
For an option, you can get a different colour in the 2nd, such as brown.
That will give you a much bigger range when you're putting together outfits to wear with your shoes.
The smaller your collection, the more versatile the colour of your footwear should be.
A clean white pair of trainers, black and brown shoes and a dark colour pair of trainers should do it.
If you have a large collection then you can really go to town on the colours. If you want to make an impact you can go for a bold design or bright colour to make your outfit pop.
Common Questions About How Many Shoes You Should Own
How Do I Know If I Have Too Many Shoes?
Check your shoe rack or wardrobe. Can you see any shoes that you hardly ever wear? Can't remember the last time you worn a certain pair of shoes?
This is a sign you have too many shoes. If you've got shoes that you hardly wear, it indicates that you have more shoes than you need.
This is an easy way of knowing if you have too many shoes.
How Can I Have A Minimalist Shoe Collection?
If you want a small and minimalist shoe collection, the best way of doing this is only buying shoes you actually need. The tips and advice above will show you how to achieve that, by only getting shoes that fit your lifestyle.
If you've already got a lot of shoes, you can think about getting rid of some. That could be recycling them, giving them away or even selling them if they're in good enough condition.
Once you've got your shoe collection to a manageable size the key is to not buy more until you need them.
Is 2 Pairs Of Shoes Enough?
The number of shoes you own depends on your lifestyle. 2 pairs of shoes can be enough, especially if they're in different styles.
An example could be a pair of smart casual trainers for every day wear, and a pair of shoes for dress up occasions.
Depending on your lifestyle, you may be able to own only 2 pair of shoes, providing they're not in the same formality style.
How Many Shoes Should I Own?
This depends on your life, and also your age. As time goes on you may get more and more shoes, in a range of styles as discussed above. This will build up the collection over time.
The average man can easily own 10 – 20 pairs of shoes.
Some will be in the same style but a different colour for an option, others being an alternative style.