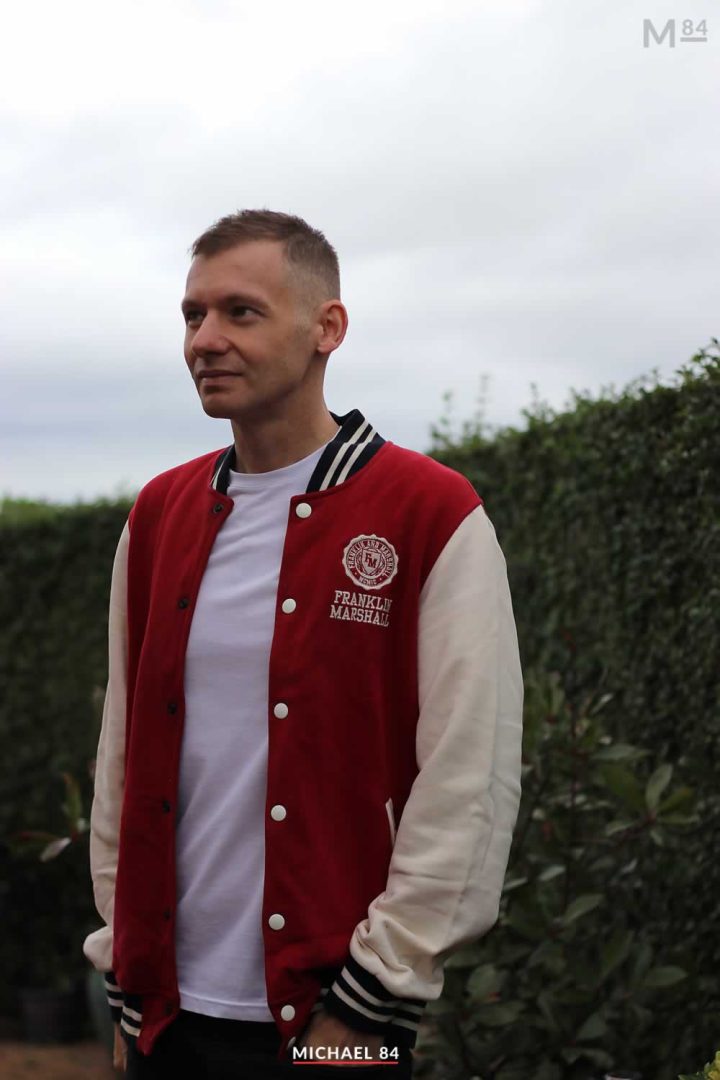 Varsity jackets, I haven't said how much I love them lately. I have loved this style for so long, and wore one for many years.
They've always been around, but over the years they've kind of went in and out of fashion in terms of popularity.
It's Autumn and they are fashionable once again, so I thought I'd wear one of mine that I've had for ages.
It was around the time I started this fashion blog that I really got into them. I even got an authentic American Letterman jacket. Heavy melton wool, genuine leather sleeves, it has it all. But for this outfit, I went for my cotton varsity jacket.
This is from Franklin And Marshall.  It's from the hay day of the brand, I got this years ago. It was when the brand had more of a luxury focus, and has the Made In Italy tag on, indicating the quality of the craftsmanship of this piece.
It has a red body, with cream/off white sleeves and trimmed with black and white stripes.
What Makes A Varsity Jacket?
There's a few key pieces to a good varsity jacket. First of all it's the length. These are bomber length jackets. Then there's all the cool detailing.
The sleeves and hem are usually elasticated, and have a ribbed feel, and usually styled with stripes. The collar matches up too, giving it a more uniformed feel.
As you can see in mine, the hem, sleeves and collar are all black with two white stripes. I love this detailing.
Then there's the way it's fastened, i.e. the buttons. The jackets are buttoned up with 'popper' style of buttons. Usually 2 at the base, with around 5 or 6 going up to the top. Sometimes they're contrasting in coloured too, setting off the jacket well.
In my jacket the buttons are white, which go well with the red body.
I have to talk about the welted pockets too. A absolute trademark and classic feature of these jackets. Mine are contrasted colour, matching up with the sleeves.
ALSO READ – Best Men's Jackets For Autumn.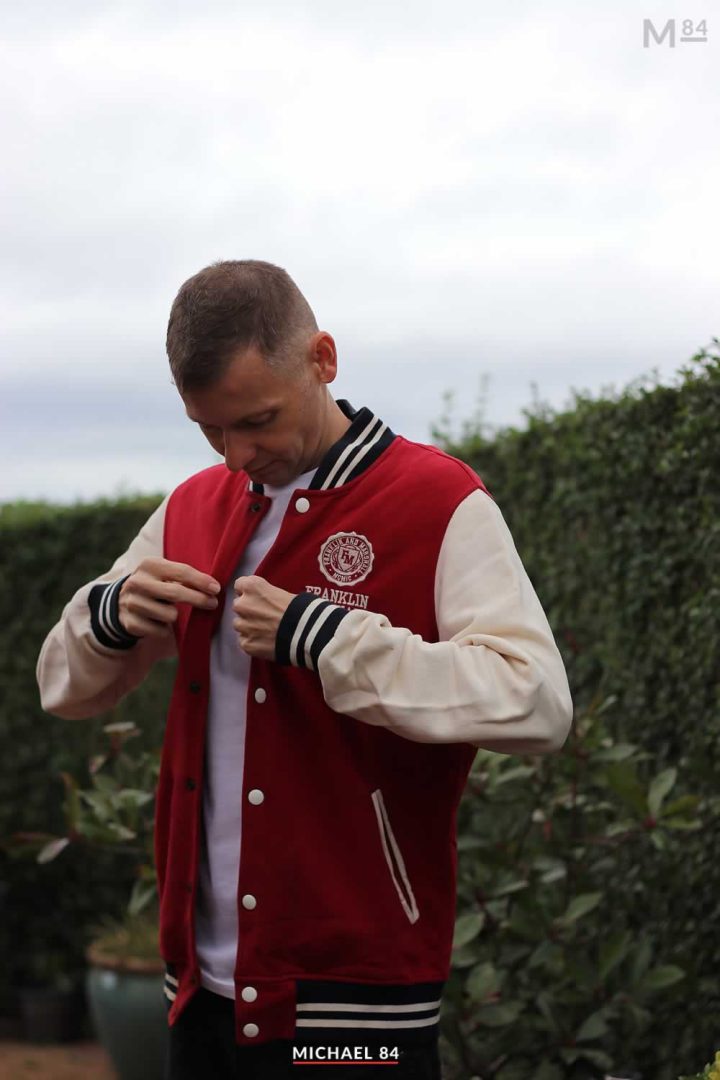 Varsity jacket or baseball jacket?
People use the terms varsity jacket and baseball jacket interchangeably, but they can be thought of differently. To distinguish, baseball jackets have the same colour sleeves and body, whereas a varsity jacket has contrasting sleeves to the body.
As you can see in mine, I have cream/off white sleeves with the red body. I do have an all navy 'baseball' jacket too.
A lot of people just use the words for the same jackets, as they're incredibly similar. So don't be surprised if you see the terminology baseball jacket, varsity jacket and letterman jacket used for the same thing.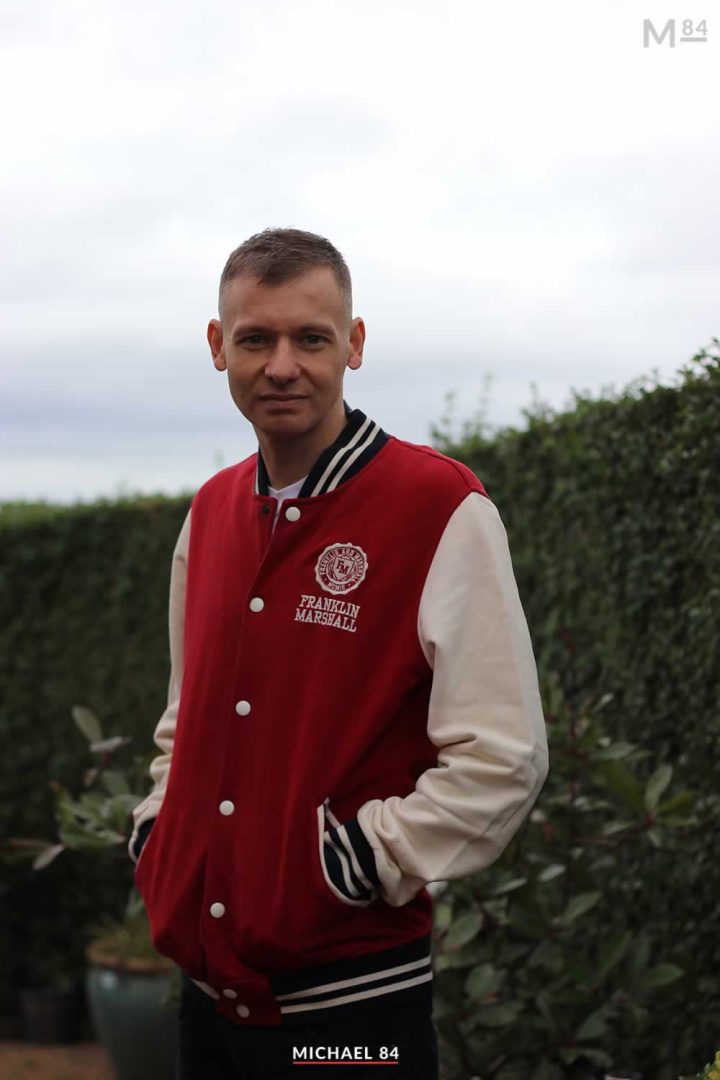 How I Styled This Varsity Jacket
It's a real easy thing to style. They're on more of a casual side to smart casual, given their history in sports. I simply wore this with a white T Shirt and black pair of chinos and the outfit was done.
It's made from a thick sweatshirt type of cotton material, so soft to touch. Unlike my heavy letterman jacket it's not lined and is lighter, but it's still substantial enough for mild-to-cold temperatures.
When it comes to autumn trends, I really like these jackets. They're not as warm as an overcoat or proper coat, but if the weather is not too bad and the occasion calls for it, it's a style which I really enjoy wearing.
I tend to wear this jacket open, although it can be worn buttoned up.
On That Note
Let me know what you think of varsity jackets. Fashionable types of bomber jackets, or too casual? If the weather holds up I hope I can wear these more this season.