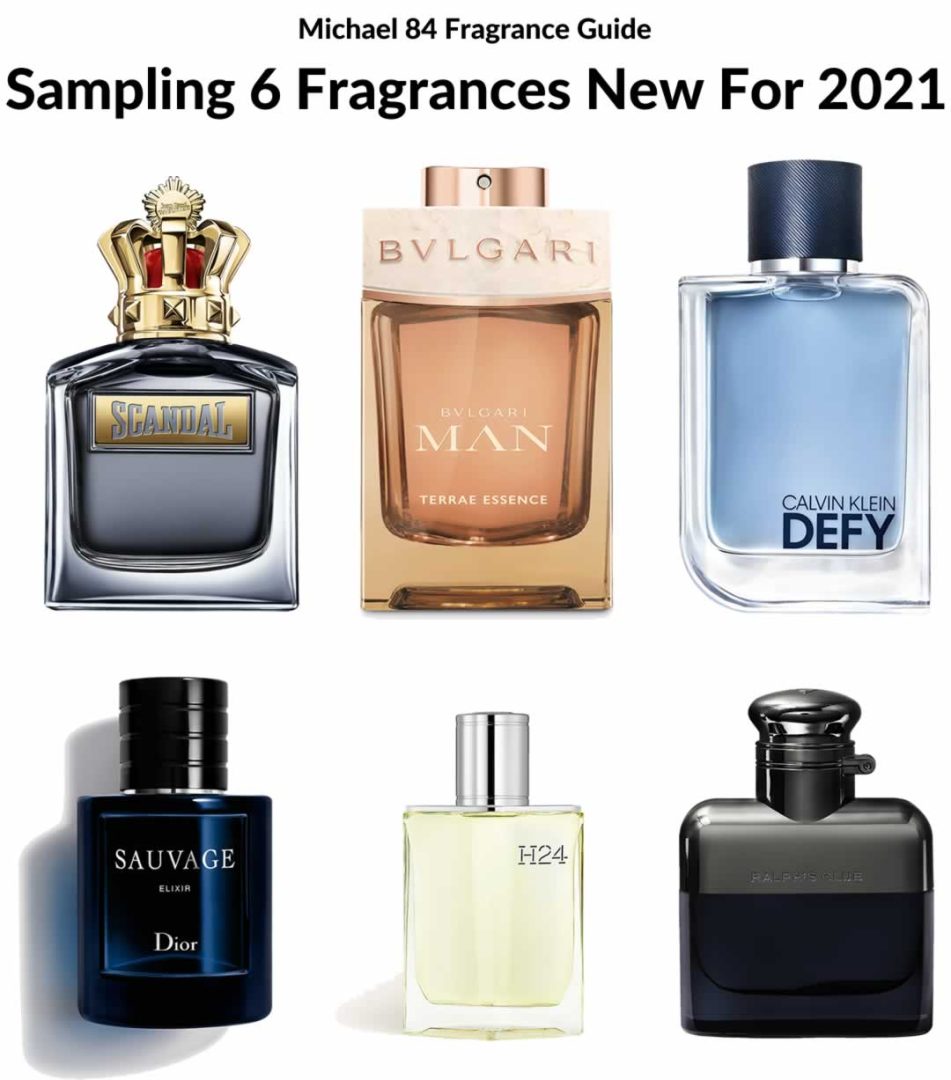 Is it just me, or has there been so many brand new fragrances been released in 2021?
Maybe it's because I pay more attention since I write my fragrance blog, but still, it seems like there has been a lot.
I've sampled 6 of the biggest named fragrances which have dropped in 2021. From the new Dior Sauvage Elixir to Hermes H24, Calvin Klein Defy, Jean Paul Gaultier Scandal and more.
Some of them are nice and I'm considering buying, others not so much.
Here's what you need to know about these 6 new fragrances which were released this year. (I share 2 tips to get these fragrances cheaper too!)
It is the season to buy fragrances. Christmas is coming up, and if you're a man like me you know the deal. You'll be asked what you want for Christmas, and an easy buy is a bottle of aftershave.
Or if you get some money and want to know what to buy, getting yourself a new scent is the way to go.
But which fragrances are good, which are OK and which should you avoid?
I must first of all say I only sampled these a little while shopping, so these are my initial first impressions. They could change over time, but these are my current thoughts about these fragrances.
Sauvage Elixir
Dior Sauvage is no stranger to me, and probably not to you either. Over the years there has been many. It started off with the original Dior Sauvage eau de toilette, then the EDP, Parfum and now what they're calling Elixir.
It's hard to describe the scent, it's similar to the original but I would say it's more masculine. It has that mature kind of vibe to it, making it better for older guys (25+).
There are differences from this to the original, Elixir seems more spicy and woody to me, with the original having a more fresh-spicy type of style to it.
I will almost certainly buy Elixir. I got the EDT when it was first released several years back, so now is a good time to add this one into the collection.
This runs at around £112 for a 60ml bottle.
Check out the Sauvage Elixir review.
Bvlgari MAN Terrae Essence
For the past few years, Bvlgari have released a new scent a year just in time for Christmas. Last year it was Glacial Essence, prior to that it was Wood Essence, and in 2021 it's Terrae Essence.
When I first smelled this one I got some really earthy tones. It had that dirty type of scent to it, but not citrus-like, a more smoky and tobacco kind of style.
As with others in recent years, this is an eau de parfum. Expect to pay around £70 for the 50ml bottle, £100 for a 100ml bottle or Christmas gift set.
At those prices, I wouldn't buy this. I'm not a fan of the scent, it's not a type of scent I like. I would like to try it out a little more, but based on first impressions, I didn't like it much.
Calvin Klein Defy
Another release from Calvin Klein, and as you'd expect from this brand a big marketing campaign. But is it any good?
I tried this one out and thought it was pretty decent, but nothing more.
Defy has that lavender/purple kind of vibe to it, with a bit of amber and light woods. The only thing I could compare it to would be Prada L'homme, but not as good.
This isn't expensive, at around £40 for a 50ml bottle and I was considering to blind buy it. After trying it out I am kind of glad I didn't.
It's not a bad scent, it would make a nice scent during the daytime. But it just didn't have that special factor you might look for in a fragrance.
Check out my review of Calvin Klein Defy fragrance here.
Ralph's Club By Ralph Lauren
I sent away for a sample of Ralph's Club, and it came a week or so later in the post. I tried it out, and once again I wasn't blown away by it.
It's quite an aromatic scent, soft woody but once again this has a lot of purple vibes to it. Lavender or something similar, making it quite a similar scent to Defy and others.
Just like Defy, I like it, but once again it didn't blow me away. Ralph's Club is an EDP and comes in at around £60 for a 50ml bottle, or £80 for 100ml.
I like this better than defy, but only slightly. It's probably not going to be one I end up getting.
Jean Paul Gaultier Scandal For Men
This fragrance surprised me quite a bit. When it comes to Jean Paul Gaultier, I expect some kind of inviting masculine scent. This is thanks to the original Le Male and Le Male Le Parfum being that kind of vibe.
JPG Scandal is different. I got some really big fruity and sweet vibes from this. It kind of reminded me or Lacoste Style In Play or Boss Bottled eau de parfum.
I think it would work best in the warmer months such as summer. Since I have some which are similar, I'd probably give this one a miss, although if I'm looking for something new in the summer, I might give this another shot.
This is around £55 for 50ml and £90 for a mega sized 150ml bottle.
Check out my review of Jean Paul Gaultier Scandal here.
Hermes H24
I've started to become a bigger fan of the Hermes fragrances of late. In fact, just the one I have, Terre D'Hermes Pure Parfum.
Even though I only got that scent last year, it has been kicking around for a long time. Hermes has came with a new scent, H24 for 2021. I think it's great.
It's a well rounded scent. It has that kind of fresh aquatic style to it, but with soft green-citrus and metallic kinds of notes. There's nothing I currently own which I can compare this too.
I would say that this makes such a good scent for the daytime, and I might even stretch it and use it on an evening too.
The only downside to this is that it's an Eau de toilette. That's not bad on the face of it, but if you know the fragrance world you'll know that an EDP and Parfum version will be coming down the road in the future.
Still, Hermes H24 is going to be a fragrance I will buy. It's on my list, so I will have a full review of it on the blog when I get it.
It costs around £60 for 100ml, and £80 for 100ml.
Check out my review of H24 Hermes EDT here.
Verdict
In this list, I have to say the ones I am strongly considering buying (and in fact almost certainly will) are Dior Sauvage Elixir and Hermes H24.
As already mentioned, these are only my initial first impressions of the scents. If you want a better idea, you can go to the shops and test them out yourself or get a sample. But these 6 fragrances are some of the newest of the year, and ones you'll probably see the most in the run up to Christmas.
TIP! – Get these fragrances Cheaper!
If you like any of these fragrances you might want to hang on until Black Friday. Most department stores have deals on the Black Friday and the weekend of that, so you could get a good deal. There could be 10 – 20% off, depending on the scent and the shop you go to.
TIP 2 – Cheaper Gift Sets After Christmas
Buying a gift set is often a better deal. You usually get the aftershave for the same price as the bottle on it's own, but you get a nice presentation box along with a shower gel or smaller bottle of scent.
Not only that, if you can wait until after Christmas, the shops are known to sell these gift sets at a discount to get rid of them. If you're getting money for Christmas, make sure you check out the websites asap around Christmas time.
Thanks For Reading...Want More? 🙌
Hi, I'm Michael 👋 I'd love you to subscribe to my newsletter for exclusive content & updates on my blog straight to your inbox. (No spam, I promise!)