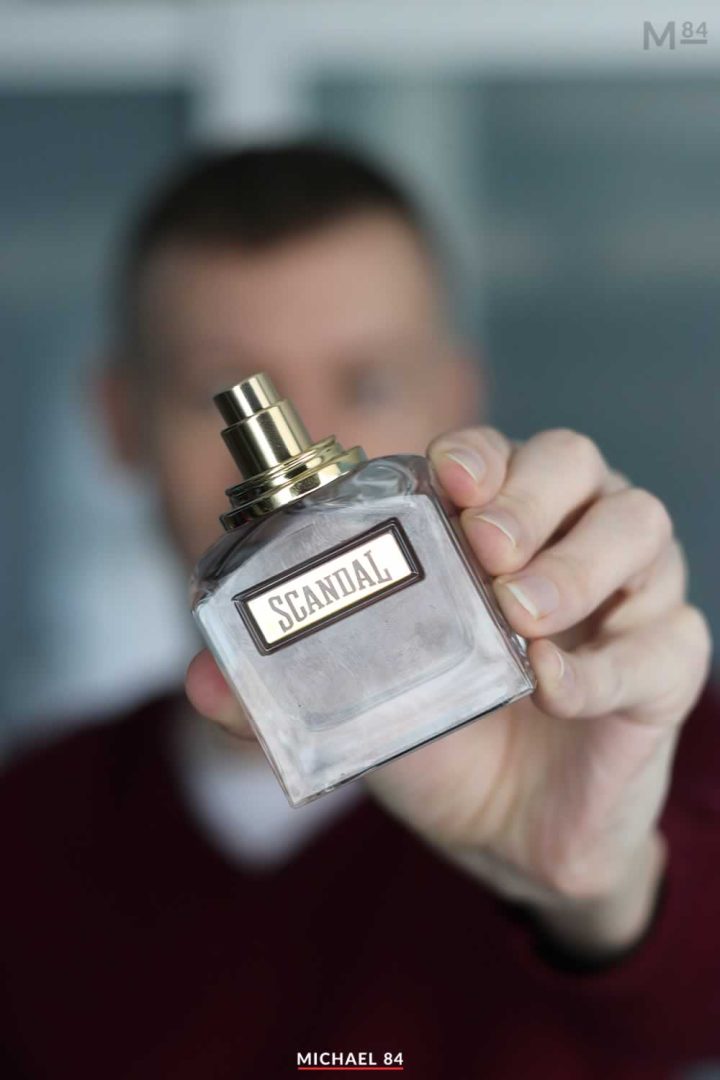 It's time for another fragrance review, and this time I have got another fairly new scent which is Jean Paul Gaultier Scandal Pour Homme.
This is a fragrance which was released in 2021, I sampled it and I got it for Christmas.
Here's everything you need to know about it, including what it smells like.
Jean Paul Gaultier has released some iconic colognes and fragrances, so Scandal has something to live up to. The Le Male line is legendary, the original Le Male, Ultra Male and the most recent Le Male Le Parfum loved almost universally.
So where does Scandal sit in all of this? Also note there's 2 versions of Scandal: Pour Homme for men, and Pour Femme for women. Of course I am reviewing Scandal Pour Homme.
What Does Jean Paul Gaultier Scandal Pour Homme Smell Like?
Jean Paul Gaultier Scandal Pour Homme is a sweet fragrance with some soft and spicy notes. The sweetness of the scent is the element which really shines through, giving it quite a light feel to it.
At first this reminded me of apple, but reading the notes, it seems to be notes of caramel which I am smelling. This kind of reminds me of Boss Bottled EDP, which is what took me down the apple road. But smelling it over and over, I can get the difference between the two.
It also reminds me a little of Invictus and One Million by Paco Rabanne, however this is far more sweet and more linear. I get a purple kind of feel to this too, which will be the clary sage coming through.
To me Scandal is quite a youthful style of scent. It's inoffensive and is sweet, and could be described as a gourmand fragrance.
This isn't to everyone's liking, but personally owning quite a few fragrances, I like having a sweet fragrance in my collection for versatility.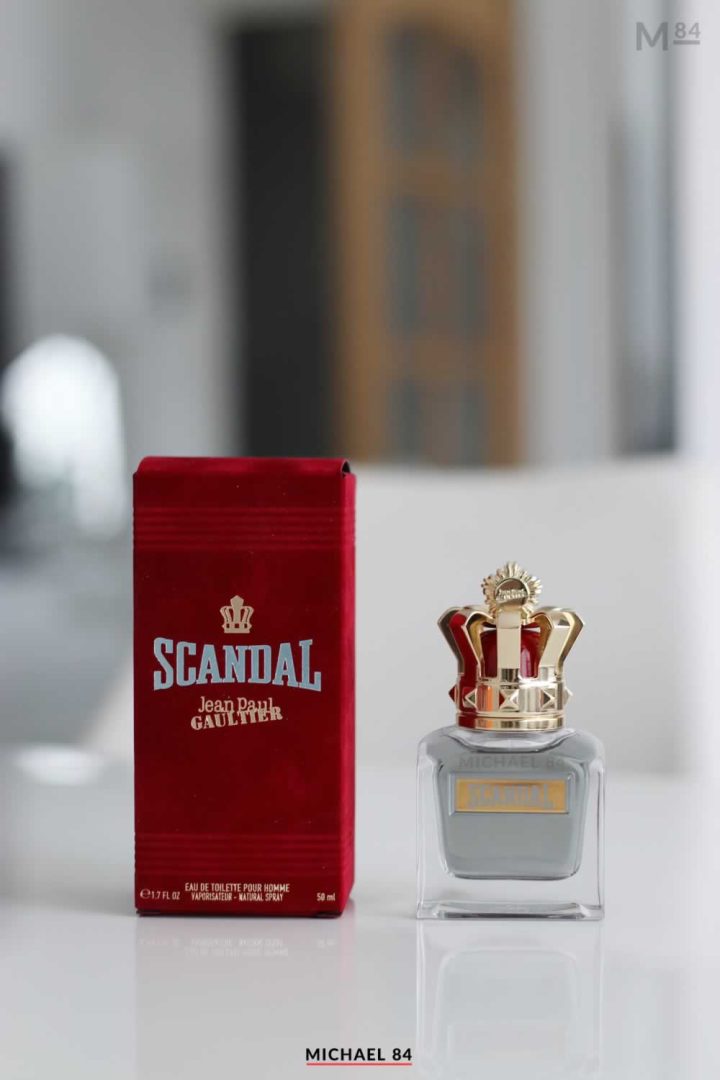 Jean Paul Gaultier Scandal Pour Homme Bottle
The Scandal Pour Homme bottle is very distinctive. First of all you'll notice the crown. This acts as the top of the bottle, and it looks the part in gold. The rest of the bottle is clear glass, with the Scandal branding to the front in a gold box.
I got myself a 50ml bottle of Scandal Pour Homme which is an EDT, and you can pick these up for around £55, with a large 150ml bottle for around £90.
The bottles are also environmentally friendly, which means you can buy a refill and keep using the original bottle. This is something a lot of fragrance brands are doing with their newer bottles.
I have to mention the box too. It's red with gold and silver foil style branding, but what makes it stand out is the velour feel it has to the box.
When & Where To Wear Scandal Pour Homme
Since Scandal is such a sweet and light scent, I can see wearing this in the spring and summer, especially during the warmer weather. It will work well during the day around town or at the beach, or on a hot summers night.
I see Scandal as more of a playful fragrance, worn in the day rather than a night. It could be an everyday fragrance as it's inoffensive in nature, and I think works best in a casual setting.
Verdict
I like Scandal Pour Homme, and think it makes a good summer scent when I want to reach for something sweet. This eau de toilette will not be to everyone's liking, but if you like a sweet scent, or want to try something less dark and heavy, it's worth a smell.
Longevity – Scandal Pour Homme is an eau de toilette (EDT) and is a sweet scent. It lasted quite a while with me, I got 5-6 hours.
Projection – The projection is fairly good. People around you will be able to smell this.
Best season to wear – Spring/Summer / All Rounder
Scent type –  Sweet, Aromatic, Soft Spicy
Age Recommendation – 18+
Best Worn – Daytime, Evening, Casual
Top Notes – Orange, Clary Sage
Middle Notes – Caramel, Tonka Bean
Base Notes – Vetiver
Let me know what you think of Scandal Pour Homme. You can check out all my fragrance reviews on the blog if you're looking for a new fragrance or scent for yourself.