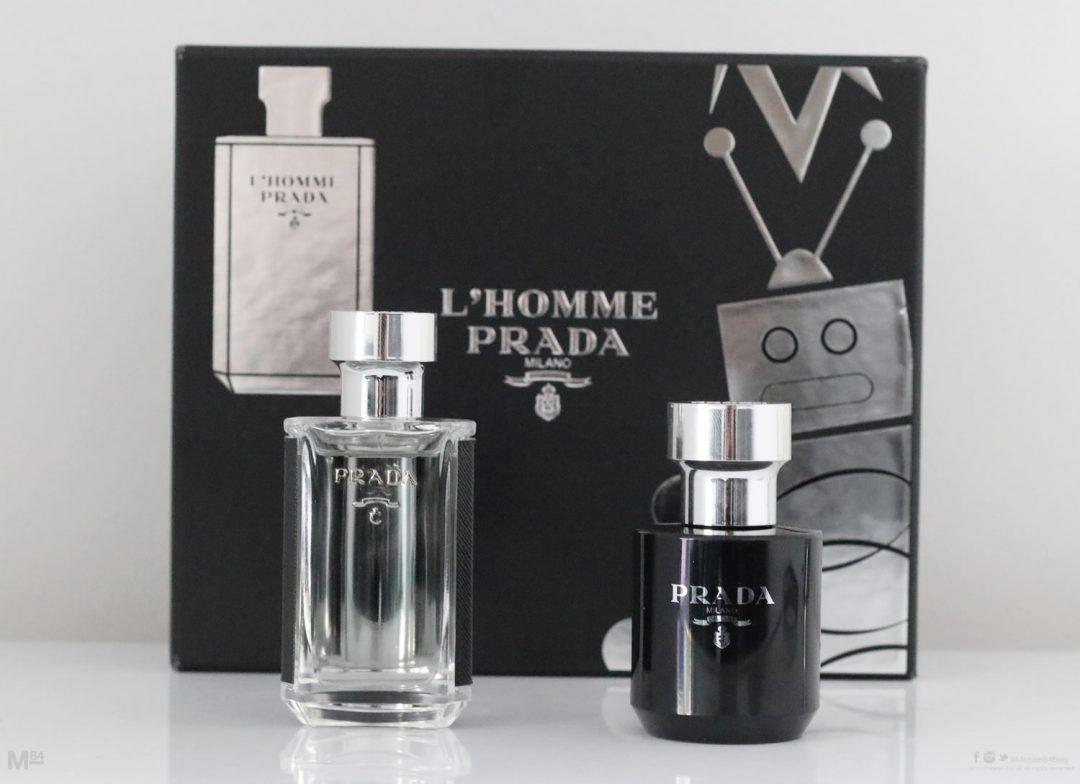 It's one of the most loved scents by so many people, and a one which I didn't own, but now I do. I am talking about Prada L'Homme. It was released in 2016, and for the past year or so I have heard people say how brilliant this scent is, how it's not just a good fragrance, but one of the best men's fragrances ever. Is it true?
I hadn't been able to try it out for the longest of times, but I can finally say I got myself a bottle, and here's the low down on this one.
Since we've just had Christmas I was planning on going to buy this one in store, so I could check it out before I buy. If you're buying any scents I would recommend actually testing them first, because even if you read everyone saying great things, it's all relative, and it may not be the style of scent you like.
But I saw this on offer online in as part of a Christmas gift set, so thought I'd buy it blind – Everyone's got good things to say about it, and it was only £32, so it didn't seem like much of a risk.
As always I will start with the bottle. It's a 50ml bottle and is a semi-cylindrical bottle, with the front being flat and the rest being curved. The front is transparent so you can see the juice, the Prada wording to the front and a wraparound material in black, making it easy to hold.
One of the key notes in a Prada scent is amber, which is one of the main notes in this. I have Prada Amber which I've had for years, so was interested to see if this was much different, if it all, and how it stacked up not only against others, but other's from the same brand. So vs Prada Amber, you can get a sense that they're a little similar, but L'Homme does seem more refined.
What does Prada L'Homme smell like?
It's quite a warm and inviting scent, but floral and powdery rather than woody or musky. You can really get a purple feel from smelling this, which comes from Iris. It's a very nice and pleasant scent, and I do like this fragrance. I have only tried it for a short time, so I don't want to by hyper-critical about it, especially because I do like it and it is pleasant.
However I would not say it's outstanding, it's not one of those when you smell it first time and instantly fall in love, at least I didn't.
It's been said by a few that this is a panty dropper (whoever came up with that phrase needs to be shot), a lady killer, or whatever term you'd like to use to basically say women find it unbelievably attractive. I can't say that they don't, and since this is one of my newest scents I can't talk about compliments from girls, I can only judge it against my other scents.
I think that there's more powerful scents that make a bigger impact. Dior Sauvage would be one, Creed Aventus of course, and my favourite Floris Santal. Prada L'homme is more subtle, which could be a good thing, and could actually be the kind of vibe you're looking for.
That subtlety means you can wear this through the day and on an evening too. It has that balance of being able to be worn in the office, as well as on an evening, be that a night out with the lads or night out with the girlfriend.
So would I recommend it? Yes I would. Are there more powerful masculine aftershaves? I would say yes to that too. Perhaps I have just read and heard so many good things about this that I feel underwhelmed, because it is really nice, but I'm not (yet) convinced it's one of the best ever.
Best season to wear – All Rounder
Scent type – Powdery, Floral, Fresh Spicy
Age Recommendation – 18+
Best Worn – Day time, Evening, Formal, Casual
Top Notes – Pepper, Neroli
Middle Notes – Geranium, Violet, Amber, Iris
Base Notes – Cedar, Patchouli
What are your thoughts on Prada L'Homme? Let me know what you think of this one. You can read the rest of my men's aftershave tips if you're looking for a new scent or would like more fragrance reviews.