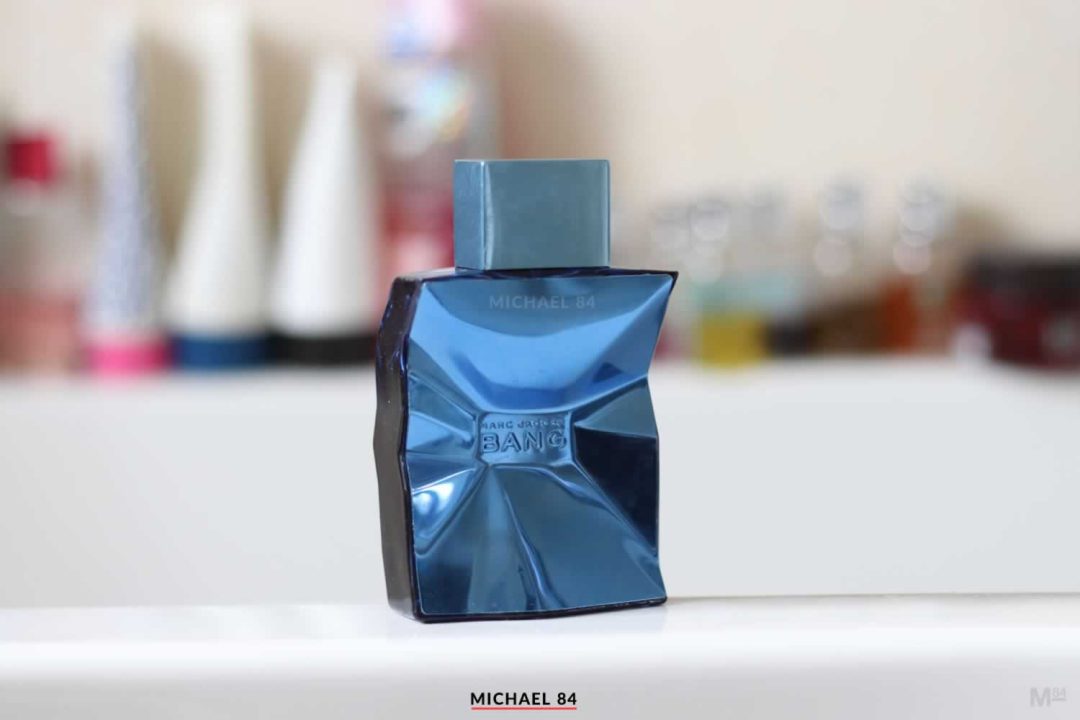 For this week's fragrance review I am going back a few years to one I've not seen much of. It didn't shape up to be a classic, but it's still a nice modern style of scent.
It is Marc Jacobs Bang Bang, and this is everything you need to know about this one.
The Bottle
As always first off I have to start with the bottle. If you're familiar with Marc Jacobs Bang! you'll be familiar with this bottle. Bang! Bang! was released in 2012, 2 years after the original Bang!
I really like the bottle design, it's definitely unique to the Bang! collection. It's edgy and is made from plastic with a blue metallic look to it.
The sides are transparent blue, so you can see how much you've got left.
It has debossed and embossed branding to the front and back, which is tastefully done. The atomiser is good, with a nice wide spray giving good coverage.
This is a 50ml bottle of the fragrance which I have here, and is an EDT (eau de toilette).
What Does Bang! Bang! By Marc Jacobs Smell Like?
The smell itself is quite nice. It's a fresh break from the super peppery original Bang Bang!, which I don't like very much at all.
Bang! Bang! still has the pepper and spicy notes, but is more toned down, and comes with hints of other smells too.
There are more woody and spicy citrus vibes in this one, and in my opinion it's better than the original. It has that kind of fresh-spicy vibe to it too, which really creates a bit of a mish-mash of notes, but it works fairly well.
It's quite a modern manly smell, with musky elements along with sharp citrus tones. I do however get a quite synthetic feeling to smelling this one, which isn't good in this case.
Overall it's a reasonably pleasant smell, but there's little wonder why it wasn't really adored by the masses. It just doesn't have that one 'it' factor which other great fragrances have.
When To Wear Marc Jacobs Bang! Bang!
I think it's one for the evening rather than day, and I would also suggest it's more for the colder months of Autumn and Winter too. It could be worn to the office, but it's more of a night out style of scent, rather than an office fragrance.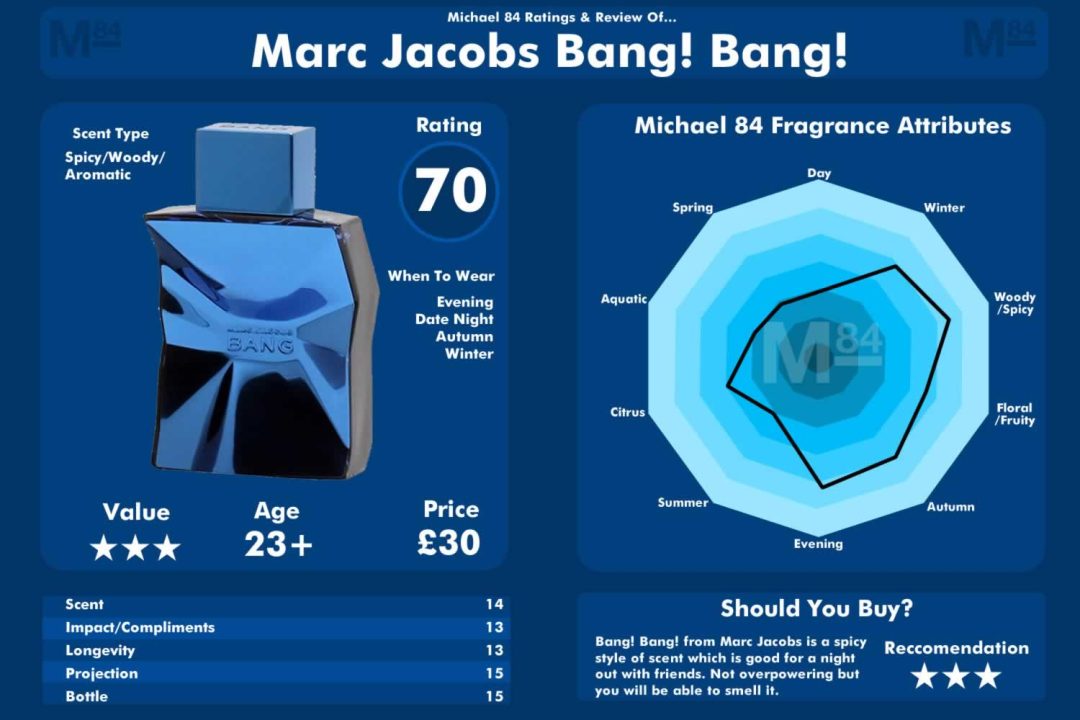 Longevity – Marc Jacobs Bang! Bang! an EDT, I think it lasts quite a while. Get 6-7 hours with this one.
Projection – The projection is good. People around you will be able to smell this one on you.
Best season to wear – Autumn/Winter
Scent type – Spicy/Woody/Aromatic
Age Recommendation – 23+
Best Worn – Evening, Date Night, Out With Friends, Casual
Top Notes – Coriander Seed Orpur, Cardamom Seed, Fennel Oil
Middle Notes – Clary Sage Absolute, Sandalwood, Patchouli
Base Notes – Benzoin Tears, White Amber, Cashmere Musks
Do you own this one, or did you miss out? Let me know. Bang! Bang! is now said to be a discontinued fragrance, so if you missed out it's unlikely you'll be able to buy this one again.
You can check out more in the fragrance blog if you're looking for a new aftershave or cologne, or just want to read up on what's good.