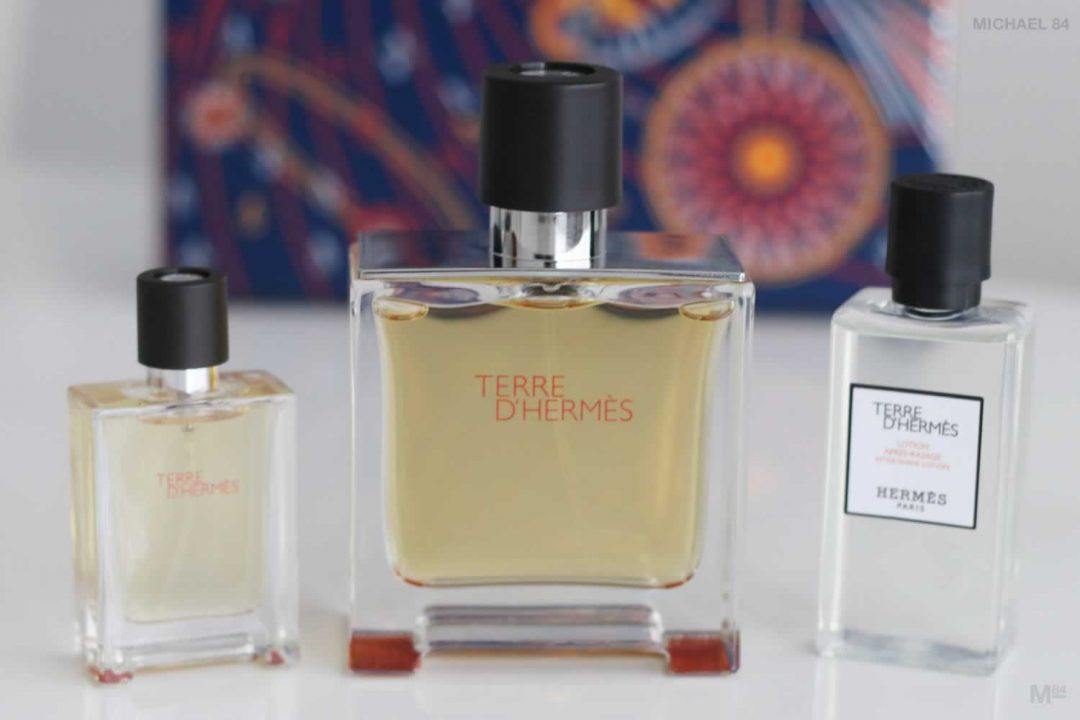 I got myself a brand new fragrance! This week I have bought Terre D'Hermes Pure Parfum, by Hermes.
It's a great fragrance for men, and this is everything you need to know.
First of all I should explain why I got this. The scent was actually released back in 2009, so it not the newest of fragrances. In fact, there's been a few flankers which have since came out, including Terre D'Hermes Eau Intense Vetiver which was released in 2018.
But this was the scent I wanted, the original pure parfum.
I sampled this scent several years ago, and I was not much of a fan. It didn't seem to hit any of the heights which I wanted back then. I hung on to the tiny sample bottle which I had, and I'm glad I did.
I tried this out again, and my feelings towards it changed. I liked this scent. and I will explain why.
The Fragrance
It's a really strong dirty orange type of scent. It's really earthy, with a strong citrus element to it, which are mostly orange and grapefruit. The citrus is complimented by woody and earthy notes, which give it that dirty orange type of smell.
When I say dirty and earthy you might think it doesn't sound very appealing, but it is. It's a really masculine and manly smell, but modern. You get the masculinity without that old school strong musky type of scent.
Terre means dirt in French, if you didn't know 😉
Vetiver and Bergamot aren't listed as such in the notes, but I do get those kind of vibes from it. However orange and 'woodsy notes' are listed.
Why Do I Like This?
I have a large collection of fragrances, but I don't have a scent like this in there. This is one of the reasons why I like it. It smells good, but is different to everything I own.
When I originally tried this, I liked a lot of similar styles of scents, and still do. Terre D'Hermes Pure Parfum was different, so I decided not to get this. But now I want a more broad range of fragrances, and this fits the bill.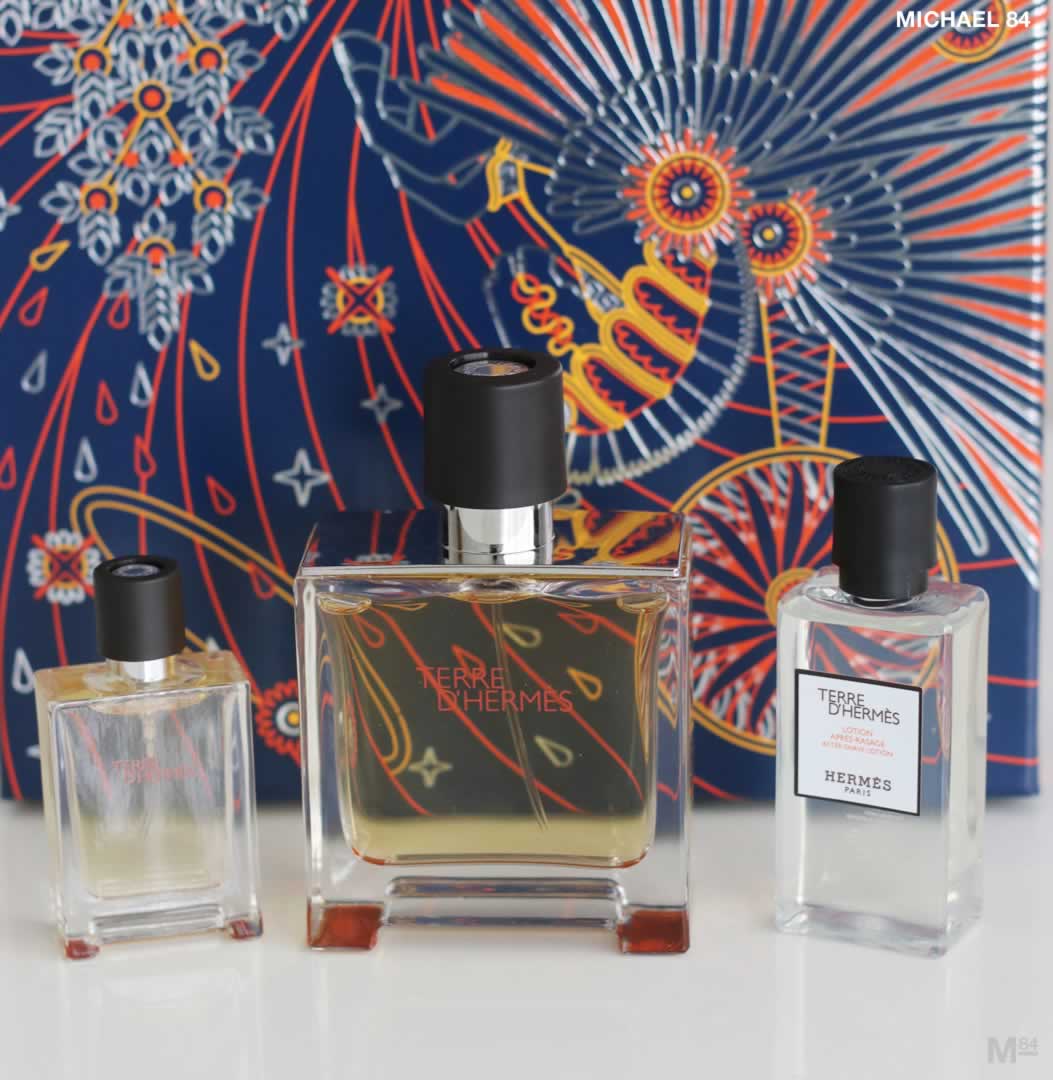 Will It Get Compliments?
Terre D'Hermes is probably not the best compliment getter, and that's a good thing. That sounds strange, but it's not what it's designed to do. It's a masculine style of scent that just smells good. That's all.
Don't get me wrong, there's plenty of women and men alike which will say you smell good. But if you're after that one knockout killer fragrance for a night out, there's better choices. (like these compliment getter fragrances).
This was one of the reasons I originally didn't go for it. But then I realised that not every scent has to win the compliments competition.
Terre D'Hermes Pure Parfum can be considered an all rounder. I think it works best in Autumn and Winter on an evening, with it's dirty woody and citrusy notes. But I can see it working fine during the day, in the Spring and summer too.
Whether you're looking for something to wear in the office, a night out, a day around the city, it works for every occasion.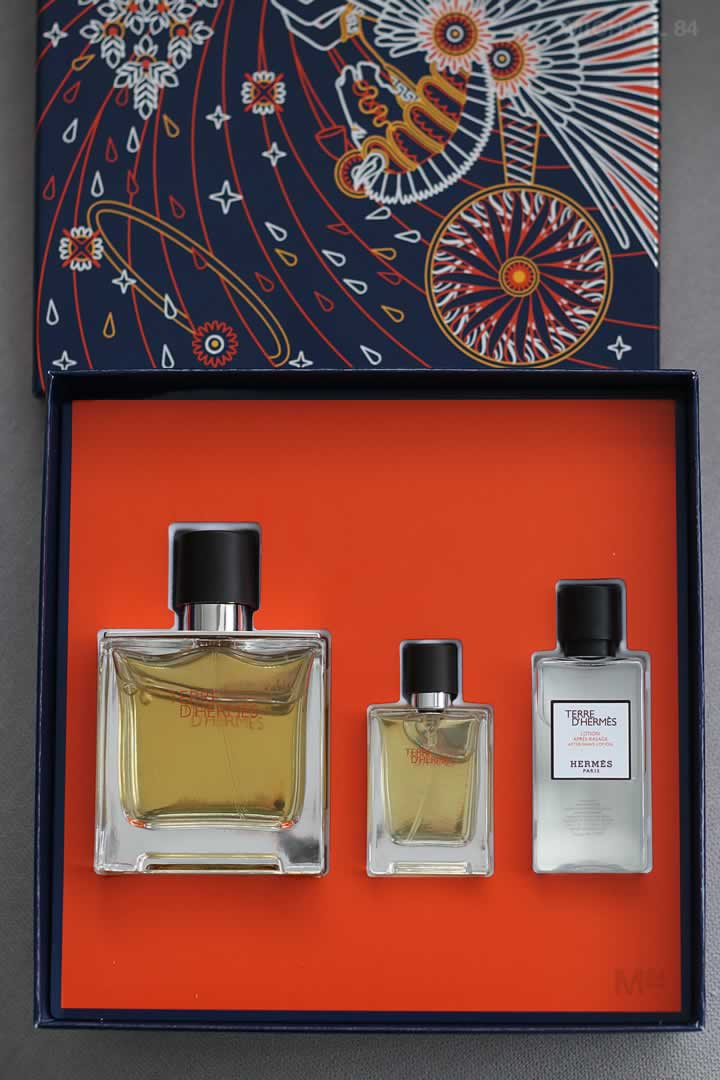 The Bottle
I should also mention the bottle. It's a no-nonsense clear glass bottle, with the Terre D'Hermes branding to the front. The base of the bottle has the glass etched out so it's the letter "H", denoted the Hermes branding.
The top is interesting, which has the atomiser covered in a plastic ring. To open the fragrance you have to twist this, and it pops up, twist it again and it pops down. I've never seen a bottle top like this.
The top of the bottle is finished in chrome, which is a really nice touch.
I got myself the gift set which includes a 75ml Terre D'Hermes Pure Parfum bottle, a smaller 12.5ml bottle, and a 40ml aftershave lotion.
I managed to grab it in the sale, at £79 it's not a cheap scent. The usual price is around £95 for a bottle. You have to factor in that it's a pure parfum, rather than an eau de toilette (read the differences between eau de toilette and parfum here).
Verdict
Overall I really like this scent, and I can see myself wearing it quite a lot for all occasions. I am glad that I have finally got this in my collection. It offers something different to those other fragrances only known for their compliments.
It's a modern masculine scent which has already stood the test of time, I look forward to wearing it for years to come.
Longevity – Terre D'Hermes Pure Parfum is a perfume, so the longevity is incredible. I easily get more than 10 hours with this.
Projection – The projection is very good too. Others around you will be able to smell it.
Best season to wear – All Rounder
Scent type – Orange-Citrus, Earthy, Woody
Age Recommendation – 25+
Best Worn – Daytime, Evening, Casual, Formal
Top Notes: Orange, Grapefruit, Shiso
Middle Notes: Flint
Base Notes: Woodsy Notes
And that is Terre D'Hermes Pure Parfum. As always, you can check out more fragrances in the aftershave blog. Find your next scent or just browse the reviews.