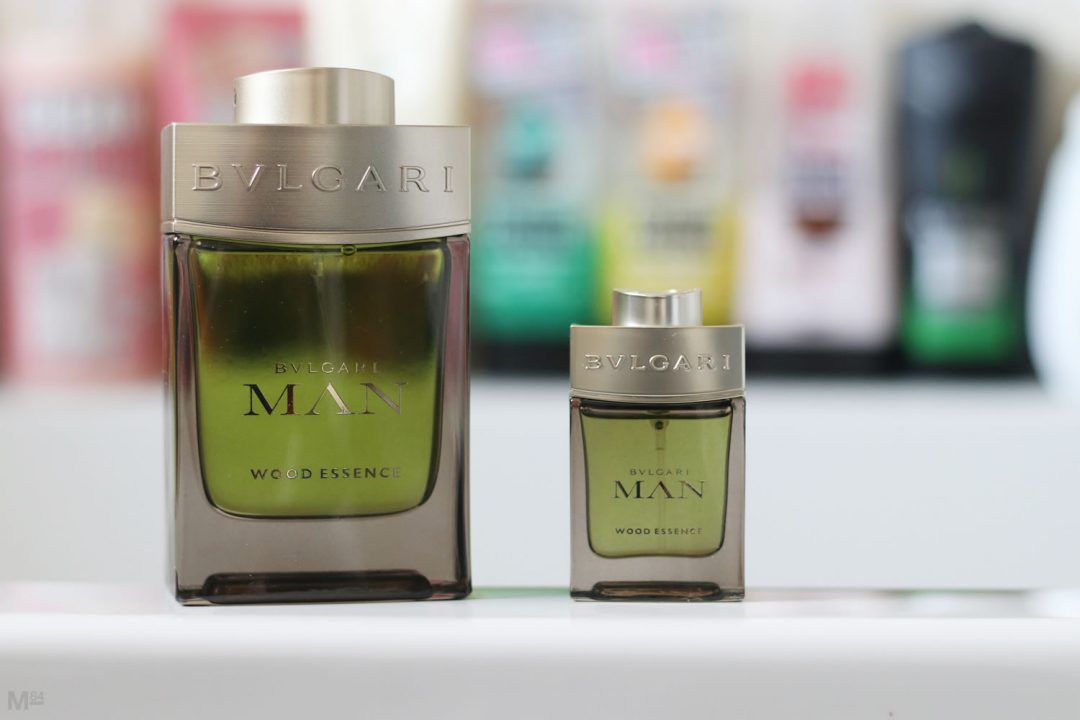 For my latest fragrance review It's another I got at Christmas 2018 and another I've been waiting for, Bvlgari MAN Wood Essence EDP.
I am a fan of Bvlgari scents and have owned many, including my favourite, the original Bvlgari MAN, but how does this one stack up?
The Bottle
As always, I'll start off with the bottle. Since this one comes from the MAN range of scents from Bvlgari, the bottle follows the same formula as the other fragrances within the range. I do like the bottle, which is a medium-height bottle which is quite chunky to the back.
The glass covers around 80& of the bottle, with the trademark Bvlgari band to the top, being gold in colour. The top itself is a large circular top which twists to keep open or closed, and has trademark branding around the rim.
The front of the glass has the wording written in gold, with the juice being green, it gives off a green and gold colour.
I have a 100ml bottle, and this one also comes in a 60ml bottle. I got this in a set which contained the bottle, as well as a smaller 15ml bottle, perfect for trying out the scent, for travelling or even taking out to top up your smell.
What Does Bvlgari MAN Wood Essence Smell Like?
As for the scent itself, it's a really nice pleasant one. The first thing to note is that it's not too woody, at least, not that oud or musky types of wood you may associate with a woody fragrance. Instead it's more of a green kind of woody scent, which you'd expect from the colour of the fragrance.
It's soft and spicy, and has a nice inviting smell to it, and is an inoffensive style of scent which works well in a number of situations.
Since this is more of a green scent, I think it could be the perfect scent for Spring, although it's quite universal for most seasons. It's punchy enough to wear on an evening, and also not overbearing making it usable during the day.
Wearing it at Uni or at work such as around the office, it will get you noticed and compliments without it projecting too far and being too strong.
It's worth noting that this is an eau de parfum, EDP and as we know EDP is usually stronger than EDT. It should last longer than most EDTs, and over-spraying should not be required to get a good longevity for Bvlgari MAN Wood Essence.
Is It Worth Buying?
I think that Bvlgari MAN Essence is worth buying. It's a fragrance which isn't too similar to any which I already own. I can see myself wearing this in Spring and during the day, when I want to have something which packs a little punch while still being subtle enough to wear throughout the day.
If you're looking for something to wear during the day, this is definitely worth sampling.
Having said that, it's still perfectly acceptable to wear on an evening, depending on the style of scent you like to wear, it can be considered a good all round fragrance.
I am looking forward to wearing this in the coming year.
If you've tried Wood Essence let me know what you think of it. As always, you can find the best men's fragrances over in the directory, if you're looking to try something new or to find out about a classic men's cologne.
Read the best Bvlgari Fragrances if you're looking for comparison among the collection, and discover which Bvlgari fragrance is best.
Longevity – Bvlgari MAN Wood Essence is an EDP, however in testing it did not last as long as some EDPs, but I still managed to get 7-8 hours.
Projection – The projection is noticeable however is not over powering, it sits right in the middle and is neither too strong or weak.
Best season to wear – All Rounder
Scent type – Green Citrus, Slightly Woody, Aromatic
Age Recommendation – 18+
Best Worn – Daytime, Evening, Casual, Formal
Top Notes: Citrus, Lemon Zest, Coriander Leaf
Middle Notes: Cedar, Vetiver, Cypress
Base Notes: Benzoin
Other Bvlgari Fragrances