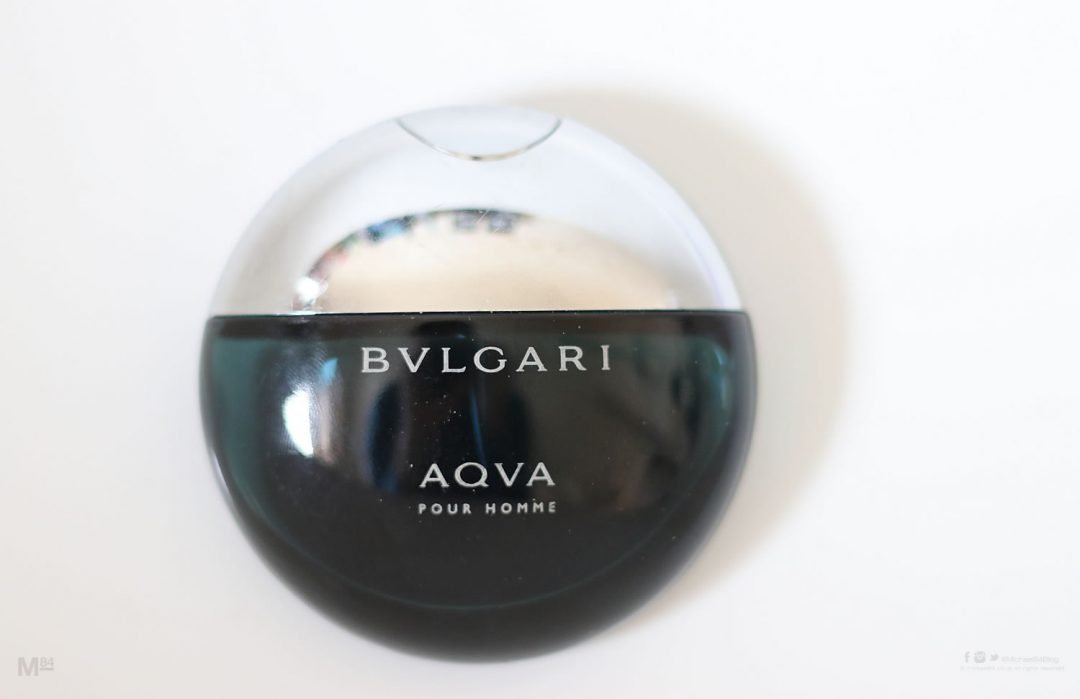 Do you call it Bvlgari Aqva, or Bulgari Aqua?
Actually if you know Bvlgari, it's stylised in the old roman lettering, but of course it's pronounced "Bulgari Aqua". My first scent from the high end fashion house was Bvlgari MAN which I love…I mean it's one of my favourite fragrances ever.
After I got that, I was intrigued by the brand, so I bought a few more of their scents, this being one of them.
First off the bottle…It's annoying! It's one of those round disc types of bottles, which means you can't stand it up, which explains this poor photo I have taken of it. Other than bad photography, it makes it harder to store too, you can't stand it up as you would with most bottles. It comes in a dark aqua colour to go with the name, and a plastic silver-chrome top and sprayer.
For Fragrances Revisited this time round I have to talk about Bvlgari Aqva which is a great Summer fragrance. If you ever blind buy a scent a lot of the time you'll not really know what the style of the scent is, sometimes you can take a bit of a guess, one ways to do that is by the colour of the scent, colour of the bottle or name.
This one is a complete giveaway of the style of scent, which is a green, marine aquatic type of scent, and that's exactly what it is.
This was released in 2005, and I picked it up a few years later, making it over 10 years old. To be honest, it's never really been a favourite, but maybe that's not because it's bad, because it's not, but more because I have not really embraced this style of smell.
I have not really been into lighter aquatic scents, although I do like this scent, I prefer the darker, woody scents which are more seductive and powerful.
Having said that, Bulgari Aqua does have a punch to it. It's not a light citrus type of aquatic, more of a spicy and darker type of this type. I can recommend it as a pleasant enough scent, but it's not one of my favourites.
Read the best Bvlgari Fragrances if you're looking for comparison among the collection, and discover which Bvlgari fragrance is best.
Do you own this? Let me know what you think. If it's not to your liking, check out more of my fragrance tips and advice for another men's scent.
Best season to wear – Spring/Summer
Scent type – Aquatic, Marine
Age Recommendation – 18+
Best Worn – Day, Evening, Casual, Formal
Top notes: Petitgrain, Mandarin, Orange
Middle notes: Seaweed, Lavender, Cotton Flower
Base notes: Patchouli, Cedar, Amber, Sage, Woody Notes
More Fragrances From Bulgari