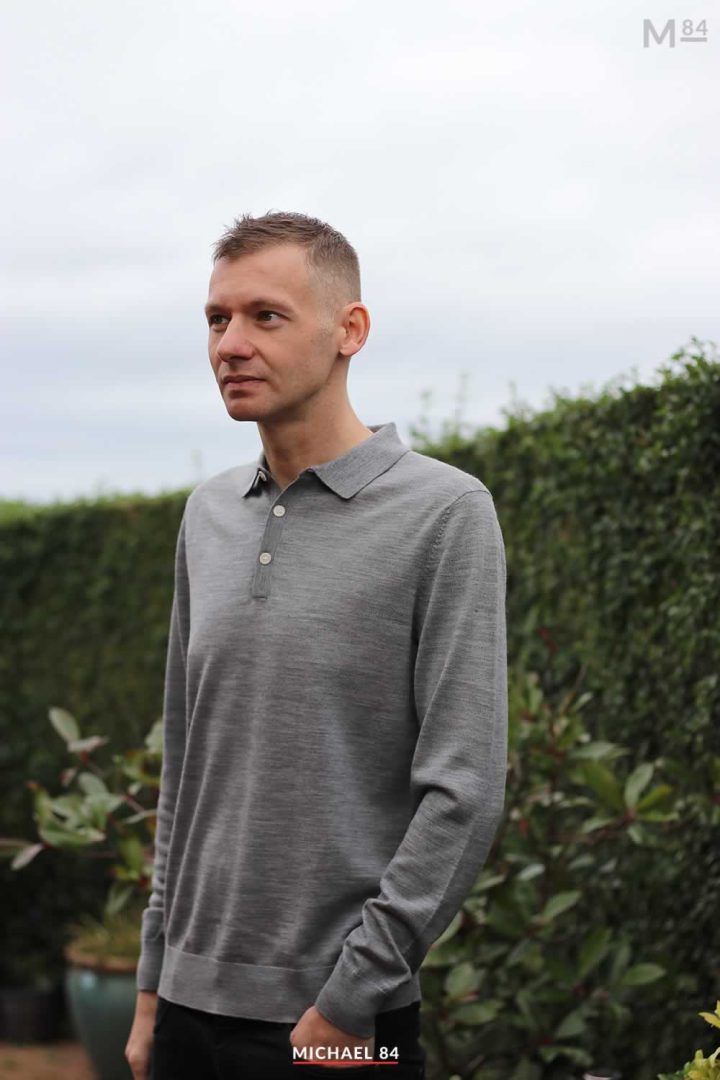 I have been looking at these shirts for so long, but resisted on getting one. I am of course talking about a long sleeve polo shirt.
But not just any old long sleeve top. I wanted a merino wool long sleeve polo. I got myself this one in grey, and really like it a lot.
This is why I love them, and why I've been looking at getting one for a while.
I got this from the premium range at H&M. The quality is always good, and I really like the fit. I have a lot from their premium menswear, and have never been disappointed.
A long sleeve polo is a perfect piece of clothing for a smart casual outfit. Whereas a polo shirt is thought of as a short sleeve alternative to a standard t-shirt in the summer, the long sleeve version is a bit different.
Long sleeves are often thought of as smarter than short. This is true when it comes to dress shirts, and is the same story when you go for a polo.
Merino wool is another feature of this which makes it smarter too. Wool is a fabric usually found in other styles of knitwear and jumpers, with varying degrees of casual and smart. Merino wool is light, silky smooth and just feels premium.
It's very lightweight, so in the cooler months, it can be worn layered. It wasn't too cold wearing this, but usually I'd wear a t-shirt as a base under this. The good thing is that it's a button up, so I can wear it buttoned all the way to the top, not exposing the under layer.
I love how smart this look too. It's a great alternative to a standard jumper, or can even be worn as an alternative to a shirt depending on the occasion.
Some people would throw a blazer or smart jacket over this, but for me I wouldn't do that. I'd pick out a smart bomber jacket, or wear this with an overcoat or other similar suitable coat. I'm not much of a fan of the polo shirt blazer look, but I know some people like that.
It is however very versatile, easy to wear as a more casual piece, or smarten up with a smart bomber or overcoat as mentioned. I could even see me wearing this with my blue cardigan I recently got, I think both pieces would work well together.
I also have to mention the colour. I wanted one of two: Navy or grey. I went for grey, I sadly couldn't get the navy as it wasn't in stock. As you'll know if you read my blog I love these colours, which are known as staple colours of menswear.
That basically means they'll go with anything, they're timeless and can be worn at more or less any time.
I'm looking forward to having this in my wardrobe for a long time, and maybe adding in another colour too.
p.s. I took this photo just before I started growing out my facial hair for November 😉
Have a good Friday!