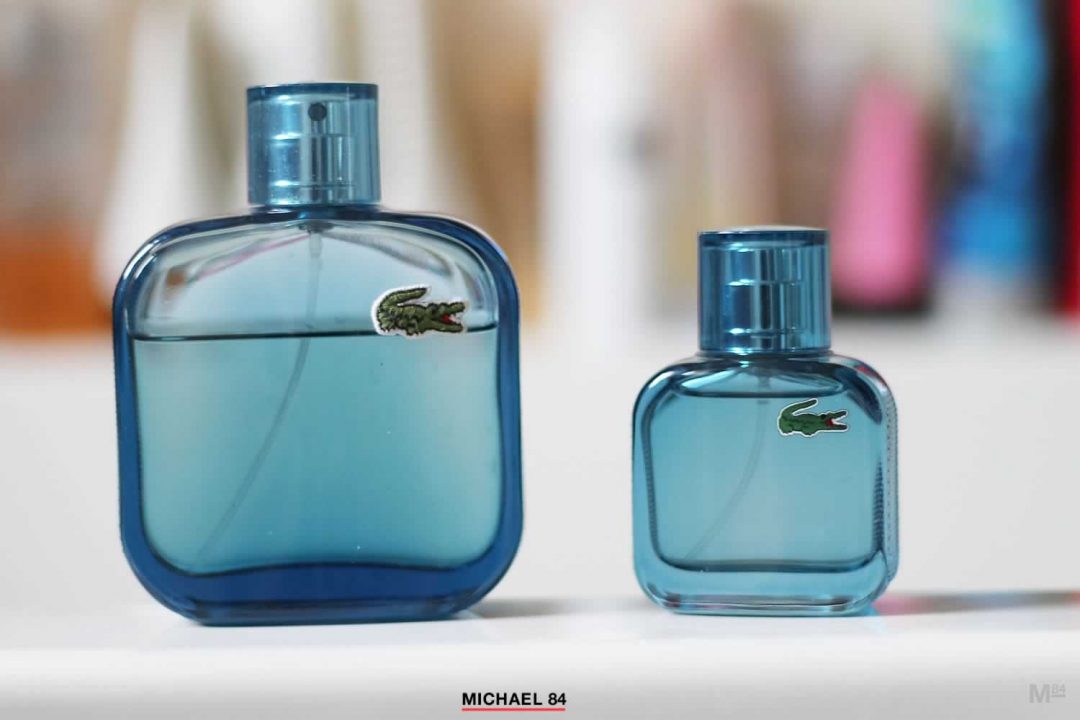 I have been using some of my Lacoste fragrances quite a bit lately, so I thought I would review Lacoste Blue L12.12. eau de toilette on the blog this week.
It's an older scent, and was released in 2011. I have another scent from this collection, Lacoste Rouge, which was released a year later.
The Bottle
As always, I will start off with the bottle. If you're familiar with this family of Lacoste fragrances, the bottle will look familiar. It's a transparent bottle in blue glass to go with the name, and is square in shape with rounded corners.
It has grip-like sides to make it easy to pick up and hold.
The only branding to the bottle is the trademark Lacoste Croc on the front. The larger bottles have an appliqued Croc, while the smaller ones have a printed logo.
I have a 100ml bottle, and I later got a smaller 30ml bottle too.
The atomiser is good, with a nice wide spray meaning you only need a few sprays for good coverage.
The Scent
Now the scent itself is a very pleasant one. It's definitely an inoffensive fragrance. Fairly fresh with hints of greeny citrus and just a bit of spice to it to give it a little bit of an edge.
I have to say when I first got it I thought this was just an average every day type of fragrance, and in many ways, it is. But is that a bad thing? No, I don't think so.
When it comes to wearing something really nice during the day, this definitely fits the bill.
The style of the scent makes it perfect for the Spring, but mostly for the Summer during the day. It doesn't have that power punch for a killer night time scent, but that's not what Lacoste Blue is about.
When you want something fresh and green which just smells nice, this is definitely a good choice. It will get compliments in the right setting, and is a no non-sense, pick up and use fragrance.
When it comes to the best age, I think it's a more youthful scent, but because it's so inoffensive, can work for most ages.
I am glad to have re-discovered this one, it's definitely worth thinking about when picking out something for every day use.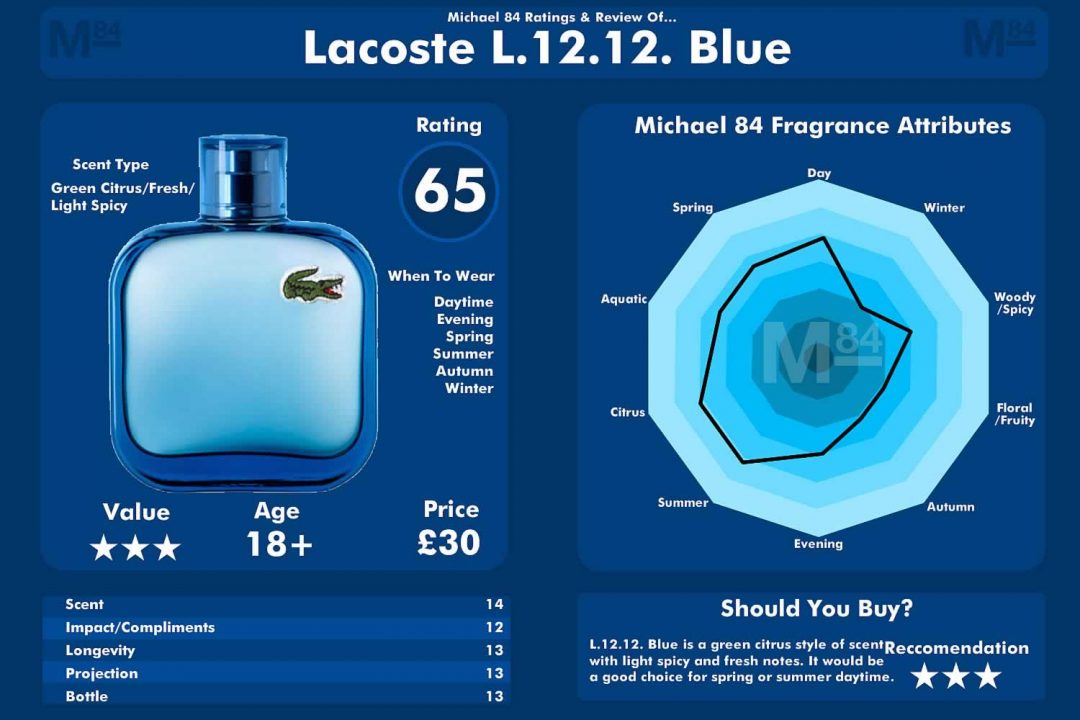 Longevity – Lacoste Blue L12.12 is an eau de toilette. I got 5-6 hours using this.
Projection – The projection is pretty good. You will smell this on you, and so will others around you for a short amount of time.
Best season to wear – Spring/Summer
Scent type – Green Citrus, Light Spicy, Fresh
Age Recommendation – 18+
Best Worn – Daytime, Casual
Top Notes: Grapefruit, Mint
Middle Notes: Sage
Base Notes: Fern, Cedar, Patchouli
And that is Lacoste L12.12 Blue.
As always you can check out more fragrances here, if you're looking for that special aftershave or cologne, or just want a browse around.
Other Lacoste Fragrances