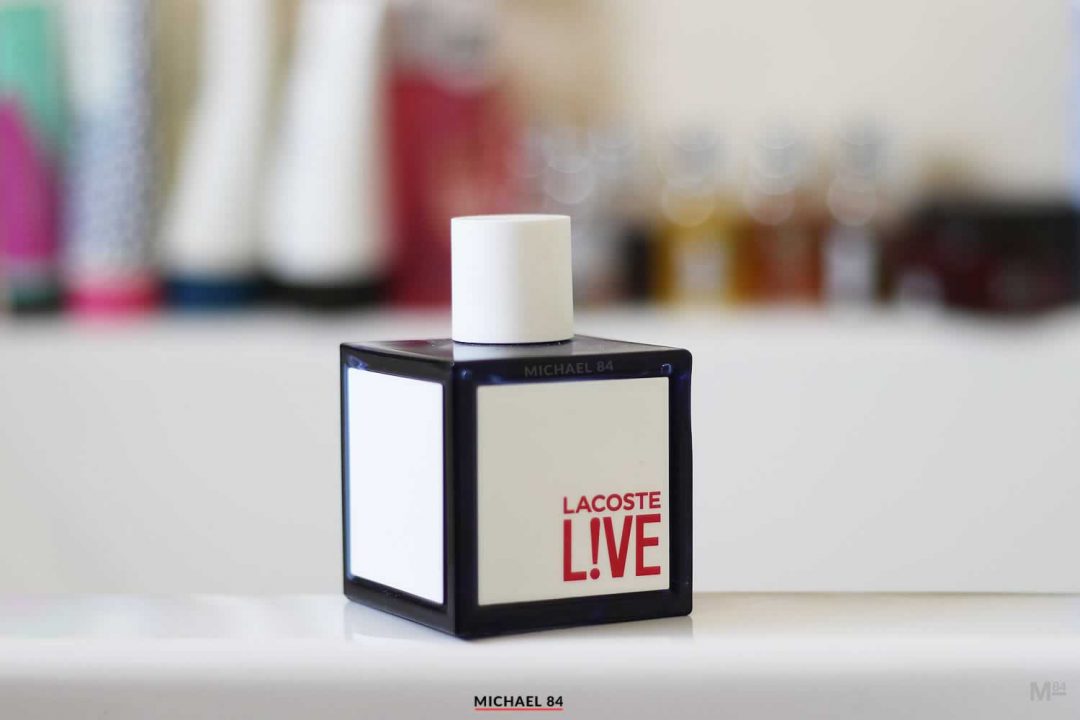 This week's fragrance review is a good one. I'm taking a look back at an interesting fragrance from Lacoste, Lacoste Live!
You might have already checked out my reviews of Lacoste Rouge and Lacoste Blue. Those were from the L12.12 collection of fragrances. The idea behind Lacoste Live! was to create a mash up from all of the L12.12. collection.
This meant blending them expertly together to create a new fragrance of it's own.
Here's everything you need to know about Lacoste Live which was first released back in 2014.
The Bottle
As always I will start with the bottle. I really like the design. It's a cube design which I rarely see in fragrance bottles, and I believe this is the only cube bottle I own. It's made from glass, translucent blue in colour, although each panel has a square of plastic covering it.
I got myself a 100ml Lacoste Live! bottle which is really easy to hold in the hand and use to spray.
The branding has the Lacoste Live! wording on one side, the trademark Croc on another, the fragrance composition on another side, and the other is left blank. The atomiser works well, and sprays a wide spray for good coverage.
The scent itself is an interesting one. According to the composition it has: 32% Intense Blue, 58% Natural White, 10% Pure Red. 100% Lacoste Live.
What Does All This Smell Like?
It's a very pleasant smell, and it is quite unique. It's got a citrus greeny kind of scent to it, however it has quite a bit of spice too.
It has woody tones too, along with watery notes, so it does what it's supposed to do, which is combine a lot of notes into one scent. I think it's very sharp. You really get the fresh spicy notes shining through from the start, and it's very noticeable.
The fresh spicy notes are pungent, but they're nice. I get quite a sharp sting type of scent from the opening, which will be the lime combining with the other notes.
When & Where To Wear Lacoste Live! Fragrance
The overall smell I take away from Lacoste Live is fresh spicy. You can possibly get away with wearing it during the day, but I think it's better suited for an evening, especially in the Spring or Summer.
Lacoste Live! feels like quite a casual type of scent, so I could pair this up with a T-shirt or other forms of casual clothing. It's not one I would pair with a suit.
Michael 84 Says
At the moment it's not too expensive, you can expect to pay around £20 – £30 for a bottle in the 60ml or 100ml range.
If you want to get something different, Lacoste Live! is worth checking out. I think it's a youthful scent, and a good choice as an alternative to your favourite fragrances.
If you're looking for something relatively cheap as a starter scent, or something different to add to your collection, Lacoste Live! is worth considering.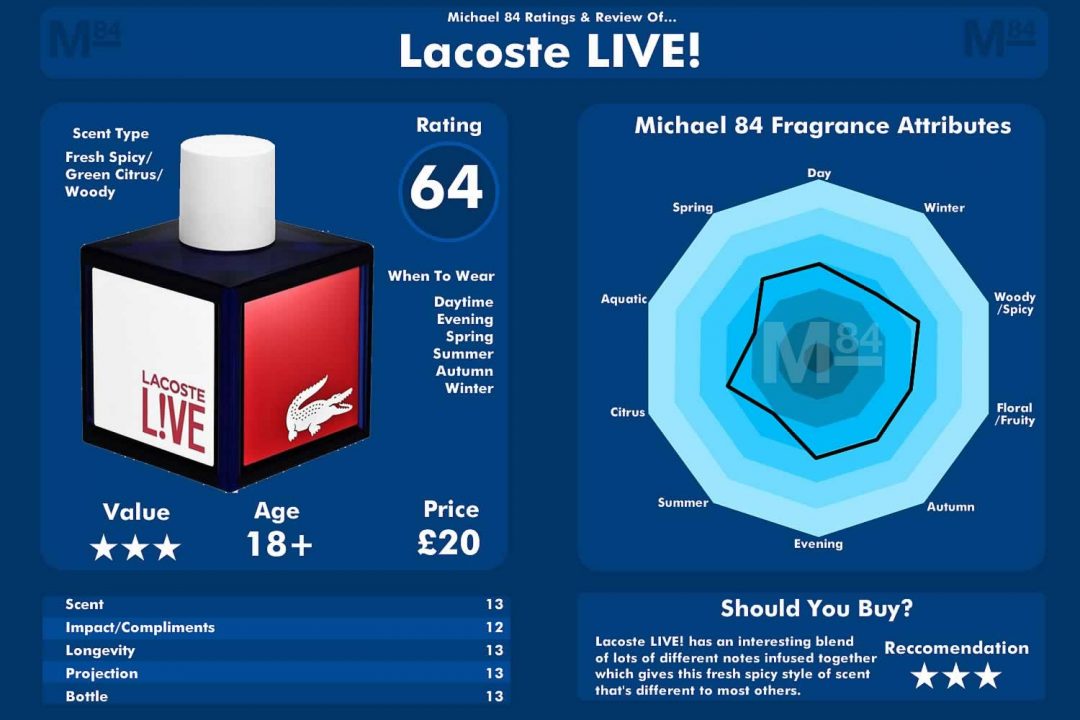 Longevity – Lacoste Live! is an EDT, and lasts a reasonable amount of time. I get 4-5 hours with this one.
Projection – The projection is decent, those close to you will be able to smell it.
Perfumer – Jean-Michel Duriez
Best season to wear – Spring/Summer
Scent type – Fresh Spicy, Green Citrus, Woody
Age Recommendation – 18+
Best Worn – Evening, Day, Casual
Top Notes – Lime
Middle Notes – Green Notes, Aquatic Notes
Base Notes – Guaiac Wood, Dark liquorice
Let me know what you think of this cologne if you've tried it. As always, you can find more scents in the fragrance blog, where there's reviews of men's aftershaves and perfumes new and old.