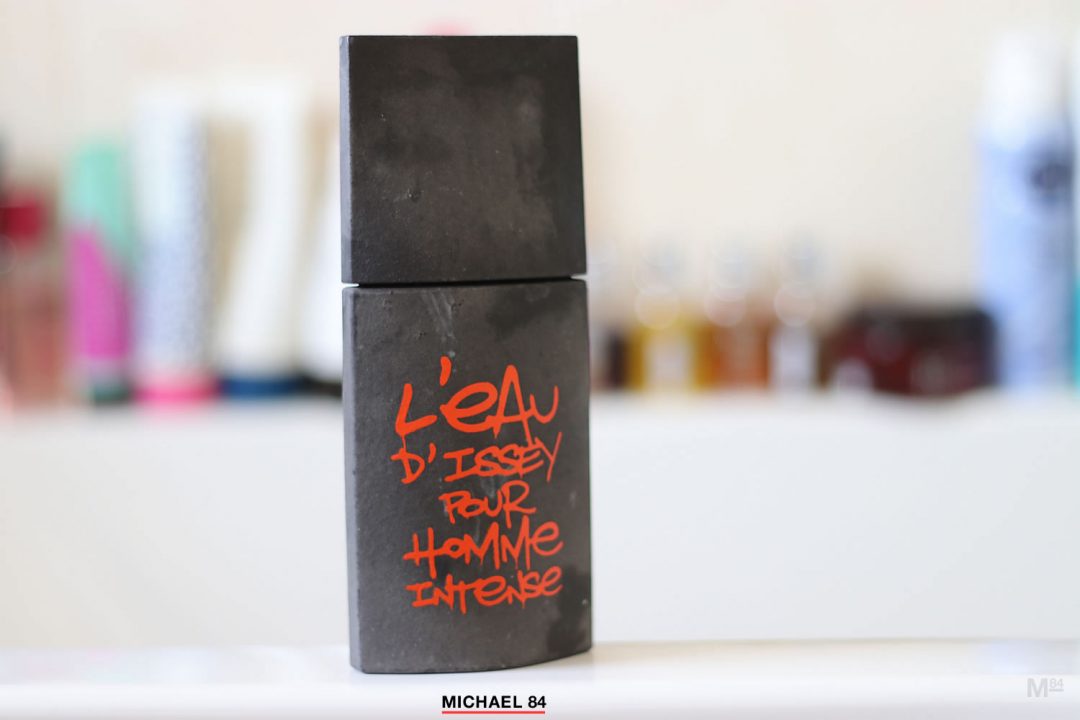 This week I am going back in my fragrance archives once again, and I'm going to talk about L'eau D'Issey Pour Homme Intense.
This was actually my second Issey Miyake scent which I bought, the first being Bleue and I actually got the original and best (in my opinion) pour homme after both of these.
Here's how it smells and everything you need to know about this fragrance.
The Bottle
Intense was released in 2007, but in 2009 they released a new limited edition bottle, which is the one I have. It's the same shape bottle which you get from the series of L'eau D'Issey, but has some differences.
It's made from glass, however it has a rough finish to it, which feels a lot like brick. The top has the same finish, but is made from plastic.
The wording on the front is written in a graffiti style in a bright red-orange, giving the whole look bottle a street look.
With different sizes available, I got the larger 125ml bottle which has lasted me a long time already.
What Does L'Eau D'Issey Pour Homme Intense Smell Like?
The scent itself is pretty good. It's nothing really like the original pour homme, this one is darker. It has some citrus to it, but I would describe this as a more smoky and spicy style of smell.
Whereas Pour Homme works incredibly in the day and could be used on an evening, Intense is more suited to the night.
I would also say that because it is a dark scent, it works better in the Autumn or Winter, rather than Spring or Summer. It's not as dark as nuit, but it does have some mystery to it.
I used to wear this quite a bit, but in recent times I have found others which I've enjoyed more. It's not a bottle I will reach out for automatically, but when I fancy a change and want something different, it's there to pick up.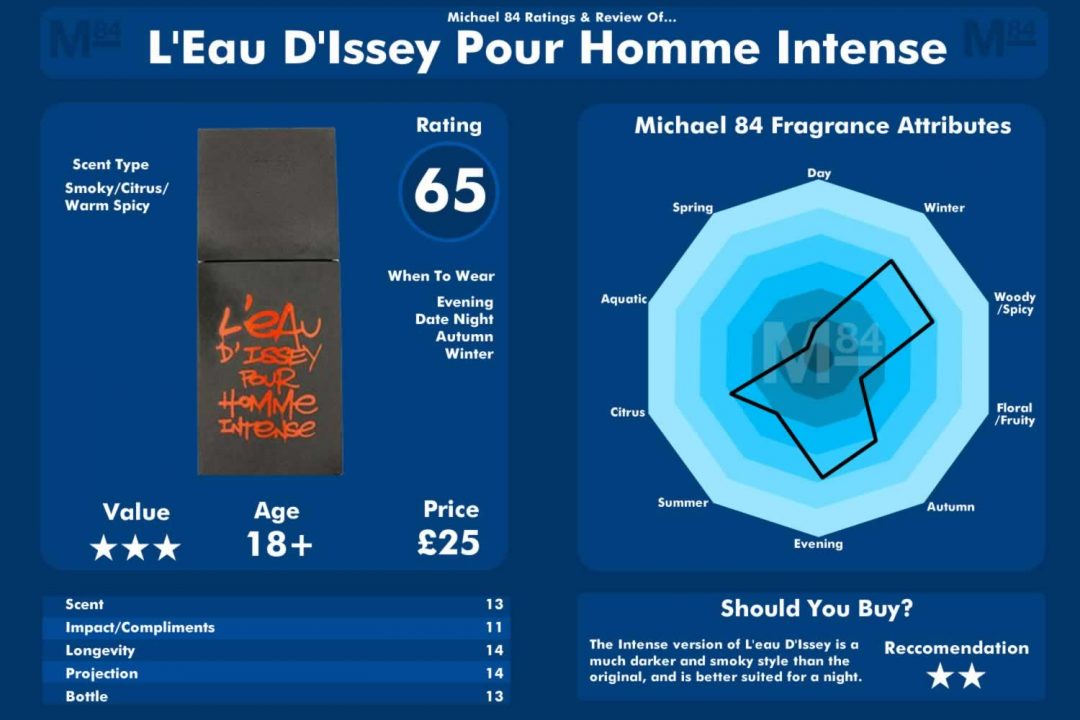 Longevity – L'Eau D'Issey Pour Homme Intense is an eau de toilette, and since it's dark lasts a fair while. I get 6-7 hours with this.
Projection – The projection is good too, with it being smelled around you without the need for over-spraying.
Best season to wear – Autumn/Winter
Scent type – Smokey, Citrus, Warm Spicy
Age Recommendation – 18+
Best Worn – Evening, Casual
Top Notes: Bergamot, Sweet Orange, Mandarin Orange, Yuzu
Middle Notes: Nutmeg, Lotus, Cinnamon, Saffron, Cardamom
Base Notes: Incense, Benzoin, Amber, Papyrus, Ambergris
Other Fragrances By Issey Miyake
If you've tried this scent, let me know your thoughts. As always you can find more in my fragrance blog if you're looking for more reviews or thoughts on your next bottle of aftershave.