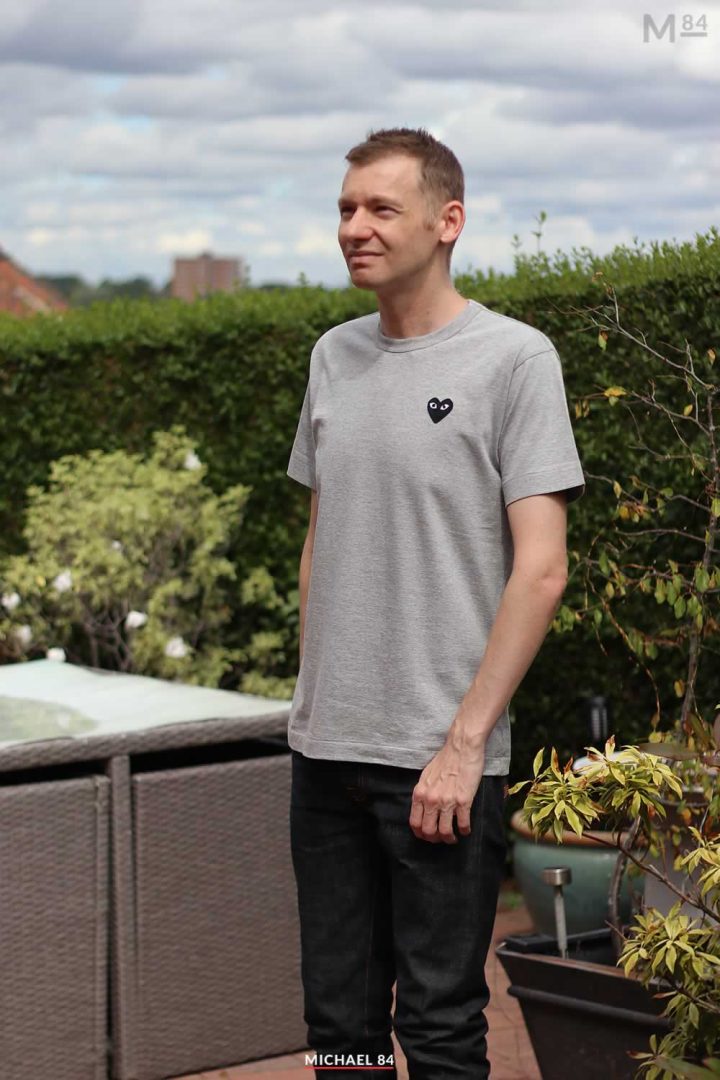 After so many years, I finally got myself another Comme des Garçons T-Shirt.
This time I went for a heather grey T-shirt, and this is everything you need to know about it.
Comme des Garçons is a brand which I really like, and as mentioned I have a T-shirt from the Japanese brand.
I already own the black large heart graphic PLAY T-Shirt, this time round I wanted the smaller heart tee.
Smaller logos and graphics are definitely more stylish when it comes to dressing down. I still like brands and logos, but when you want to add some smart casual style, more muted signs of branding is definitely the way to go.
I was contemplating two different T-shirts. The heather grey T-shirt with black heart, and white t-shirt with the white. Both are definitely basic wardrobe essentials, so it was a tough decision.
After looking online the grey T-shirts which I saw didn't look good. Rather than being heather grey, they appeared to be a more solid grey colour which didn't look good on a computer screen.
So with that said I decided in my mind I was going to go for the white tee.
I went to END to get this tee, and glad I saw them in person.
Sadly they did not have the white t-shirt in store (it's online), but I got the chance to see the grey t-shirt. It was a heather grey like I wanted, and I really liked the look of it.
I wondered about the sizing. Even though I already have a CDG t-shirt I thought that perhaps I could get a smaller more fitted size.
After trying both a small and medium, I decided to stick to the medium.
The small did fit, but it was pretty tight. There's also the risk of the Japanese cotton shrinking, so after washing it would get even smaller, which would be no good.
I got the medium and I like the size and fit, and if it does go slightly smaller, the sizing should still be ok.
As this is an expensive t-shirt I usually save wearing them for something nice. I would wear this on a night out, or if I was out during the day for something and could go smart casual, this is a new choice of t-shirt.
I might get the white option at some point too, or maybe leave that one until next summer.
One thing is for sure, Comme des Garçons is a fashion brand that's done well over time and is still cool as it was.