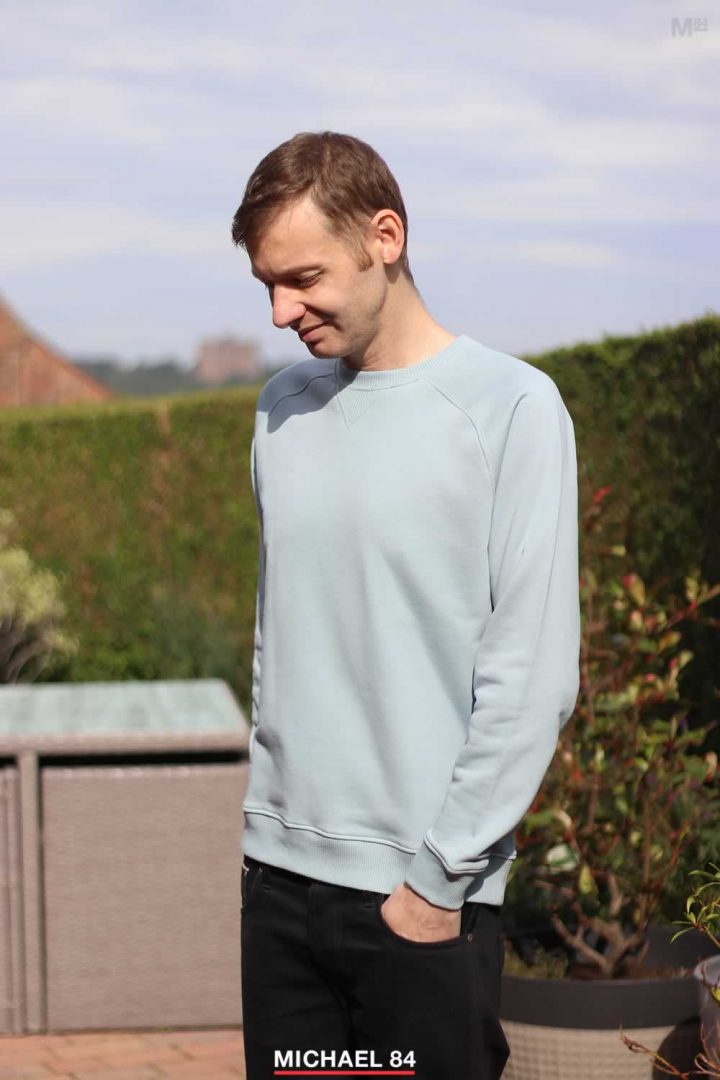 If there's one thing I love to do, it's to try out new brands or collections from brands. This is especially true when it comes to casual clothing and high street or own label brands.
Own label fashion brands usually go two ways: They offer cheap clothing, or premium basics. Premium basics are great to try because they're supposed to be better quality but at an affordable price.
I've tried lots of brands, and most are very good. I've bought myself a John Lewis & Partners Sweatshirt which I'd describe as a premium basic to try out.
Here's everything you need to know.
When it comes to putting together an outfit, casual and comfortable clothing is cool again. A big part of this wardrobe choice is a good sweatshirt when it gets cold. I have a got myself a few over the years, from fashion brands as well as high street labels too.
I saw this sweatshirt from John Lewis & Partners and had to try it out.
It's a kind of duck egg green/blue colour, which I like. I don't have this colour sweatshirt, and it's always good to add a new colour to my collection. It's an all season kind of colour, I'd associate it more with spring, but can work in any season.
For this outfit, I styled it with a black pair of jeans. Two pieces of clothing which are easy to pair together.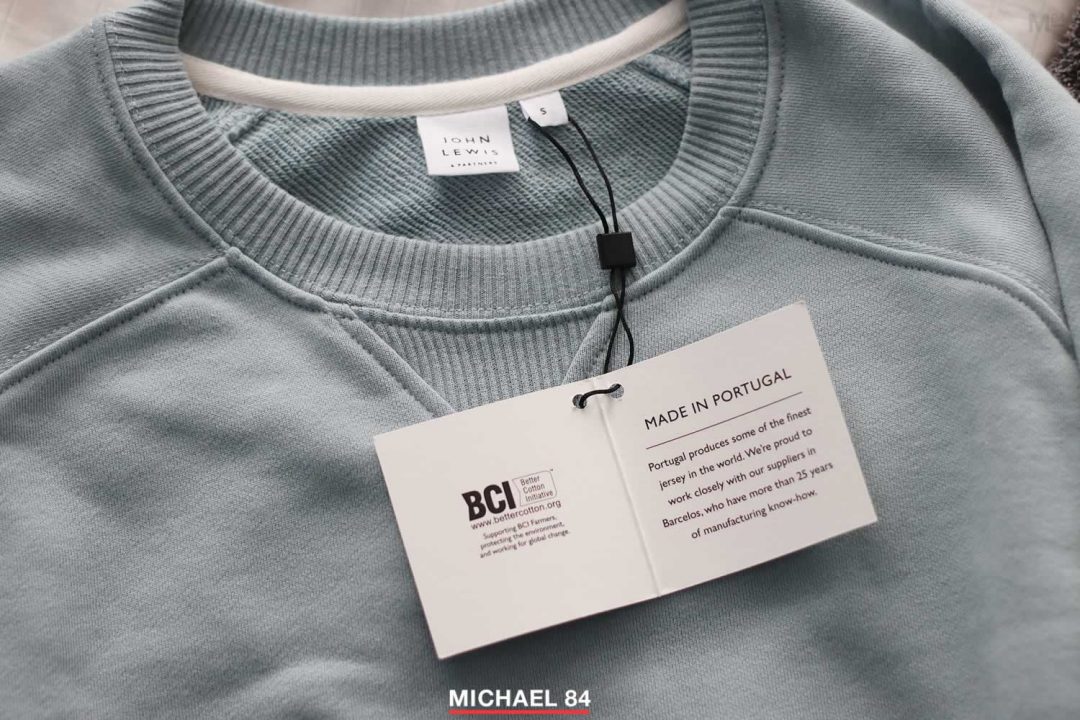 Sweatshirt Fabric & Construction
One of the key elements which makes this premium is the fabric and construction. It's made from 100% cotton, but a thick heavy cotton. Sometimes these can be rough, but this has a very smooth to touch feel.
It's loopback sweatshirt material, with the weight being 360gsm. This is considered a heavyweight fabric in sweatshirts.
It has that trademark "V" insert which is often a sign of good quality, I really like this detailing. You can read more about what this means in my sweatshirt guide.
It's made in Portugal, another sign of quality. As we know, fast fashion and cheaper garments tend to come from the far east, with better quality usually coming from more western nations. Portugal (as well as others) have a good reputation when it comes to making premium basics for brands.
The cotton comes from the Better Cotton Initiative (BCI) which has a focus on better cotton production. If you're into sustainability, that is something this piece has at it's core.
The Fit
It's a regular fit, and fits well. I do love slim fits as they're usually smarter, but a standard fit (or oversized) is good for lounging around, which is what sweats are all about.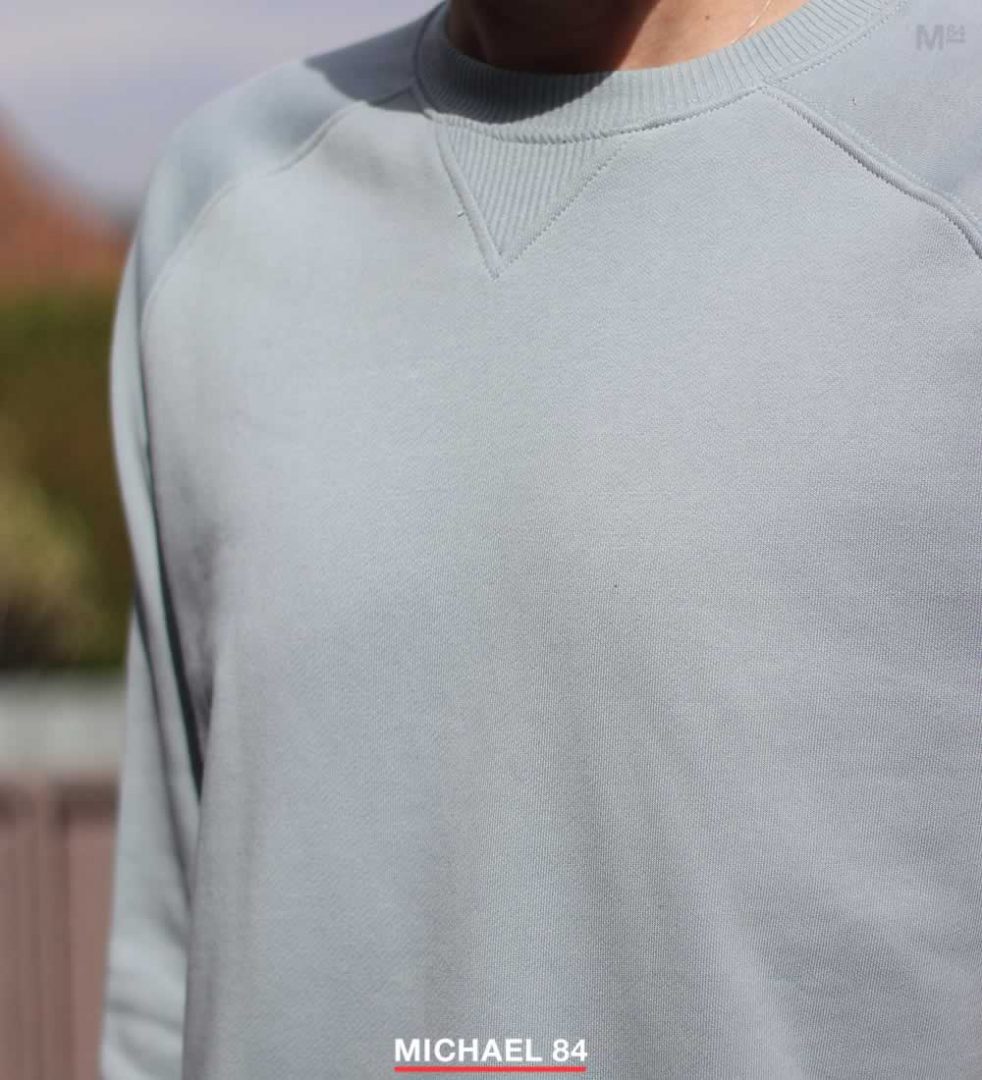 Verdict: How Good Are John Lewis Sweatshirts?
Overall I am happy with the sweatshirt, it's definitely of good quality, and there can be no complaints.
In regards to the price, I was able to buy this when it was on sale, making it a bargain. At full retail price this comes in at £45. This is within range of other premium basics, perhaps a little on the more expensive side.
An equivalent from H&M will come in at around £30, with my ARKET sweatshirt costing me £35. But, you have to factor in that this garment is made in Portugal, made supporting BCI farmers.
If you're going to buy one or 2 sweatshirts this year which will last for several more, this is going to do the job.