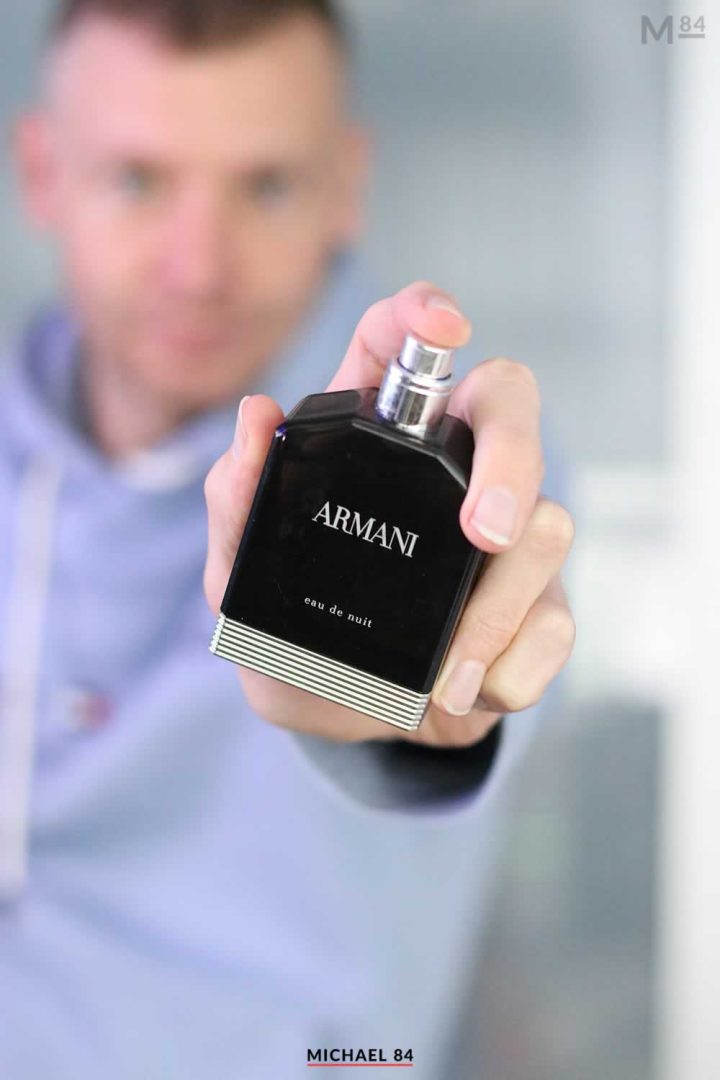 When it comes to good fragrances for an evening I have so many, and a while back I added Armani Eau De Nuit to that line up too.
But how does it smell today?
Here's my review of Armani Eau De Nuit including what it smells like and everything you need to know.
What Does Armani Eau De Nuit Smell Like?
Armani Eau De Nuit is a woody, aromatic and slightly floral fragrance with a really inviting smell. There's strong hints of the bergamot and pink pepper at the top, with cedar, amber and tonka bean making up the base of the scent.
The middle has cardamom and iris which really set in and give it a powdery type of vibe.
The notes give this a really inviting and masculine type of scent which lives up to it's name, as I'd call this a good evening fragrance.
To my nose Armani Eau De Nuit smells quite similar to Bvlgari MAN In Black. There are of course differences, I would say the Bvlgari is more spicy while the Armani is more powdery, but they do have a similar style of smell.
Armani Eau De Nuit Bottle
The bottle is quite nice, and is a rectangular type of shape with shoulders, making the shape 6 sided or an irregular hexagon. The bottom has a silver plastic base, with the glass being dark translucent with minimal branding to the front.
The atomiser gives off a nice wide spray with good coverage, and no need to overspray. I have a 50ml bottle, and there is still those and 100ml bottles available today.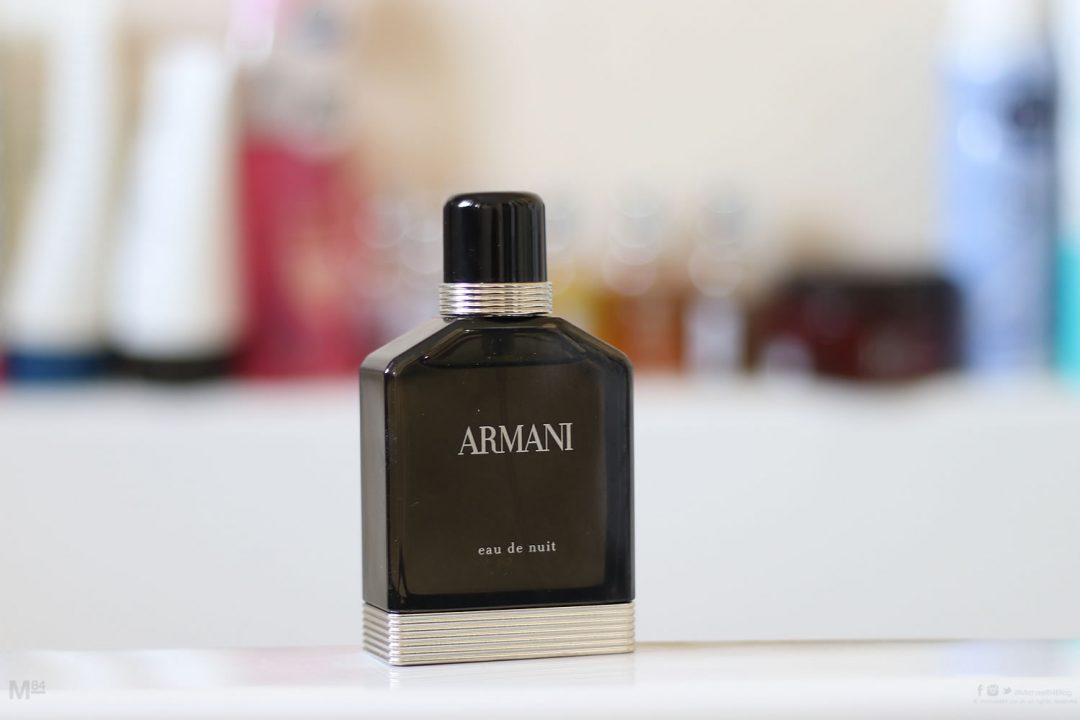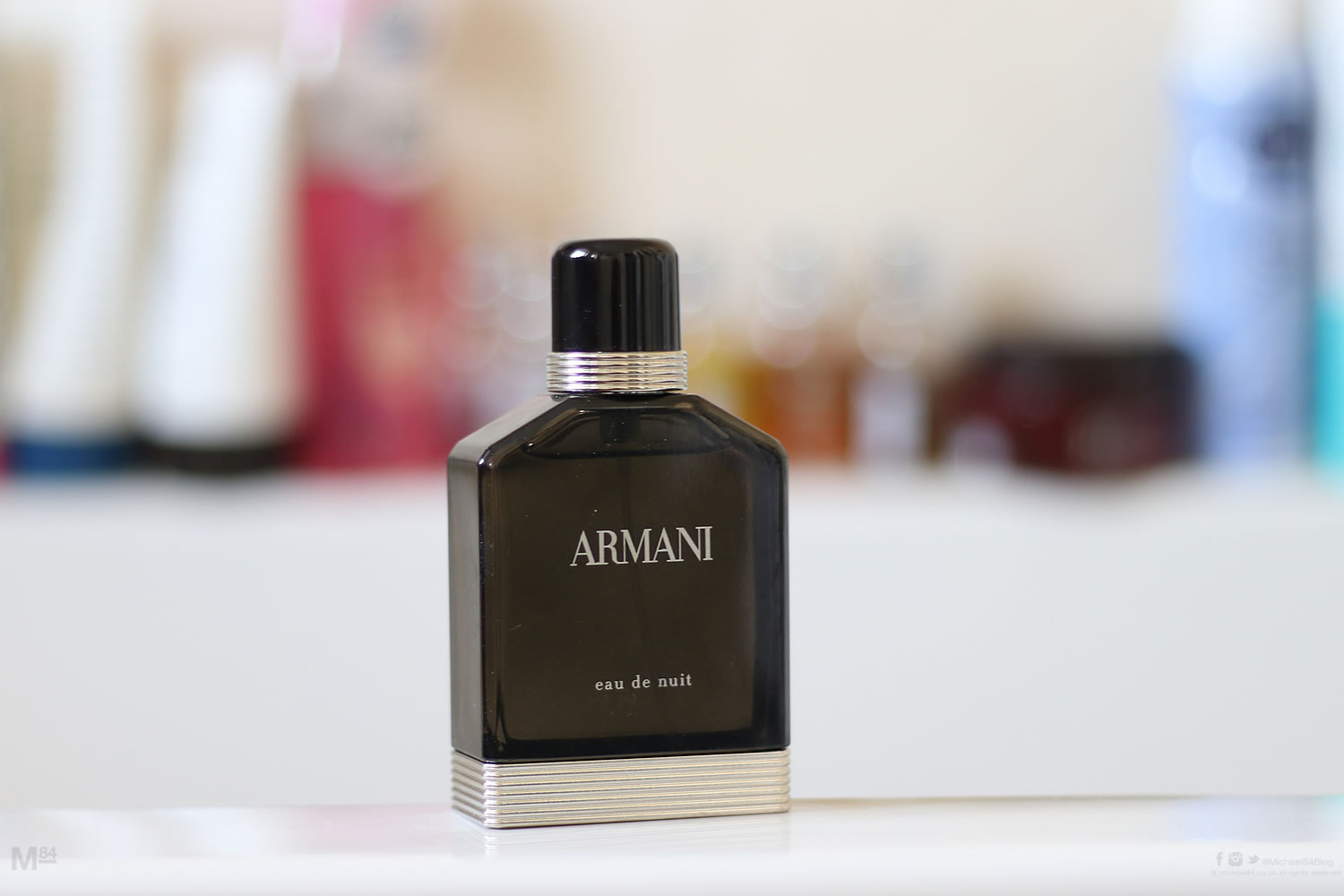 When & Where To Wear Armani Eau De Nuit
As the name suggests and as I've already said, I see this as an evening scent. I can see wearing this for anything from informal nights out to more formal gatherings.
Since it's inviting and quite attractive, I'd say this would be a good scent to wear on a lads night out too. I don't feel it's a super powerful heavy hitting scent, it's more subtle, but still going to get compliments.
I think it's quite a mature scent, so for me it works best for guys over 25, although it could be worn by anyone looking to smell like a modern gentleman.
How Long Does Armani Eau De Nuit Last?
For me Armani Eau De Nuit lasted around 6 hours, so I'd say it had reasonable performance. There's plenty of longer lasting fragrances, but it's not as though this under performs.
What Clothes To Wear With Armani Eau De Nuit
I find that Armani Eau De Nuit feels like a smart and sophisticated fragrance, so when it comes to clothes it should be paired right.
It's better suited to the colder months, so I would pair this with a smart sweater or suit, or a fresh clean shirt. If wearing in the summer a smart or smart casual dress code would suit it best, a smart plain t-shirt or summer shirt.
Armani Eau De Nuit Key Takeaways
Pros
Attractive scent
Mature masculine fragrance
Easy To Wear
Not Too Expensive
Cons
Hard to find in stores
An older scent which may be discontinued from mainstream shops
May be better newer and more modern options
Longevity – Armani Eau De Nuit is an eau de toilette. I was able to get around 6 hours of usage with this.
Projection – It has a reasonable projection, those close will smell it, and it's not overpowering.
Best season to wear – All Seasons
Scent type – Woody/Aromatic/Floral
Age Recommendation – 25+
Best Worn – Evening, Formal, Casual, Out With The Boys
Top Notes – Bergamot, Pink pepper
Middle Notes – Nutmeg, Cardamom, Iris, Heliotrope
Base Notes – Cedar, Tonka, Amber
Verdict
Armani Eau De Nuit is a really nice aromatic and slightly woody fragrance which is inviting and attractive.
It doesn't have that show stopping powerful note that some other men's fragrances have, which is probably why I have not used this scent too much.
Having said that, it's still a good fragrance to have in a collection, and makes a nice choice when I want to wear something different which has similar characteristics of some other great men's scents.
You can find more fragrance reviews in the blog, if you're looking for a new smell in your life. Let me know your thoughts on Armani Eau De Nuit.
Other Armani Fragrances