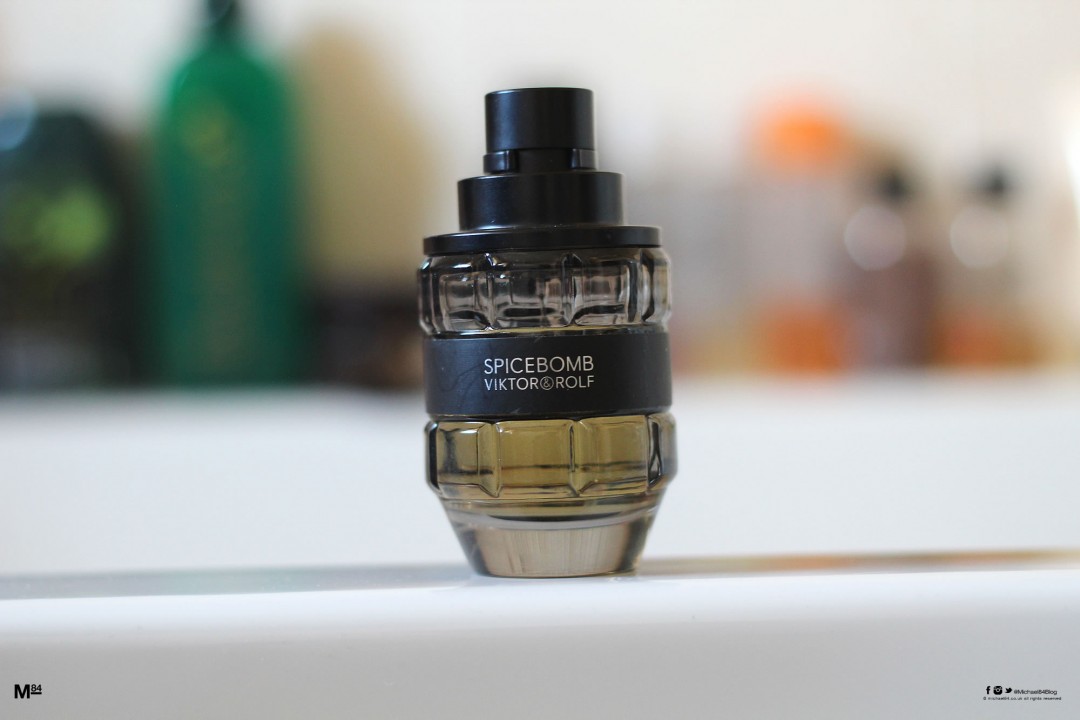 I got my bottle of Viktor & Rolf Spicebomb back in 2013, and it's featured in a number of fragrance guides on the blog, and for good reason. It's a really nice fragrance, and works very well, but for some reason, I've never done a dedicated review on it.
Until now.
Here's everything you need to know about Spicebomb by Viktor & Rolf.
The Bottle
First of all I have to talk about the bottle, which is very distinctive. It is available in a 90ml version, but I have it here in a 50ml bottle. As it's called Spicebomb, the bottle is in the shape of a bomb, in fact a grenade. I love this design because it's completely original, and fitting with the branding of the scent.
There's even a ring pull like a real grenade with V&R branding, which you can leave on so you don't accidentally spray the fragrance, and pull out the ring when you're ready to spray.
The bottle is black and has clear dark glass, with clean and simple branding to the front. The spray is nice and wide, which I really like.
The Fragrance
I have already featured this fragrance in my best Autumn fragrances list, a season which I think this is perfect for. It's a very warm and spicy scent, great for an evening, and will work best on a colder night.
As soon as you spray it, you're hit with the spicy notes, and they're really nice. The balance is very good, with it not being over-powering, but still a heavy hitting scent at the same time. These styles of scents can go wrong a lot of the time, but I think all the notes work well together, and it's an overall nice experience.
It's really inviting, masculine and slightly musky, but not too dark. At a pinch you could wear this during the day, but I definitely recommend it more for an evening, as it's more of a dark scent.
Wearing this will get you compliments, it's strong enough to be noticed, but it shouldn't be overbearing, providing you don't over-spray it.
If you're looking for a spicy scent or something for an evening I can recommend Spicebomb.
Longevity – Spicebomb lasts quite a long time for an eau de toilette. You can expect to get 6 hours from this.
Projection – The projection is very decent, you'll be able to smell this from a reasonable distance, so don't feel the urge to over-spray.
Best season to wear – Autumn/Winter
Scent type – Warm Spicy, slightly woody, aromatic
Age Recommendation – 21+
Best Worn – Evening, Casual, Formal
Top Notes: Pink Pepper, Bergamot, Grapefruit, Elemi
Middle Notes: Saffron, Cinnamon, Paprika
Base Notes: Leather, Vetiver, Tobacco
If you own this one tell me what you think of it. As always, you can find more information on the fragrance blog, which has reviews on all the scents I own.
Thanks For Reading...Want More? 🙌
Hi, I'm Michael 👋 I'd love you to subscribe to my newsletter for exclusive content & updates on my blog straight to your inbox. (No spam, I promise!)