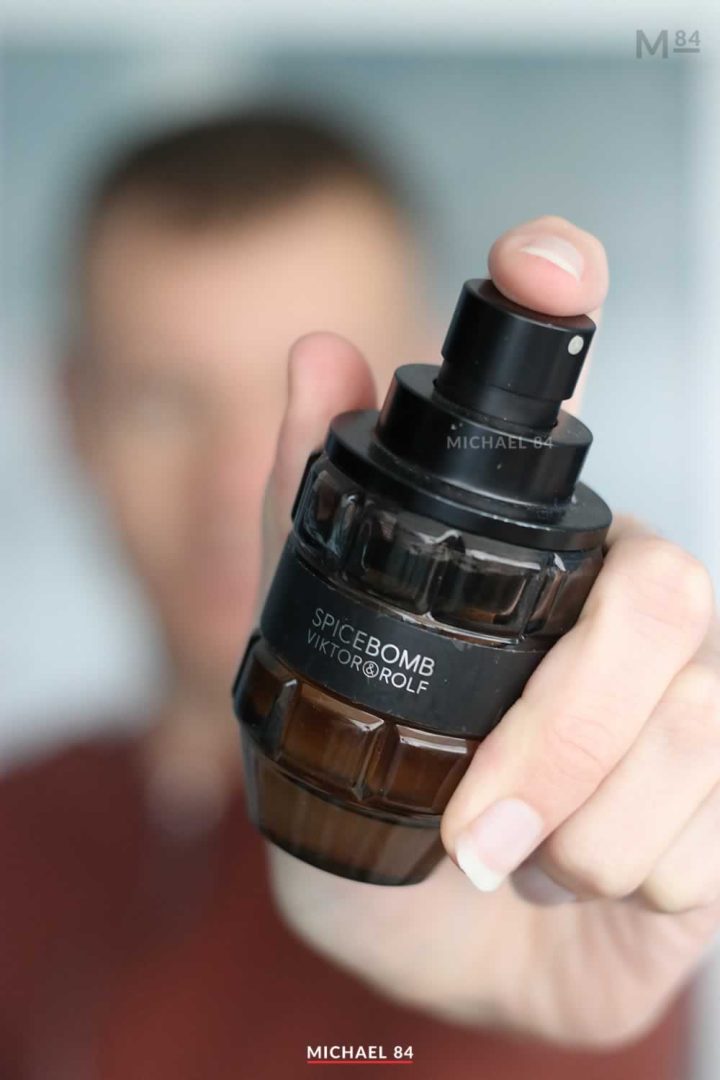 I got my bottle of Viktor & Rolf Spicebomb when it was released back in 2013. It's featured in a number of fragrance guides on the blog, and for good reason.
It's still a really nice fragrance, and one which I am glad I own.
Here's everything you need to know about Spicebomb by Viktor & Rolf.
What Does Viktor And Rolf Spicebomb Smell Like?
Spicebomb is a very warm and spicy scent, great for an evening, and will work best on a colder night. As soon as you spray it, you're hit with the spicy notes, and they're really nice.
It's really inviting, masculine and slightly musky, but not too dark. At a pinch you could wear this during the day, but I definitely recommend it more for an evening, as it's more of a dark scent.
The notes for Spicebomb by Viktor and Rolf are:
Top Notes: Pink Pepper, Bergamot, Grapefruit, Elemi
Middle Notes: Saffron, Cinnamon, Paprika
Base Notes: Leather, Vetiver, Tobacco
The balance is very good, with it not being over-powering, but still a heavy hitting scent at the same time.
These styles of scents can go wrong a lot of the time, but I think all the notes work well together, and it's an overall nice experience.
I have already featured this fragrance in my best Autumn fragrances list, a season which I think this is perfect for.
Wearing this will get you compliments, it's strong enough to be noticed, but it shouldn't be overbearing, providing you don't over-spray it.
If you're looking for a spicy scent or something for an evening I can recommend Spicebomb.
Viktor & Rolf Spicebomb Bottle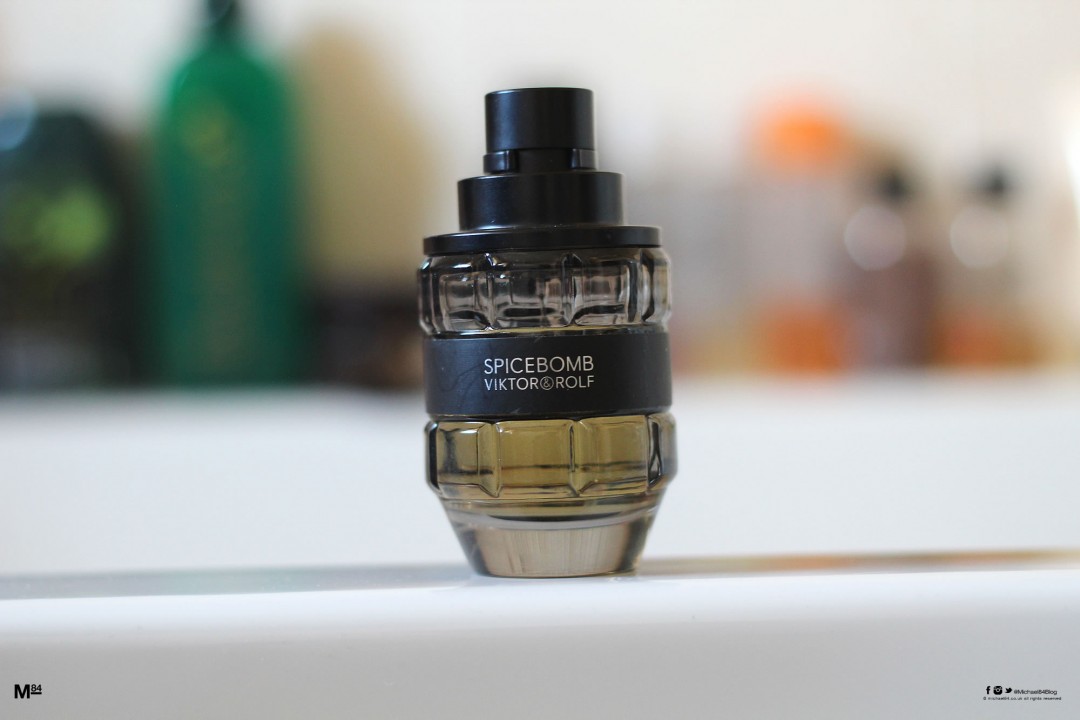 The bottle is cool, and very distinctive. It is available in a 90ml version, but I have it here in a 50ml bottle.
As it's called Spicebomb, the bottle is in the shape of a bomb, in fact a grenade. I love this design because it's completely original, and fitting with the branding of the scent.
There's even a ring pull like a real grenade with V&R branding, which you can leave on so you don't accidentally spray the fragrance, and pull out the ring when you're ready to spray.
The bottle is black and has clear dark glass, with clean and simple branding to the front. The spray is nice and wide, which I really like.
When & Where To Wear Spicebomb
As mentioned I think that the colder months and evenings suits Spicebomb really well. The warm and inviting style of the scent compliments these two things perfectly well.
It could also be worn during the daytime in the cooler months too. Personally I think it works well in both a casual and formal setting, as it's quite an inoffensive fragrance.
How Long Does Spicebomb last?
Since it's quite a dark scent, Spicebomb lasts quite a nice length of time and has pretty good longevity. Even though it's an eau de toilette, I can get 6 hours and a bit more from this fragrance.
Those around you will smell it too, as it projects well. You only need 4 or 5 sprays of this around the key areas and you're good to go. There's no need to over-spray. (here's where to spray your fragrance)
What Clothes To Wear With Spicebomb
If I had to pair clothing to Spicebomb I would say it's a shirt and dark jeans kind of scent. It would work with a smart casual dress code the best.
It's not playful and casual enough for a casual or sporty dress code, and I think there's better options if you're going full formal with a suit and tie.
Viktor & Rolf Spicebomb Eau De Toilette Key Takeaways
Pros: Good scent for the evenings and colder months. Really inviting fragrance. Good price point
Cons: Not the best choice for summer. An older fragrance may not be appealing for those who prefer newer models.
Longevity – Spicebomb lasts quite a long time for an eau de toilette. You can expect to get 6 hours from this.
Projection – The projection is very decent, you'll be able to smell this from a reasonable distance, so don't feel the urge to over-spray.
Best season to wear – Autumn/Winter
Scent type – Warm Spicy, slightly woody, aromatic
Age Recommendation – 21+
Best Worn – Evening, Casual, Formal
Top Notes: Pink Pepper, Bergamot, Grapefruit, Elemi
Middle Notes: Saffron, Cinnamon, Paprika
Base Notes: Leather, Vetiver, Tobacco
Verdict
Viktor & Rolf Spicebomb is a really nice warm spicy scent which is fairly easy to wear.
I prefer wearing it in the autumn and winter months as I find it's a warming scent that's pretty seductive and best suited to the nights.
If you own this one tell me what you think of it. As always, you can find more information on the fragrance blog, which has reviews on all the scents I own.
Buy Viktor And Rolf Spicebomb at Amazon here.
*This post contains affiliate links. As an Amazon Associate, I earn from qualifying purchases.*