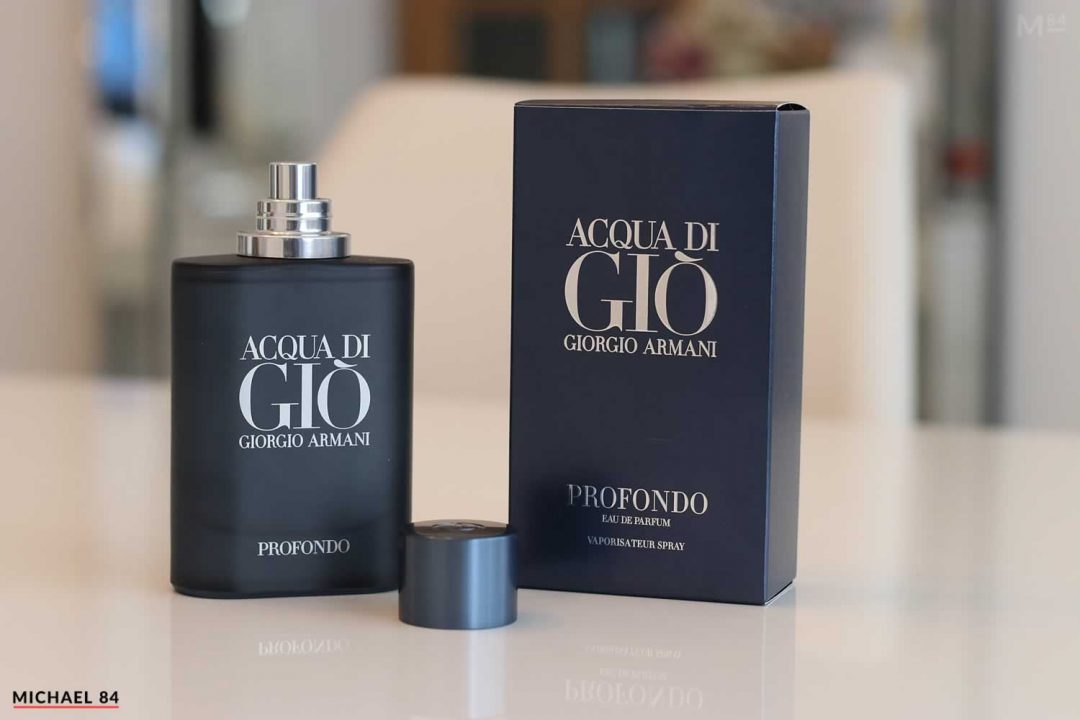 It's the time of the year when I get a lot of new fragrances, and this is another latest scent. I've finally got myself  Acqua Di Gio Profondo by Giorgio Armani.
It's an eau de parfum which was released at the back end of 2020, and is one I've wanted to try for a while.
Here's how it smells, and everything else you need to know about it.
The Acqua Di Gio line of fragrances from Giorgio Armani has been growing for a number of years. I have the original Acqua Di Gio EDT, and I've always loved it. It's been a favourite of so many people for a long time, and is considered one of the best ever.
Fast forward several years and there's been a lot more from the line. Another favourite has been Profumo, which was released a few years back. But the latest from the line is this, PROFONDO, which is an Eau De Parfum (EDP). [These are the differences between an EDT vs EDP]
The Bottle
The bottle shape is exactly the same as the others from the line. It's a reasonably tall curved rectangular shaped body, which is a dark marine kind of blue. Holding it up to the light gives off a lighter colour, and you can see that it's a translucent glass.
Branding to the front follows suit too, with the Aqua Di Gio Giorgio Armani wording to the front and centre, with PROFONDO written near the base. The bottle top is plastic and is fixed on strong, with a GA logo to the top of it.
When it comes to the atomiser, it has a really nice wide spray. There's no need for many sprays with this, you get a lot of coverage with only a few sprays.
This is available in various size bottles, and I got a 75ml bottle for Christmas.
What Does Acqua Di Gio Profondo Smell Like?
I really love Profondo. It's so nice. The obvious question could be how does it compare to the original EDT or others, but for now I will say what I think it smells like, and you can make your own comparison.
It smells fresh and aquatic, but with more of a green citrus or marine twist to it. The one comparison I will make is that the original EDT was all about clean and watery notes, while this one differs slightly.
You get the sense that it's a similar scent, but PROFONDO seems to have a little bit more too it. As mentioned you get a lot more green and citrus types of notes, which gives it a bit of a fresh-spicy twinge to it.
There's also very soft and gentle woody notes, which are welcomed and add to the scent.
If you own the original ADG you might be wondering about buying this. I would say that it's an incredibly similar scent, but it's different enough to notice a difference, if that makes sense. The more green-citrus and fresh spicy elements to this makes it worth owning.
When & Where To Wear Acqua Gi Gio Profondo
Profondo can be worn on an evening, but it's best suited to the day. The fresh and aromatic scent is completely inoffensive, but is strong enough for people to be able to notice this on you.
They'll really like this fragrance as will you. Wear this one to the office, work, Uni or just around town.
You can pair this with any type of clothing, from smart to casual. The scent works as well with a suit as it would with a t-shirt.
Profondo can be seen as an inoffensive aromatic and slightly aquatic fragrance. You can wear this virtually anywhere without causing a stir, it's light notes will get a few compliments without shouting about it.
Verdict
When it comes to an inoffensive clean and fresh fragrance for the day, Profondo is right up there. It has a little bit of spice and punch to it which makes it noticeable, but it's subtle.
Going forward, I'd choose this over the original if I could only pick one. It has those little added hints of green-citrus and fresh-spicy notes which I really like.
Longevity – Acqua Di Gio Profondo is an EDP, so longevity should be good. Lighter styles of scents can sometimes fade more easily, but I get more than 6 hours with this.
Projection – The projection is good. Those around you should be able to smell it.
Best season to wear – All Rounder
Scent type – Aquatic, Aromatic, Marine, Green-Citrus
Age Recommendation – 18+
Best Worn – Daytime, Evening, Casual, Formal
Top Notes: Bergamot, Green Mandarin
Middle Notes: Rosemary, Lavender, Cypress, Lentisk
Base Notes: Patchouli, Musk, Mineral Amber Accord
As always you can find more reviews in the fragrance blog. Let me know what you think of Profondo, and if it makes it in your favourite men's fragrances.