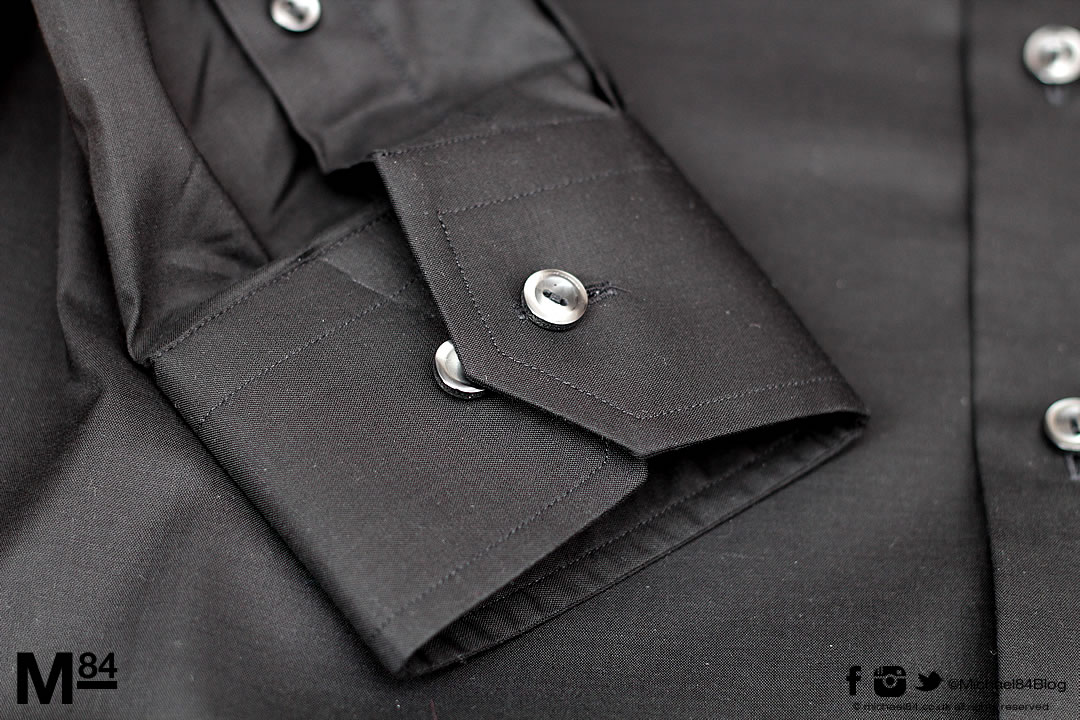 Born in Gånghester in Sweden you'll find a quality shirt maker Eton who've been making fine quality shirts for almost 100 years. If you're looking for a shirt and want it premium made a specific way, then Eton is one of the best choices out there. There's a vast array of options when you want to find your perfect shirt, you can start at the top with the collar type. There's a nice seven different types of collar which you can choose from, including a classic cut-away to an extreme cut-away collar, to a button down style and pin collar type. The next decision is to choose the type of fabric; There's a rich selection available, from Poplins and Oxford, to twill and linens. Each fabric is treated with the upmost care, detail and attention and have a premium feel to them. The next aspect would be to select your favourite fit, and as you'd expect they have all the bases covered, offering classic, contemporary, slim and the increasingly popular slim fit styles.
I selected a solid black shirt from their red ribbon collection which they sent over for me to try out for myself. I love a black shirt, and I have many in my wardrobe. From a fashion point of view a good quality black shirt is as important as a good quality white shirt. Both are staples which you should have in your wardrobe, classic in colour and can be worn with almost anything, in either a casual or formal setting. From opening the box one of the first things which is apparent is the quality of the fabric. This shirt comes in Exeter Poplin which is quite a rich, soft cotton and is extremely soft to touch. Keeping your shirt sharp and crisp is important, and this is very easy to iron and is a really smooth fabric.
The collar style is a cut-away, and is a slim fit which is my favourite type of cut. The detailing is minimal, with same colour stitching and buttons to maintain a elegant look.
Attention to detail is highly important at Eton, and there shirt guides which includes a comprehensive look at their fabrics, collar types and fits is a must-view, you can check it out here.
If you're looking for a premium quality shirt then Eton is a good choice, you can take a look at their collections and shop on their site here.