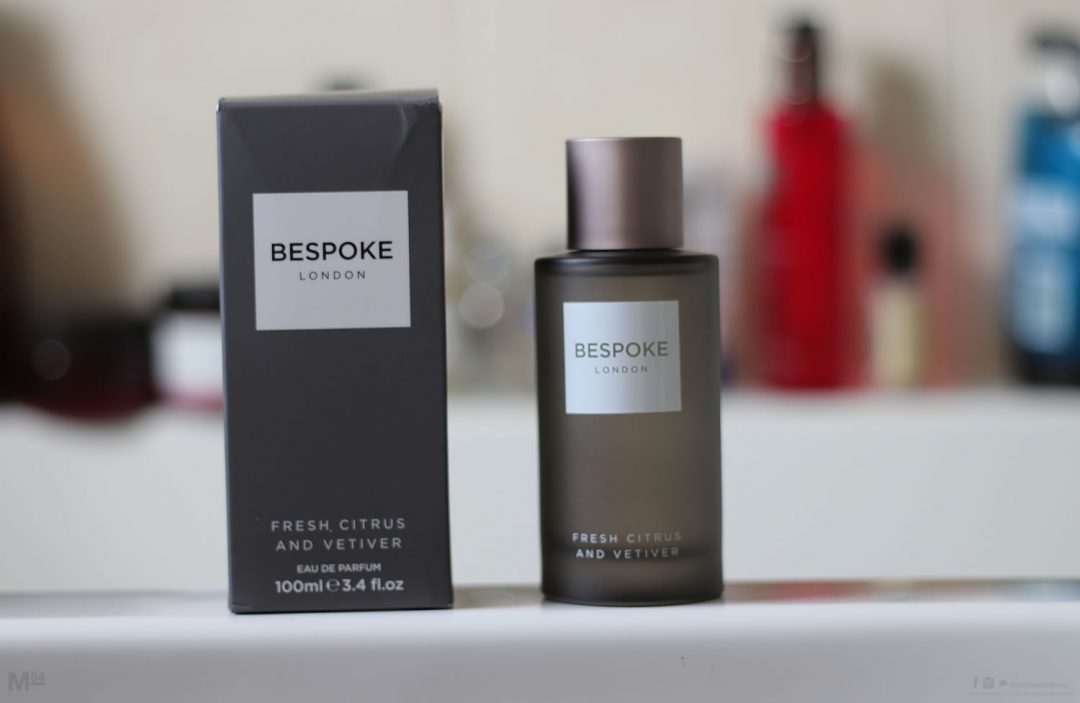 I do love a good fresh fragrance, and when Bespoke London got in touch telling me about their range of fragrances, I decided that I'd have a try out of one of their scents.
This is Bespoke London Fresh Citrus Vetiver Eau De Parfum and if you're looking for a new scent or wondering how this smells, here's my thoughts.
As always, I will start with the bottle. I like the design, it's simple, clean and feels quite substantial. It's a soft and smooth chunky glass, round cylindrical in shape with a nice big clean top to the bottle.
It's a translucent frosted and dark tinted type of glass, with branding to the front which is tastefully done.  Really easy to pick up and put down, and will not look out of place on your shelf or in a drawer.
The atomiser works well, and gives a nice large spray, which is something I like.
I have to mention the price, because I think it's one of the selling points of this scent. It's only £9.99, and for a 100ml bottle of fragrance, that's really affordable. Even more so when I tell you this is an EDP (eau de parfum) rather than the usual EDT you might find elsewhere.
So what do you get for your money?
The scent itself is very nice. It's very fresh and inviting, and is a kind of citrus aquatic kind of scent, with some light spicy notes thrown in. It's something which lives up to it's name in the fresh citrus department, but I don't get much of the vetiver.
I have other fragrances which are heavy in the vetiver, such as Tom Ford Grey Vetiver and D&G The One Grey, both of which have similar vibes to them, but I don't get much vetiver, if any from this one.
The citrus notes come from the orangey notes with Mandarin, apple and fresh ginger, which are noticeable without being overbearing. It's a very pleasant scent, and is not something which is going to cause offence.
This is one to wear during the day, making it a good fragrance to wear around town, to work, college or uni, and I think it would be best suited to a younger guy, although it's quite universal.
The biggest problem with this fragrance is the performance. I have tried it a few times, and I only get 3 to 5 hours and then the scent is gone. This is disappointing as this is an EDP so should last longer, however it is at the less expensive side of the market, so that has to be taken into consideration.
Overall I like Bespoke London Fresh Citrus And Vetiver. It's a nice light scent which works best in the day, it will work fine in warm weather in the summer and you'll get the crisp cuts of this in the colder months too.
It's inoffensive, easy to wear and could be considered a safe scent, which means you can blind buy this if you like the idea of a fresh citrus scent, and shouldn't be disappointed.
It's exclusively available at Superdrug both in store and online, and as mentioned, it's only £9.99. For a fragrance under £20, this is a great deal.
Longevity – Bespoke London Fresh Citrus And Vetiver does not last long considering it's an EDP. I got 3 to 5 hours from this one.
Projection – The projection is reasonable. You will smell it on yourself, and those close to you may do too.
Best season to wear – All Rounder
Scent type – Fresh citrus
Age Recommendation – 18+
Best Worn – Daytime, Casual
Notes: Mandarin Orange, Ginger, Apple, Black Pepper, Vetiver, Amber, Patchouli, Dry Woods, Musk