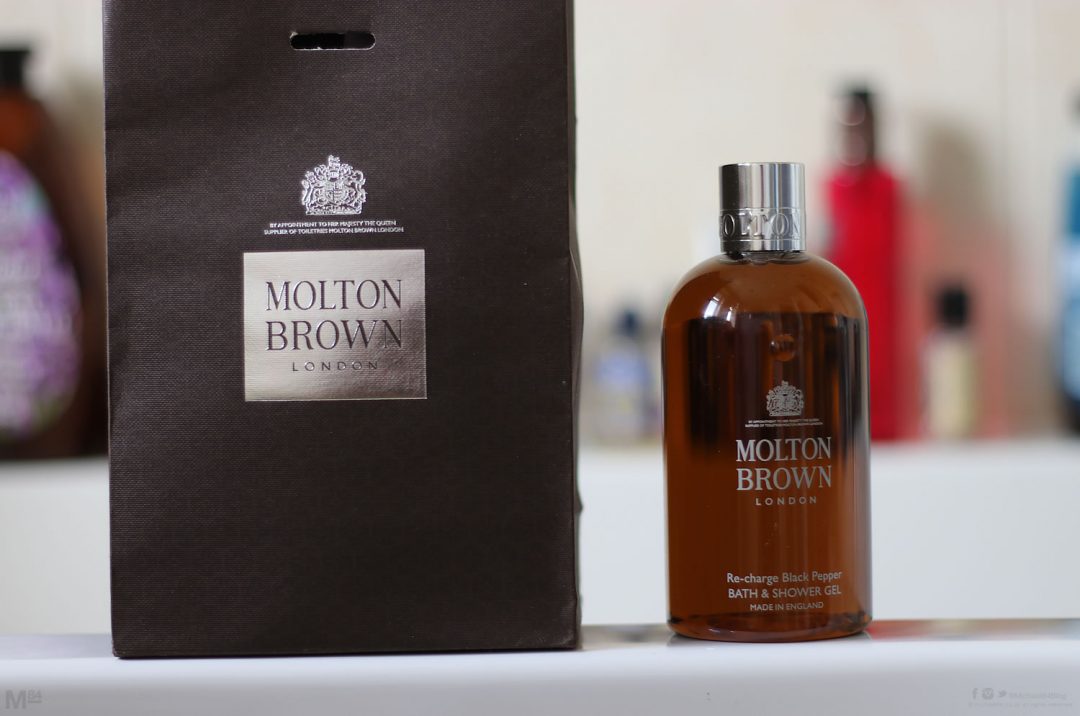 It's a bath and shower gel which I've had for a while, in fact I've had a couple of bottles of this before. Today I'm talking about Molton Brown Re-Charge Black Pepper.
It's one of the most popular from the range, so what's it like?
Here's my thoughts.
If you're unfamiliar, Molton Brown London is a premium brand of smelly stuff…There's plenty in the way of bath and shower gel, with everything you need for your bath and body, as well colognes too. In fact, I've got a bottle of the Molton Brown Absolute Tobacco EDT, which is pretty nice. But enough about that, what about the body wash?
First of all, this has had a bit of a name change in recent years. It used to be known as Black Peppercorn Body Wash, and is now called Re-charge Black Pepper. It's the same scent, it just has a name change.
What's so special about Molton Brown? The scent is unique, and it's also supposed to be a higher end, high quality form of liquid soap.
According to the bottle, it's: Adventurous, Confident & Iconic.
What Does Re-Charge Black Pepper Smell Like?
I do like the scent. When it comes to body washes, the Re-charge Black Pepper is very masculine and manly, and the scent hits you straight away.
It's very nice, spicy and inviting type of scent. It's not something which will go un-noticed, and after you've used it, you will have the nice smell of this for a while after rinsing off.
The Quality
There's different qualities of body washes, and this is expensive, so should be at the higher end, and it is. The solution is quite thick, you don't need to use much which means it will last longer than the average soap. The scent is quite long lasting as mentioned, so if you're looking for something that little bit special, this could be it.
Scented vs Unscented Body Washes
As you'll already know, I love fragrances, and when I say fragrances, I mean aftershaves (or colognes, EDTs or whatever terminology you'd like to use). So where do I stand on scented vs fragrance-free body washes? It's like this:
For general washing when I don't wear a cologne, I'll usually use a scented body wash. If I go out or plan on wearing a cologne, I'll go for a fragrance free body wash. You don't want to mix up the two, as you're likely to get a mis-match.
However as mentioned, this is quite a strong scented body wash, so there'll be no need to wear a cologne, and if you like, this scent also comes in the EDT cologne, so there's always layering options.
Verdict
When it comes to luxury bath products, I think that usually they come down to 2 different categories – They're either something you buy someone as a gift (or someone buys you them as a gift), or it's a treat for yourself. At £22 a bottle, I think it's good value for both of these.
If someone asks you what you want as a gift, you're looking to get someone a gift, or you're going to treat yourself to something special for washing, this bottle could be it.
I also recently got the Molton Brown Re-Charge Black Pepper Eau De Toilette. This is the fragrance which has the same scent, and you can find out what I thought about that on the blog.
Top Notes: Black Pepper, Lemon and Ginger
Heart Notes: Coriander, Basil and Violet Leaf
Base Notes: Vetiver, Oakmoss and Ambergris
Thanks For Reading...Want More? 🙌
Hi, I'm Michael 👋 I'd love you to subscribe to my newsletter for exclusive content & updates on my blog straight to your inbox. (No spam, I promise!)