When it comes to Molton Brown, I am no stranger to their products. I've had a few over the years, from eau de toilettes to their bath and shower gel.
Over Christmas I got a gift set which included Re-Charge Black Pepper eau de toilette. This is how it smells and what it's all about.
I am not unfamiliar with the scent. I have had a Molton Brown Re-Charge Black Pepper before, but in the body wash form (check it out here). I also own another Molton Brown fragrance, Absolute Tobacco which I got a few years back.
But this is Re-Charge Black Pepper. I am going to focus on the eau de toilette fragrance rather than the lotion and body wash which came in this gift set. This is what you need to know.
What Does Molton Brown Re-Charge Black Pepper Smell Like
As the name would suggest, it's going to be a spicy and peppery style of scent, and it doesn't disappoint. It has a blast of pepper as soon as you spray it.
It's quite sharp, and you really do get a whole load of pepper at the opening. So if you love the sharp pepper bursts, you'll like this from the off, and if you don't, you won't.
From there the scent does settle down into something more of an aromatic and slightly earthy type of scent. I feel it's quite warming, light woody but there's still plenty of black pepper notes throughout the longevity of this scent.
This is definitely a masculine style of cologne, and is all about warming and spicy peppery notes.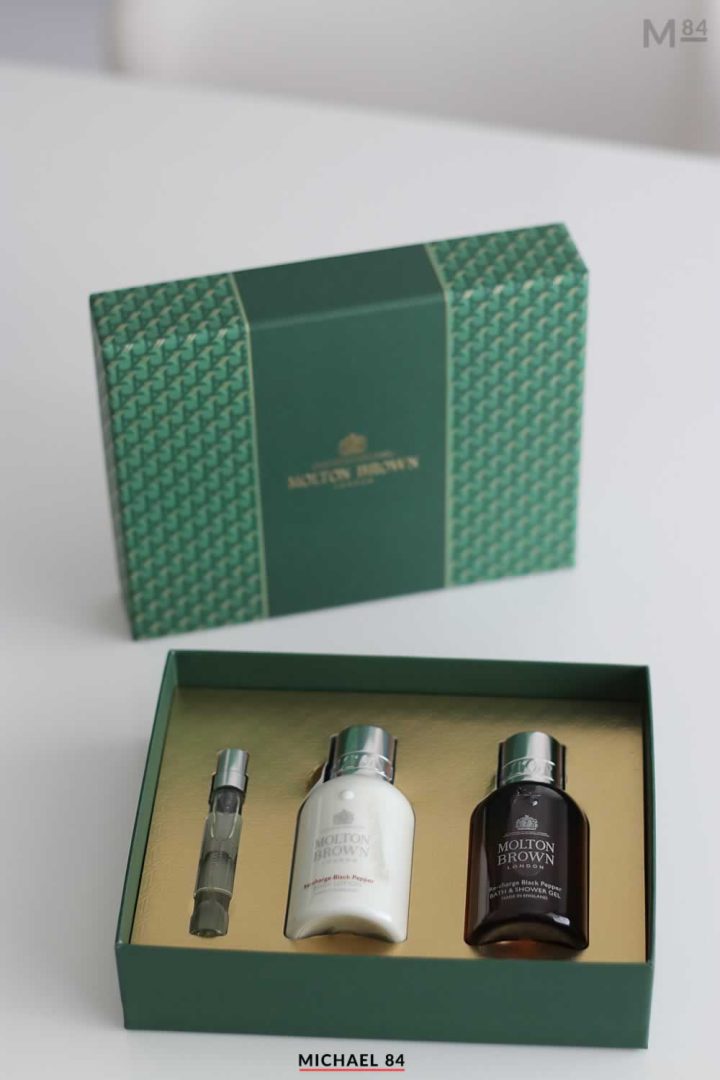 The Molton Brown Fragrance Bottle
Since I got this in a gift set, I got a 7.5ml bottle. If you buy a regular bottle, you'll be able to get a 50ml and a 100ml bottle of this.
Molton Brown have a new bottle design, and it's one I like. The older bottles were a plain and simple cylindrical shape, with a small top. They were OK and did the job, but weren't anything special in terms of design.
The newer bottles are really nice. They are like a modern cylindrical design which is mostly clear glass and the rest being a plastic but brushed aluminium style finish near the top. The bottle top is a sphere, and it really does look more premium.
They do come with a higher price. 50ml is around £60 with 100ml being £85. That puts this right into Dior Sauvage and Bleu De Chanel territory in pricing terms.
When & Where To Wear Re-Charge Black Pepper EDT
For me, Black Pepper is a masculine and gentlemanly scent. In saying that, I think it's best suited to a more mature man, I am thinking 25+. Slightly younger guys could wear this of course, but I think if I had to pick an age bracket, it would be above 25.
Since it's a warming and darker style of scent, the obvious season for this would be Autumn and Winter. It will make a great Autumn fragrance as the months turn colder and the leaves start falling.
I'd also say this is more of a formal scent than informal. You could wear this on a night out, but also a night at home in front of the fire. It's not going to be one for the gym, and I wouldn't really recommend it for the office because of the sharp pepper style.
Pairing it with a shirt for a smart casual outfit, a jumper or a suit would work well with this scent.
Verdict
Molton Brown Re-Charge Black Pepper is a pleasant peppery masculine fragrance. It's a one for the colder months, and although I find it sharp, it could be considered slightly elegant and formal.
To my nose it doesn't offer a lot other than the black pepper, although it does calm down into warmer softer notes as time goes by. It certainly lives up to it's name.
If you've tried the body wash, you'll be familiar with the smell of the EDT. It's almost the same, but I would say stronger, more peppery and lasts longer.
Longevity – Molton Brown Re-Charge Black Pepper is an eau de toilette (EDT) and is a spicy scent. It lasted quite a while with me, I got 5-6 hours.
Projection – The projection is pretty good. People around you will be able to smell this.
Best season to wear – Autumn/Winter
Scent type –  Pepper, Aromatic, Earthy, Warm Spicy
Age Recommendation – 25+
Best Worn – Evening, Formal
Top Notes – Black Pepper, Lemon, Ginger
Middle Notes – Violet Leaf, Basil
Base Notes – Vetiver, Oakmoss, Ambergris
If you've tried Re-charge Black Pepper let me know what you think of it. As always you can find more scents in the fragrance blog, with reviews on colognes and advice on all things fragrances.