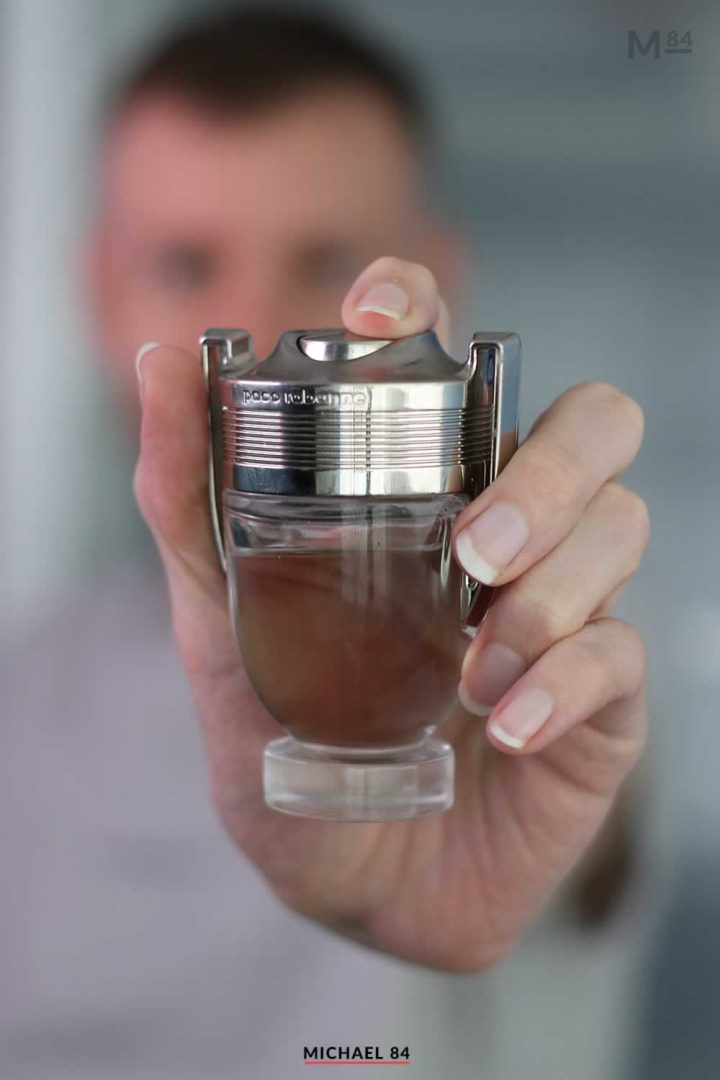 They say the originals are the best, but is that the case for this scent?
I got the original Paco Rabanne Invictus eau de toilette fragrance when it was released back in 2013, and since it's 10 years later (wow that flew!!) it's a good time to take another look at this one to see how things have changed.
Here's everything you need to know about the original Paco Rabanne Invictus EDT fragrance.
What Does Paco Rabanne Invictus Smell Like?
Paco Rabanne Invictus has a smell that's instantly nice. The top comes in and hits you with some salty sea marine type of vibe, along with a citrus blast of orange and grapefruit. This gives off a nice fresh spicy smell that's pretty hard to dislike.
When this settles down I can smell the floral jasmine notes, and finally light woodsy types of notes.
How Strong Is Paco Rabanne Invictus?
Often the fresh spicy scents or citrus lead fragrances can be weak, but this is not one of them. Invictus is fairly strong, even though it's an eau de toilette. When you're wearing it you'll certainly smell it, as will thought around you.
It has good longevity too, with the fragrance lasting around 6 hours on my skin.
Paco Rabanne Invictus Bottle
The Invictus bottle is very distinctive. The bottle shape is that of a trophy, with two handles either side of the bottle, a silver plastic top third with the bottom two-thirds being clear glass.
I own a 50ml bottle, with 100ml and 200ml bottles being available too.
It's one of those bottles you can't miss, and if you're having bottles on display, this is one you'll want to show off.
When And Where To Wear Paco Rabanne Invictus
Invictus eau de toilette is quite a universal scent. This means you can wear it for almost any occasion, at any time.
For me, it works best in spring or summer, with it's fresh spicy and citrus style vibes it's perfect for those seasons. I think that it works best in a casual setting rather than a formal one, so that's where I choose to wear it.
What Clothes To Wear With Invictus
When it comes to pairing clothes to Invictus, there's a few options. You can go full casual with this one, or dress up just a bit with a smart casual outfit. I am thinking T-shirts and light clothes in the summer, or if required a clean shirt.
Who Is Invictus For?
As mentioned this is universal, so I think it's suitable for all ages and everyone. But if I had to pick out an age, I think it's just slightly more suited to a younger crowd, I'm thinking 18-30 rather than someone 40+.
It's not a sophisticated smell so it may not be what a mature guy is looking for, but Invictus is a really nice smell, no matter who's wearing it.
Is Paco Rabanne Invictus Worth It?
The big question you should be asking, Is Paco Rabanne Invictus worth it? It's now 10 years old, and there's been a ton of flankers released, including Invictus Platinum and Invictus Victory, which are both eau de parfums (EDP).
Yes, I still think buying the original Paco Rabanne Invictus eau de toilette is worth it. It's just such a nice fragrance, mass appealing and you really can't go wrong with it.
Paco Rabanne Invictus Key Takeaways
Pros
Very nice smell
Can work in most situations and occasions
Easy to buy and inexpensive
Cons
Very popular meaning you may not stand out
Great for day, but better evening options
Older scent which may put some off
Paco Rabanne Invictus Fragrance Details
Best season to wear – All Rounder
Scent type – Citrus, Fresh Spicy
Age Recommendation – 18+
Best Worn – Day, Evening, Casual
Longevity – I was able to get around 6 hours with Paco Rabanne Invictus eau de toilette which is pretty good.
Projection – The projection is also good, with you being able to smell it, as well as those around you.
Top Notes: Grapefruit, Orange, Watery Notes
Middle Notes: Jasmine
Base Notes: Woodsy Notes, Patchouli, Oakmoss, Ambergris
Verdict
Even though it's now considered an older fragrance and newer flankers have come after it, the original Paco Rabanne Invictus eau de toilette is still a good scent. Whether you already own it or you're looking to buy, it's still a good scent to wear.
What are you thoughts on this scent? Let me know, and if  you're looking for a new men's fragrance you can check out more reviews where I've tried and tested 100s of aftershaves and colognes for men.