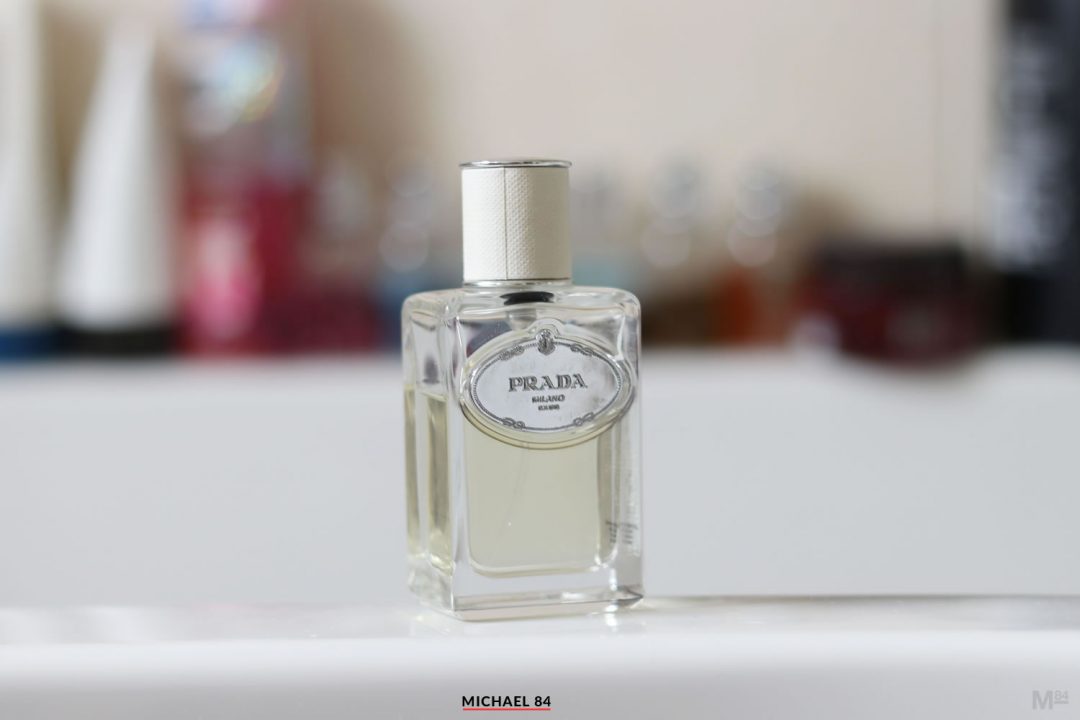 This week's fragrance review comes in the shape of a Prada fragrance. This one is Prada Infusion D'Homme, a fragrance which I bought several years ago, and was released in 2008.
Here's everything you need to know about D'Infusion Homme by Prada.
This was the second Prada fragrance which I ever bought. The first was Prada Amber, and I really liked that, so got this one. I bought it blind without smelling it, and just trusted that it would smell good.
The Bottle
But first, as always, I have to talk about the bottle. It's a pretty clean and simple design. It comes in a rectangular shape bottle, with a chrome silver Prada logo on the front.
The top is made from plastic, and has a grippy wrap around feel to it, making it easy to pull off the top. The atomiser works well, giving a nice wide spray.
I got myself a 50ml bottle which is a really nice size. That's pretty much the standard, rather than a smaller 30ml or larger form 100ml bottle.
What Does Prada Infusion D'Homme Smell Like?
As for the scent itself, the smell is dry and powdery. Prada has a bit of a trademark with purple, lavender, iris styles of fragrances, and that is quite a good description of this one.
There's plenty of vetiver too, which gives it that powdery dry style. To sum it up, it's a mixture of florals and powdery notes. It's not got the vetiver power of something like Tom Ford Vetiver, and it's not as floral as Prada L'homme.
This could be seen as a kind of safe scent. You can buy it and you'll probably not hate it, but it doesn't have that epic powerful fragrance factor that the heavy hitters have. For an everyday scent, this can do the job.
Prada Infusion D'Homme has that clean soapy smell to it with purple notes which make it a good daytime scent. You can wear this as your everyday scent to work, the office or other casual occasions.
When And Where To Wear Prada Infusion D'Homme?
Prada Infusion D'Homme is a fragrance of its own. It's a one I would wear during the day, and it makes a good office, college or uni scent. It's inoffensive, it lacks that certain powerful note, but it's still a pleasant smell.
I can see pairing this with a smart casual outfit. Either a plain T-shirt or clean white shirt, which would suit the Prada Infusion fragrance well.
Longevity – Infusion D'Homme is an EDT. It doesn't last a long time, get 4-5 hours with this.
Projection – The projection is not great. You will smell it on you, and so may people close to you.
Perfumer – Daniela Andrier
Best season to wear – Spring/summer
Scent type – Powdery/clean
Age Recommendation – 18+
Best Worn – Daytime, Office, Casual
Top Notes – Mandarin Orange, Neroli, Clean Notes
Middle Notes – Iris, Galbanum, Cedar, Vetiver
Base Notes – Benzoin, Frankincense, Powdery Notes
Despite this being well over 10 years old, the Prada Infusions line is still going, albeit in different variations over at Prada here. There are now EDP versions of the scent, with different flankers also being on offer.
Let me know what you think of Prada Infusion D'Homme if you've tried it. As always, you can check out more scents in the fragrance blog, if you're looking for a signature scent or something to add to your collection.