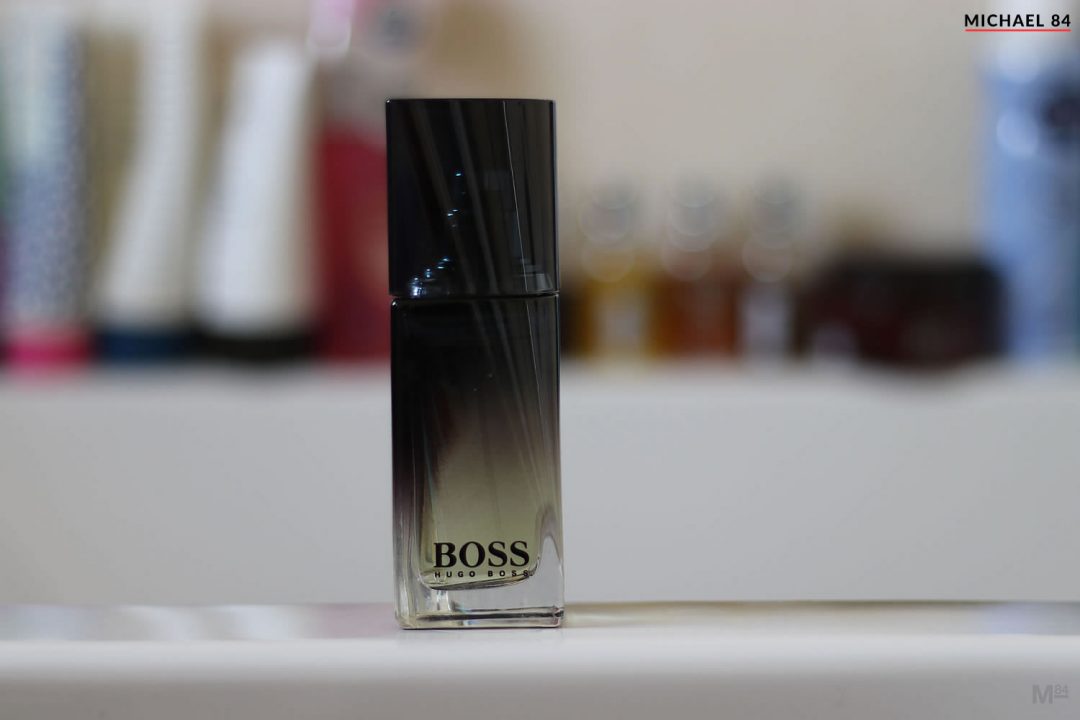 It's another look back at an old fragrance, and one which I don't hear much about, it's Hugo Boss Soul. I've had this scent for a number of years, and here's everything you need to know.
Hugo Boss has some iconic fragrances. The whole Boss Bottled line is much loved, in particular the original Boss Bottled. Soul is not from that line, and was released in 2005.
I got my bottle when I was in Reykjavik, Iceland airport. I had some money to spend, and after trying a couple, this was one of the fragrances I picked out. It was a good to buy a fragrance based on it's smell alone, without reading anything online about it.
The Bottle
First of all I have to talk about the bottle. It is an interesting and unique design, I don't have any other bottles like it. I got myself the 50ml bottle of Boss Soul
The shape is a kind of triangular shape with rounded edges and has a lot of curvature to it. The glass is transparent and has a gradient which starts clear and goes black to the top.
The branding is simple to the front, with the words Boss printed on one side, then Soul printed vertically on the other. The top is quite large, and made from black plastic.
What Does Hugo Boss Soul Smell Like
When it comes to the scent, it's one which I do like. It's quite aromatic, warm and spicy. It's a dark-ish type of scent, but these are very subtle hints masculinity, with hints of pepper and vetiver, and soft woods.
You do get a sense of vanilla and cinnamon too, which is quite inviting.
I can't compare it to anything which I already own, as it's quite unique. But it's got factors which you'll be familiar with – Inviting, sensual and something you'd wear on a night.
When & Wear Hugo Boss Soul
When it comes to when and where to wear Hugo Boss Soul, it's one for the evening. It is quite subtle but will get you compliments, and can work on date night as well as something more casual.
It's not the heavy hitter in terms of compliment getting scents, it's not the first I'd reach for. But when I want to smell good and not over-powering on an evening, Boss Soul works.
In terms of what clothes this is best paired with, it's more of a smart or smart casual vibe. I am thinking about smart clean shirts, solid colour knits and a toned down kind of look to your outfit.
Michael 84 Says…
I think overall that Boss Soul is a nice pleasant fragrance. It's inoffensive and does exactly what it's supposed to, make you smell good.
A great plus point is that it's not popular, which means if you wear it, you'll probably not smell like every other guy in the room.
It's an older scent, and Hugo Boss discontinued this one a while back. The good thing about that is you might be able to find it in some places for not so much money, and if you can get this for <£40 it's definitely worth it.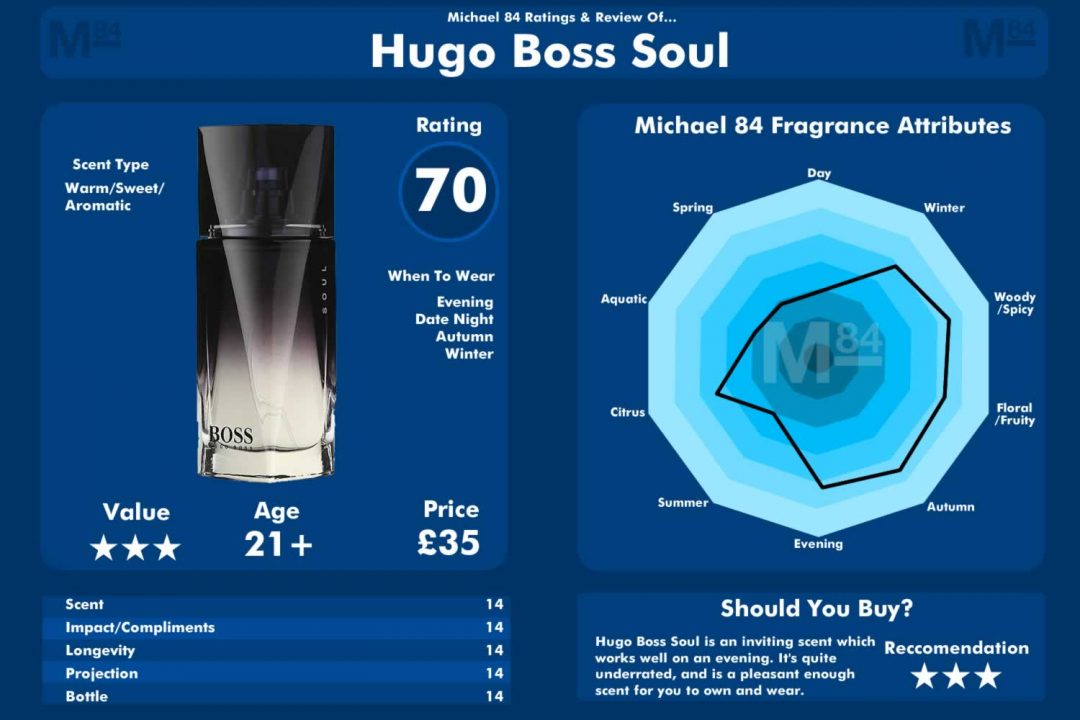 Longevity – Hugo Boss Soul is an EDT, and lasts a fair amount of time. I got 5-6 hours with this.
Projection – The projection is OK, it's not super strong despite it being a more aromatic scent.
Best season to wear – Autumn/Winter
Scent type – Aromatic, Warm, Sweet
Age Recommendation – 21+
Best Worn – Evening, Casual
Top Notes – Mandarin, Bergamot, Black Pepper, Anise, Cardamom
Middle Notes – Nutmeg Blossom, Lavender, Coriander Seeds, Cinnamon
Base Notes – Vetiver, Vanilla, Tonka, Amber, Musks, Tamboti Wood
Perfumer: Ursula Wandel
If you own this one let me know what you think. As always you can check out the aftershave reviews if you're looking to get something new, or read up on some classic colognes I've reviewed.