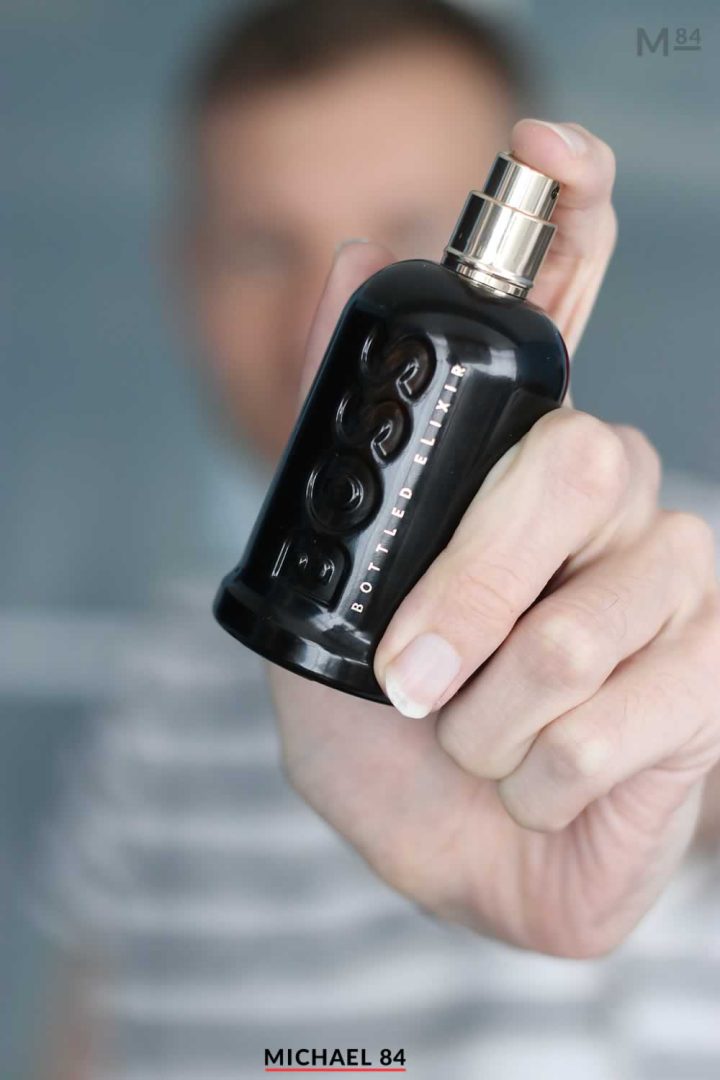 It's the 25th anniversary of the iconic and loved original Boss Bottled eau de toilette. There's been a few different versions along the way, and 2023 see's Boss Bottled Elixir added to the family.
Boss Bottled Elixir is the latest addition to the line up, and Boss sent over a bottle for me to try out.
I can say it's a really nice scent. Want to know more? Here's everything you need to know, and what Boss Bottled Elixir smells like.
What Does Boss Bottled Elixir Smell Like?
Boss Bottled Elixir is undoubtedly a masculine style of scent. It's a dark, warm woody smell, with the notes at the top being incense and cardamom, vetiver and patchouli in the middle and cedarwood and labdanum at the base.
The rich concentration of these give it a real warm amber feel, with the woods being strong without over-powering and a spicy and earthy kick. This combination works so well, and it smells like a sophisticated grown up fragrance that's bold and will get compliments.
If you own the original Bottled Eau De Toilette, it's very far away from that. While that is fresh and slightly fruity and a great all rounder, this is a lot darker with woody, spicy and amber tones.
Last year Boss released Boss Bottled Parfum, and this one is in that ball park. There are plenty of differences, such as the Parfum has a unique leather note, while this one is without the leather and stronger on the incense which gives it that differential factor.
Boss Bottled Elixir Notes
Top Notes – Incense, Cardamom
Heart Notes – Vetiver, Patchouli
Base Notes – Cedarwood, Labdanum
How Long Does Boss Bottled Elixir Last?
Due to the nature of the scent and the fact this this is a parfum, Boss Bottled Elixir lasts quite some time. I was able to get around 7-8 hours with this fragrance with the usual sprays and coverage.
How Strong Is Boss Bottled Elixir?
As mentioned Boss Bottled Elixir is a parfum. That means it lasts a long time and is strong too. The projection is good without it being over-bearing, people around you will be able to enjoy it without it offending.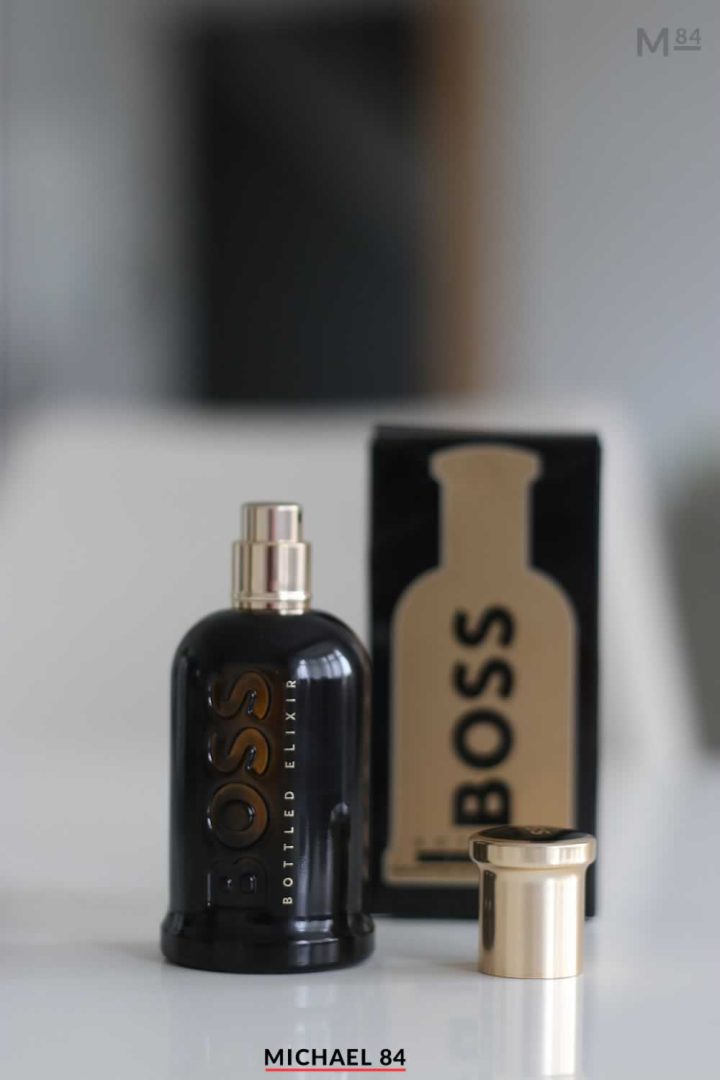 The Boss Bottled Elixir Bottle
The Boss Bottled Elixir bottle is exactly the same as the rest of the line. It's a cylindrical bottle shape in a dark translucent colour with BOSS debossed out the glass. The BOTTLED ELIXIR branding is under this styled in gold, and comes complete with a gold atomiser and top with BOSS printed branding.
The atomiser is the same as the previous Bottled variants, giving off good coverage for every spray.
I have a 50ml bottle, and a 100ml bottle is available, each are priced at £73 and £100 respectively.
What Clothes To Wear With Boss Bottled Elixir
Boss Bottled Elixir is a smart style fragrance, so I would wear clothes to match this scent. For the dress code this would be anything from smart casual right up to formal.
I can see myself wearing a button up shirt with this, a suit or going smart casual with a pair of dark jeans. It's one for the colder months, so pairing it up with some knitwear is going to go well with this scent.
When To Wear Boss Bottled Elixir
As mentioned above, I feel this is more of a semi-formal to formal type of scent, and less of a casual scent. I'd also wear this on an evening over day, and in colder months rather than hot.
By this I mean it's a great scent to wear on a night out in the winter, to events or functions on an evening or when you want to add that extra layer of elegance to your outfit with a scent.
Who Is Boss Bottled Elixir For?
Since Boss Bottled Elixir feels more of a sophisticated and masculine scent, I'd say this is mostly appreciated by older guys. 21+ would be a good guide, but anything over 25 will be well suited to this fragrance.
It's not a youthful one, so although you could wear this at any age, it's best suited to those looking for a more mature fragrance.
Boss Bottled Elixir Fragrance Details
Longevity – Boss Bottled Elixir is parfum strength, and I was able to get 7-8 hours from this which means it has great longevity.
Projection – The projection is pretty good, and those around can smell it without it being over bearing.
Best season to wear – Autumn/Winter
Scent type – Woody/Amber/Warm Spicy
Age Recommendation – 25+
Best Worn – Evening, Formal, Smart Casual
Top Notes – Incense, Cardamom
Heart Notes – Vetiver, Patchouli
Base Notes – Cedarwood, Labdanum
Boss Bottled Elixir Key Takeaways
Pros
Brand new scent that's fairly unique
Strong masculine style
Elegant and refined for mature guys
Fantastic for an evening
Cons
Verdict
Boss Bottled Elixir is a great scent for 2023 and a good addition to the Bottled line up. It's a strong modern masculine fragrance that's warm, woody and has a slight spicy kick to it making it a great choice for guys looking to stand out on an evening.
It's a fantastic scent to add to any collection if you're looking for a dark woody type of scent, or need a signature fragrance for an evening or that special occasion.
Let me know what you think of this one, and you can read more fragrance reviews on the blog if you're on the hunt for your next scent.