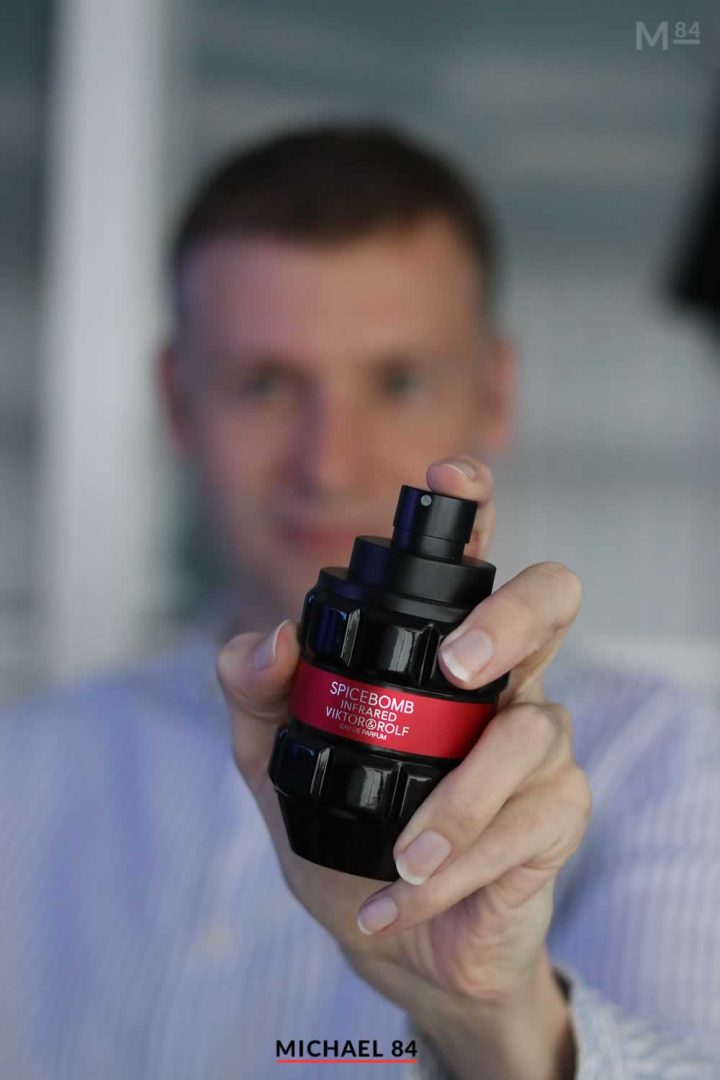 We're getting closer and closer to autumn, so now is the time to start thinking about an autumn scent. Viktor & Rolf have released a new fragrance from their Spicebomb line, Viktor & Rolf Infrared Eau De Parfum.
They have sent over a sample for me to check out, and it's a scent I've been looking forward to trying.
This is everything you need to know, including what Infrared Eau De Parfum smells like.
I have owned a few from the Spicebomb line, including the original Viktor & Rolf Spicebomb eau de toilette which was a major success. It's hard to believe it's been 10 years since that launched, and from there we've seen a whole host of different flankers and variants of the original.
This is the latest, Infrared eau de parfum which was released this year in 2023.
What Does Viktor & Rolf Spicebomb Infrared Eau De Parfum Smell Like?
When I first sprayed Viktor & Rolf Infrared Spicebomb I immediately get the warm notes of the fragrance. There's a strong hint of cinnamon without it being overpowering, along with the red pepper this is a warm style of scent.
It lives up to it's name of infrared, because I do get that 'red' warmth and amber style of fragrance in this. Infrared is a warm spicy type of scent with some light woodsy notes in the dry down as well as a little bit of leather too.
The cinnamon and amber style of this scent is really the stand out part, which lasts quite a long time and is what you will notice the most in this scent.
It's a pleasant scent that I feel is inoffensive, and as mentioned has that warmth feeling that's going to be well suited to the colder seasons of the year.
How Long Does Viktor & Rolf Spicebomb Infrared Eau De Parfum Last?
Being an eau de parfum you'd expect Spicebomb Infrared to last a while. I was able to go for around 6 – 7 hours wearing this and still being able to smell it.
That's a pretty decent length of time, it's going to last the best part of a night if you choose to wear it on an evening out.
How Strong Is Spicebomb Infrared Eau De Parfum?
When it comes to the strength of the scent, I would say that this is moderate. Although it's a darker style of scent and these tend to pack quite a punch, Infrared EDP is more subtle in the way you smell it.
You can certainly smell it while wearing it, as will others around you. But it doesn't have that huge projection that some scents do. This isn't a bad thing when you don't want the entire room smelling your scent, which is going to be most of the time.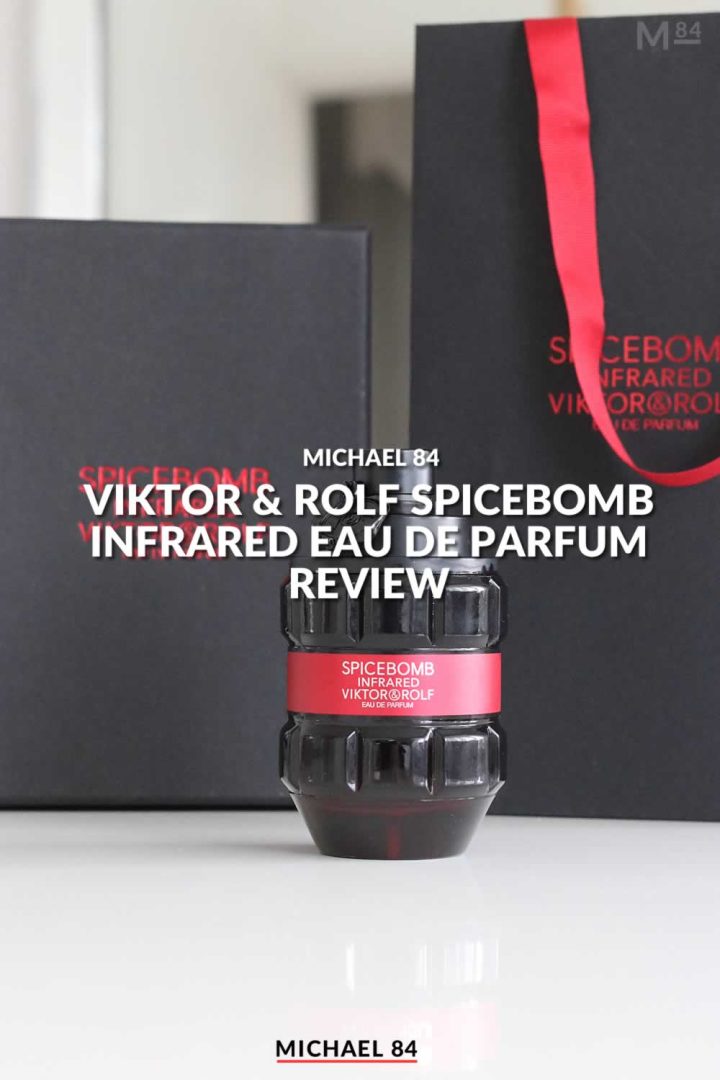 The Spicebomb Infrared Eau De Parfum Bottle
The Spicebomb Infrared EDP bottle is the same shape as all the rest of the bottles in the line. It's a granade bomb like shape which is a nod to it's name, and is a dark red translucent colour. The branding is a belt strip around the centre in red with the wording printed in a clean style.
The atomiser is good in a similar way to the other Spicebomb bottles, and I get good coverage from each spray.
I have the 50ml bottle, with a 90ml bottle also being available priced at around £70 and £96 respectively.
What Clothes To Wear With Spicebomb Infrared Eau De Parfum
When it comes to dressing for the scent, I would say that smart or smart casual clothing should be worn with this scent. It has that elegant kind of style to it, so your clothes should match.
As I'd expect to wear this more in the autumn and winter, a clean solid colour sweater would be worn in a smart casual style. For dressing up a little smarter, a shirt and blazer or suit would work well with this scent.
It does have an edge to it, so I could also see this being worn with a leather jacket, it has that spicy kick to it that could work well alongside a leather jacket.
When To Wear Spicebomb Infrared Eau De Parfum
As already alluded to, I would say that Spicebomb Infrared eau de parfum is best suited to autumn and winter. It's a warm scent, and I prefer to wear these types of fragrances when the weather is a lot colder.
For the occasion, I think it works for both casual and formal, although I'd be leaning more into the formal. A night out with friends, a date night, any other evening out and this fragrance will work.
Who Is Spicebomb Infrared Eau De Parfum For?
Spicebomb Infrared EDP feels like a refined and slightly mature scent, so I would say that it's best suited to 21+ and those in the older age brackets. I wouldn't set an upper limit, I think it can work for any age gents but could be too much for a teen.
If you're looking for a youthful scent, I don't think this is it and there are better alternatives for that style.
Spicebomb Infrared Eau De Parfum Key Takeaways
Pros
Warm and spicy scent
Inoffensive
New scent meaning you'll smell like nobody else
A fairly unique scent
Cons
Verdict
Spicebomb Infrared Eau De Parfum by Viktor & Rolf is a really nice spicy warm fragrance with strong amber and cinnamon notes that is sure to warm you up.
It's very inviting, and a modern masculine fragrance that seems to get better each time you smell it.
When it comes to this type of scent, I think that it's been well done. It's not overpowering and for some that could be a problem, but I feel with this style of scent you want to be smelled without it being too overbearing, which this isn't.
It hits the notes just right, keeping it strong without projecting too far.
If you've tried this let me know what you think of Spicebomb Infrared eau de parfum, and you can see more fragrance reviews on the blog too.
Spicebomb Infrared Eau De Parfum Fragrance Details
Best season to wear – Autumn/Winter
Scent type – Warm Spicy, Soft Woods, Amber
Age Recommendation – 21+
Best Worn – Evening, Formal, Casual
Longevity – This is an eau de parfum, and I was able to get 6-7 hours longevity with Spicebomb Infrared eau de parfum.
Projection – The projection of Spicebomb Infrared eau de parfum is decent but not huge. You and those closest will be able to smell it.
Top Notes: Red Pepper, Cinnamon
Middle Notes: Eucalyptus
Base Notes: Resinous Wood, Leather