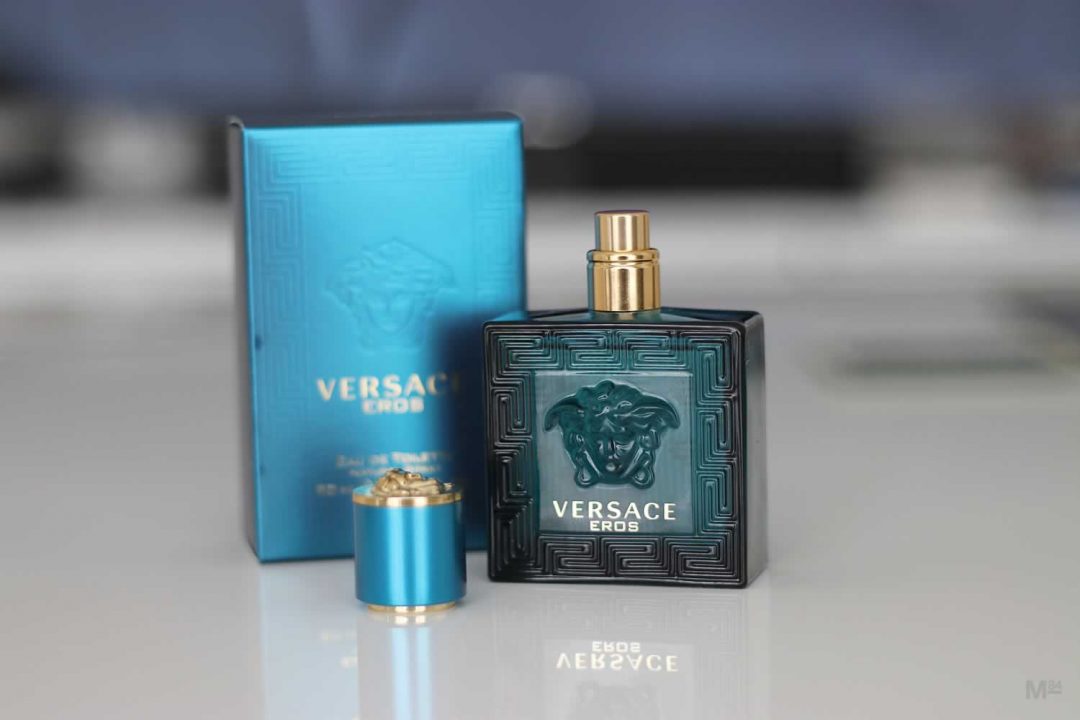 I finally got myself a bottle of Versace EROS!
It's a fragrance which has a lot of love and it's always slipped by me, but 2020 was the year I finally got Versace EROS. It's talked about quite a lot and is kind of universally loved by the majority of men, but what's it all about.
Here's my review and everything you need to know.
First of all you should know that this is not a new scent. In fact it was released in 2012, making it 8 years old as of today. But that should at least make you curious: How can an 8 year old scent still get so much love and be talked about?
I had to find out about if the hype was worth it.
The Bottle
As always I will start off with the bottle. It's a design I really like. EROS has a sea blue/green type of colour throughout the theme of this scent, from the box to the bottle, and it's complimented by gold detailing.
The front has the Versace pattern along with the trademark Medusa head, along with the Versace EROS branding to the front. The bottle shape is squared and is easy to hold in the hand, with a nice bottle top also sporting the Medusa head.
The atomiser is also good, and you get a nice wide spray meaning you'll get good coverage in only a few sprays.
The Scent – What Does Versace EROS Smell Like?
When I initially sprayed the scent I was hit by a lot of mint. This was very noticeable to me, and for the first few seconds it was all I could smell. Then it calmed down a little, and I got more hints of vanilla. Finally after a couple of minutes when the scent settles, I got a feel of why this scent gets a lot of compliments.
It is a really nice inviting scent. It's quite a well balanced scent, so is hard to put the type into a specific box. It's quite a soft spicy and woody kind of scent, but it has the fresh green elements in there too, along with the slightly creamy hints of vanilla.
The inviting nature of EROS makes it quite an aromatic style of scent, and I can say that it's a very nice scent. It's quite youthful, and grown up at the same time. I would say that almost any age can wear this, from an 18 year old to a 40 year old and beyond, if the occasion suits.
As for the occasion, I definitely think it's more of an evening scent. Whether that's a casual affair or more formal, it would work in both settings. A night out with the lads, date night or something else, it works well.
Many have called this a clubbing fragrance which I completely understand. A nightclub is the perfect setting, but don't let that put you off wearing it for other occasions. It's pleasant enough to wear on a more toned down evening too.
It can definitely be listed as one of those fragrances which will get you compliments from everyone.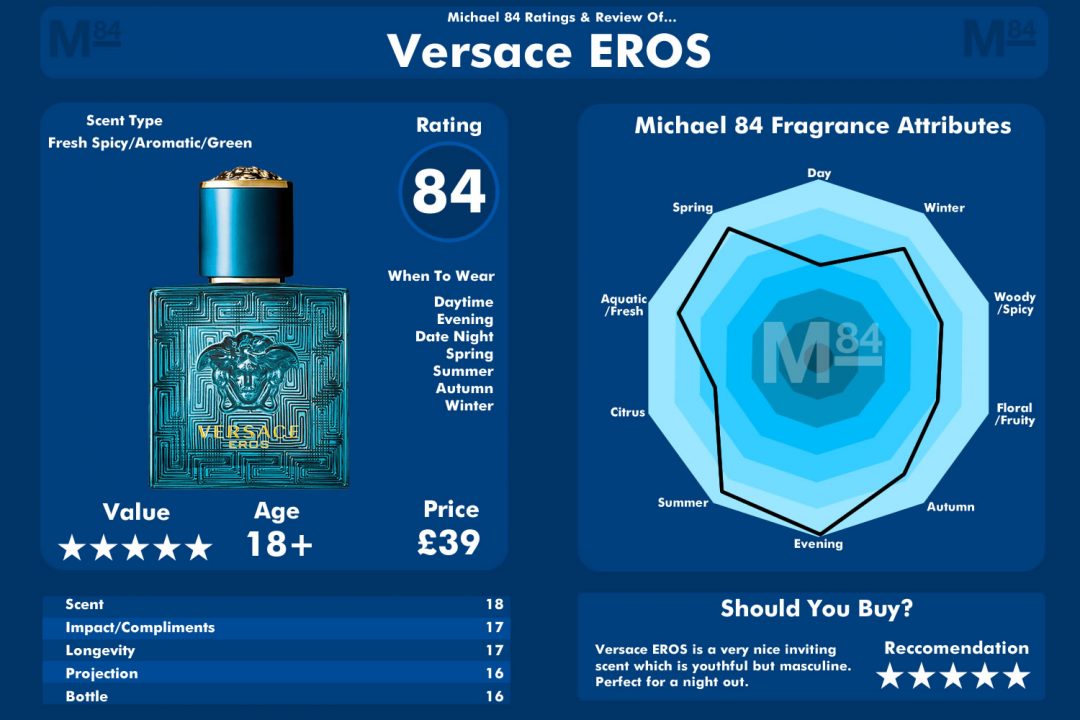 Longevity – EROS By Versace is an EDT, it combines fresh and spicy notes with aromatics. I can get around 6 hours with this.
Projection – The projection is pretty good, you'll smell it on yourself and others nearby will too.
Best season to wear – All Rounder
Scent type – Fresh Spicy/Aromatic/Green
Age Recommendation – 18+
Best Worn – Evening, Casual, Formal
Top Notes: Mint, Green Apple, Lemon
Middle Notes: Tonka bean, Geranium, Ambroxan
Base Notes: Madagascar vanilla, Vetiver, Oakmoss, Virginian cedar, Altas cedar
Do you own Versace EROS? If you do let me know what you think of this one.
As always you can find all my fragrance reviews here if you're looking for a new signature scent or just fancy trying a different smell.
Other Versace Fragrances