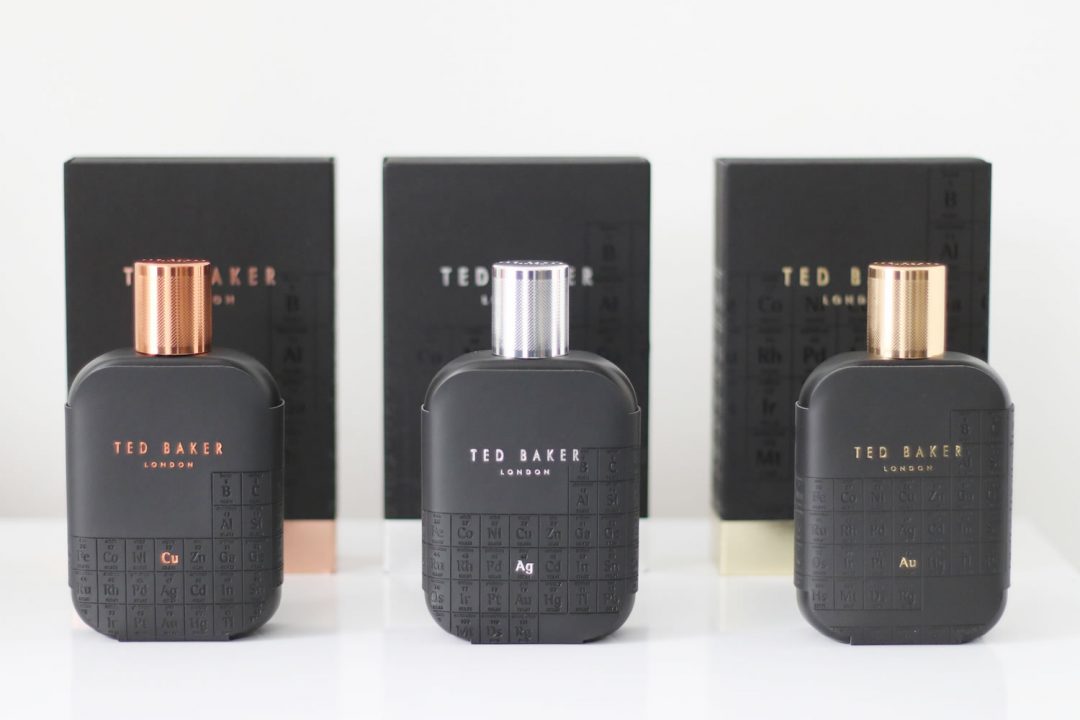 Ted Baker have released three men's fragrances which are inspired by three of the World's most sought after elements, Copper, Silver and Gold. This is the Tonics Collection, and all three are different, but equally good.
As always I will start off with the bottles. They're all the same style, which is a classic flask bottle style, with an opaque black colour, with colour contrasting top.
The branding on the front is small and elegant, keeping the bottles looking sleek.
They use silver, gold and copper colour accents on the bottles to denote each element, including colour coordinated bottle tops which have partially a mesh style finish.
The bottles are wrapped in a PU sleeve with the branding to the front, and come with a debossed periodic of elements table, with each element highlighted on their respective bottle.
Ted Baker COPHUN Copper (CU)
Copper is the 29th element, but this scent does not smell like old 1p or 2p coins, in fact it's very nice and inviting. Ted Baker tell us that this one is "Made for the discerning gent who is hot on the heels of the latest trends, this rare fragrance flares bright and intense".
It's quite a difficult one to describe, it's warm and a touch spicy, but you can get a sense of the green notes of grapefruit which keeps it quite light.
This would be perfect for the Spring time, either wearing during the day or on an evening. It's not that strong and powerful scent you'll want to to go to make an impact, but a more subtle fragrance when you want to smell good.
Top notes: grapefruit, bergamot, leafy
Heart notes: aquatic, pepper, jasmine
Base notes: cedarwood, patchouli, musk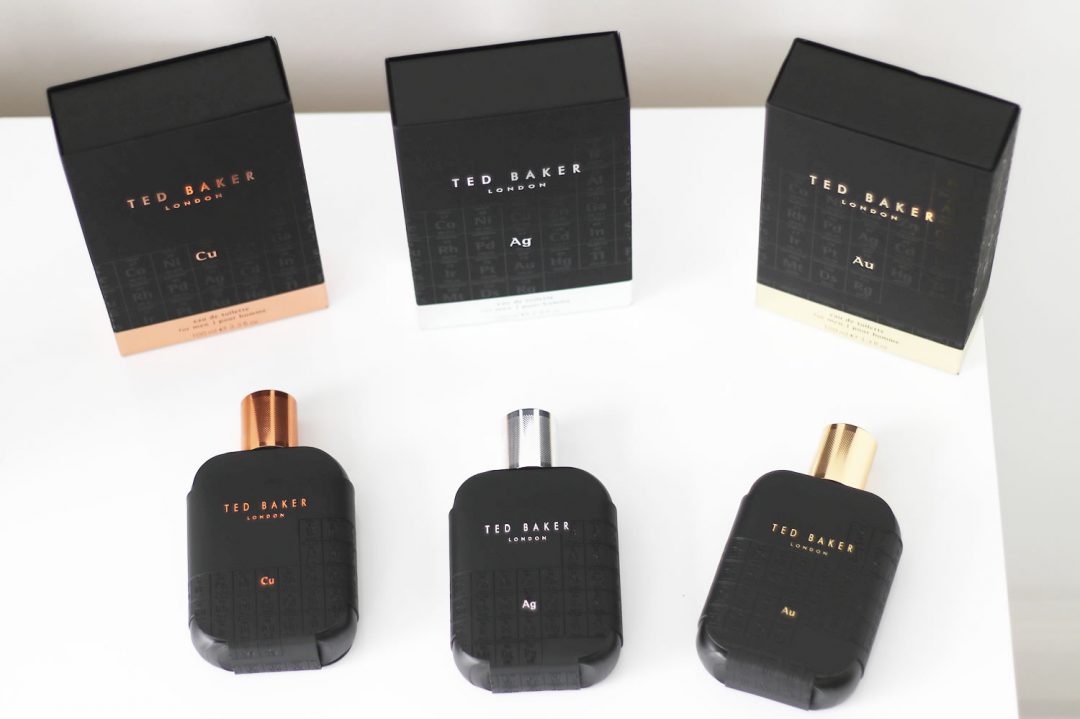 Ted Baker Silver SILVHUN (AU)
Silver is the 47th element, and for the AU fragrance Ted Baker is tried to make a classic and timeless scent. Ted Baker say this scent is "Formulated for the traditional gentleman who appreciates the finer details in life, this classic fragrance is timeless and understated".
This is a really unique scent, it has violet leaf and eucalyptus which gives it a really unusual scent at the first spray.
After it's calmed down it's a pleasant smell, it's understated and once again I think this would work well on a Spring day.
Top notes: bergamot, violet leaf, pepper
Heart notes: eucalyptus, patchouli, leather
Base notes: cedarwood, amber, musk
Ted Baker Gold GOLDHUN (AG)
Gold is the 79th element, and is the final instalment of the Ted Baker Tonics collection. They tell us that god is "Made for the devilishly well-dressed gent who never blends into the crowd, this rich, sophisticated fragrance makes a dramatic statement".
This is probably the best one of the collection, I really like that it's quite seductive and inviting, making it one for an evening.
Having said that, it's inoffensive and not overpowering, meaning you can wear it without a problem during the day.
The gold is the most versatile of the three, I think this could almost be considered an all rounder, suitable for all seasons day and night. However I think the perfect setting for this one would be an evening out, whether that's in warmer or cooler climes.
Top notes: bergamot, clove
Heart notes: jasmine, gardenia, cedarwood
Base notes: musk, vanilla
All three fragrances are available in 100ml bottles at Ted Baker here, currently priced at £40.
I think that all three of these make great fragrances for teenagers, but can be enjoyed by anyone of any age. They're very inoffensive, with each working best in day or night situations.
Have you tried these scents? It would be great to hear what you think.
As always, if you're looking for a new scant for yourself, you can check out all my aftershave reviews, whether you're looking to find a new signature scent or just want something different, give them a look.