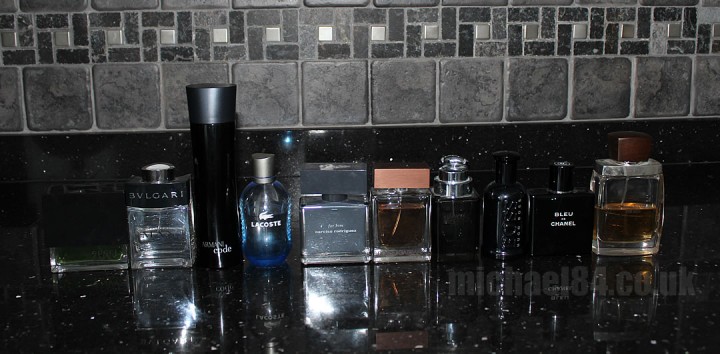 So far in this mini series of my fragrances, you have seen my least favourite top 10, my current favourites and now it's time to wrap it up with my all time favourites.
These include scents which I have had for a long time, and some newer ones which I like. Back when I first starting wearing EDT and aftershave I used to have a tiny collection of only three; CK:One, Tommy Hilfiger and Cerruti. The Cerruti was really strong, and wearing too much meant you would be smelling it for a long time and people could smell you from a good distance, but it was a nice smell 😀 The favourite of those three was probably the Tommy, I wore it the most, but have not worn it since I was around 18 years old.
So, to my all time favourites, and here they are.
10. Vera Wang For Men – I think I got this in 2007 or 2008 and I like it. It's a woody spicy kind of scent, and has a pleasant aroma.
9. Bleu De Chanel – An elegant typical man's type of smell, perfect to wear on a night out.
8. BOSS Bottled Night by Hugo Boss – Again another great smell for a night, it has quite a warm smell.
7. Gucci by Gucci – Strong, woody and slightly peppery, but not over-powering. One of my favourites for sure, in fact I bought another 100ml bottle a few weeks ago.
6. D&G The One – Another woody type of smell, but not too strong. Despite being woody, it has a little fresh-ness to it.
5. Narciso Rodriguez For Him – I got this and fell in love with it. It's spicy, fresh and slightly musky, and I really do like this one.
4. Lacoste Blue – I don't think you can buy this any more, but I really love it. It now reminds me of the summer of 2006 where I had this and wore it  a lot. A light fresh smell with a hint of spice, great for day or night wear.
3. Armani Code – Another one I have recently just re-bought in a 125ml bottle. A one for the night, it's smell is inviting and addictive.
2. Bvlgari MAN – Almost my favourite, and it's the one I currently use the most. The smell that has everything; Manly, woody, spicy and fresh, it's like an old school classic scent which has been refined for the modern man. I have around 30% of a 50ml bottle left, then bought a brand new 100ml bottle!
1. Gucci Envy For Men – Of course it has to be number 1. I first got it in 2005, and right there and then it was my favourite, and nothing has changed. I used it sparingly, and ran out, then found and bought a bottle in 2009 only for it now to be discontinued. So I am down to the last and only bottle I am likely to have, so rarely use it.
If I had of known that then, I'd of bought a few bottles to keep me going! It's a fresh, slightly citrus but nice and woody type of smell, and is very inviting. Not only a great smell but brings back great memories, so it has to be my all time number 1 scent.