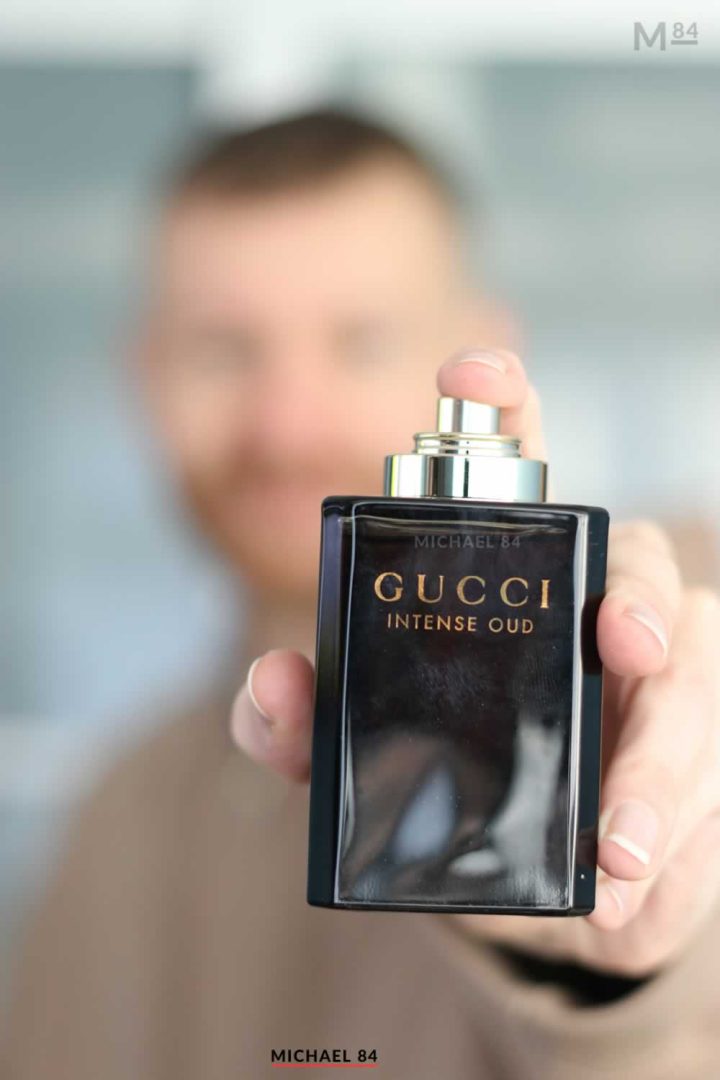 A fragrance which has been on my radar for quite a while has been Gucci Intense Oud eau de parfum. It's a fragrance which has been around since 2016, and is an expensive designer fragrance for both men and women.
I was able to sample this in store and liked it, so ended up getting it for this past Christmas as a treat to myself.
I was so glad I did, because I love this scent. It's a lot more than an oud, it's brilliant.
Here's what you need to know about what's so great about Gucci Intense Oud.
What Does Gucci Intense Oud Smell Like?
Gucci Intense Oud is a very warm fragrance and you're hit with a blend of amber, oud and incense right from the off. It's such a seductive and inviting scent, and it had me hooked on it as soon as I smelt it.
Some oud fragrances just hit you with a large wall of oud and wood and nothing else. I'm not a huge fan of those, and find those a bit one dimensional and can be overbearing.
But Gucci Intense Oud is not like that. This is a much more complex smelling fragrance, with a lot more going on than just a wall of oud.
The warmness of the scent is at the forefront. This is said to be unisex, but for me this is a super masculine scent.
The oud and woody notes are strong but not overbearing. This works well with the smokiness of the incense along with the amber and leather and combining all of that gives off a really seductive and inviting scent you'd like to wear on a night.
I have only had this bottle for a few weeks but it's already the one I want to reach for, and even thinking of getting another bottle already!
Gucci Intense Oud Parfum Notes
Oud, Incense, Olibanum, Leather, Amber, Woodsy Notes
Gucci Intense Oud Bottle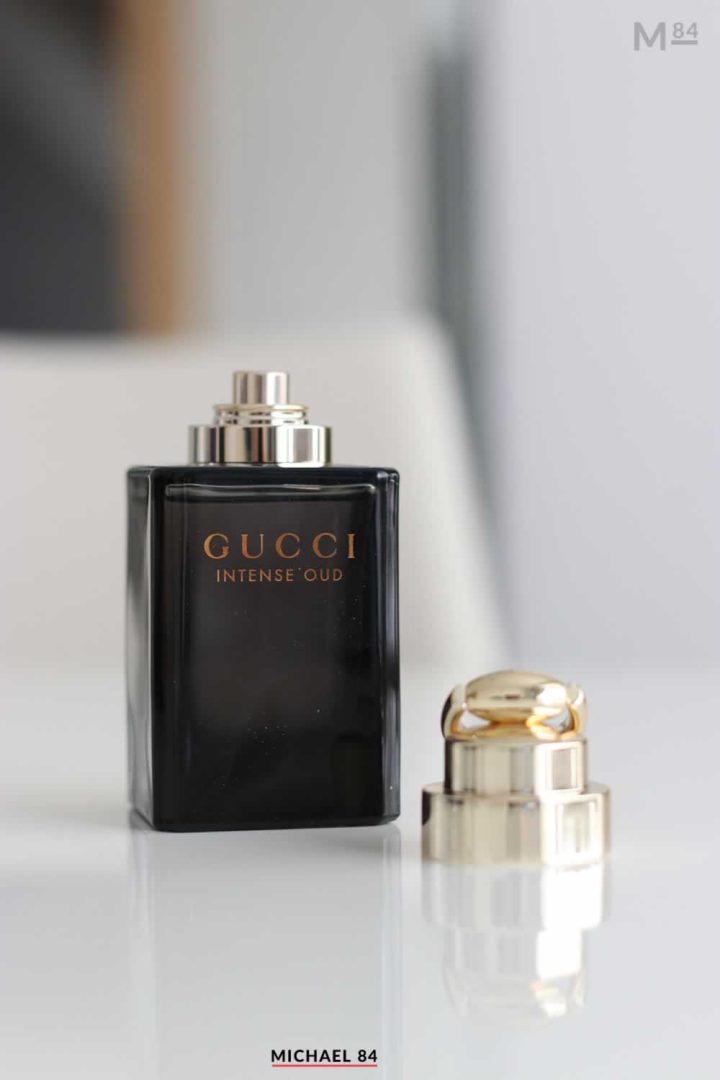 I already have the Gucci by Gucci and Gucci Pour Homme bottles, and the Gucci Intense Oud bottles is the same format, which I really like.
It's a chunky glass rectangular cuboid shape, which is translucent black in colour. The bottle top looks like a door knocker but is actually modelled on the trademark Gucci horse-bit which is used on their shoes and bags.
It comes in a 90ml bottle and is an eau de parfum. At the moment this will set you back at around £148 which is on the expensive end of a designer fragrance.
When & Where To Wear Gucci Intense Oud
I would wear Gucci Intense Oud on a night out, or even a night in. It feels like a luxury scent and definitely one more suited to the evening.
So if you're out with friends, the wife, girlfriend, or for a formal event, it's going to be a good scent to wear.
It could be considered an all rounder, but I think it works it's best on evenings, especially in the colder seasons.
Who Is Gucci Intense Oud For?
When it comes to fragrances which I feel are quite masculine and woody, I think they work best on older guys. That is guys aged 25 and up.
Like everything intended for mature audiences it just gets better with age, so the 30, 40 and 50 year olds might appreciate this style of scent more than the younger crowd may.
What Clothes To Wear With Gucci Intense Oud
Since Gucci Intense Oud is a classy fragrance, you need to look the part too. A good, clean crisp white shirt is a good pairing, as is any kind of smart formal shirt.
Wearing a suit with this cologne would be a good combination too.
Gucci Oud is a smart or smart casual style of fragrance. It's not one I'd wear a T-shirt with, unless I was really dressing it up with a blazer or smart jacket.
How Long Does Gucci Intense Oud Last?
Another great point about this scent is how long it lasts. It's an eau de parfum and a woody type of scent so you'd expect it to last, and it does.
Gucci Intense Oud lasts around 12 hours on my skin. It easily makes it through a night out, and a whole lot more.
Is Gucci Intense Oud A Strong Smell?
As you'd expect, Gucci Intense Oud is a really strong smell. It's not over-powering, but it's a strong smell. The woods, leather, amber and incense are done in a way that's quite subtle and soft, but they can be smelled by those around you.
Gucci Intense Oud Fragrance Takeaways
Pros
Very inviting and attractive smell
Powerful scent that others around you will smell
Lasts a long time
Not overly popular so you'll be unique and stand out
Cons
At around £150 it's quite expensive
Is Gucci Intense Oud Discontinued?
There's a few people online saying Gucci Intense Oud could be discontinued. I don't think that is the case as of 2023.
I bought my bottle of Gucci Oud at the back end of 2022, and see in 2023 that it's still available from all the usual department shops such as Selfridges, John Lewis, Fenwick and others, as well as the perfume shops.
It may get discontinued in the future, although I really hope that is not true. It has been around since 2016 and I hope Gucci Intense Oud stays around for a long time.
Key Fragrance Details
Longevity – Gucci Intense Oud Lasts a very long time. I was able to get 12 hours with this eau de parfum.
Projection – The projection of Gucci Intense Oud is great. It can be smelled by those around you from a reasonable distance.
Best season to wear – All Seasons
Scent type – Woody/Warm Spicy/Smoky
Age Recommendation – 25+
Best Worn – Evening, Formal, Casual
Gucci Intense Oud Fragrance Notes – Oud, Incense, Olibanum, Leather, Amber, Woodsy Notes
Verdict
I really like Gucci Intense Oud eau de parfum. I think it's a brilliant fragrance for all men looking for that masculine gentlemanly style of scent which has ouds, woods, leather and amber.
I would go as far as saying that it's right up there with my favourite fragrances of all time, and I look forward to wearing this for years to come.
Let me know what you think of Gucci Intense Oud, and as always you can check out more fragrance reviews if you're on the search for a new scent or just want more information on your favourite scent.