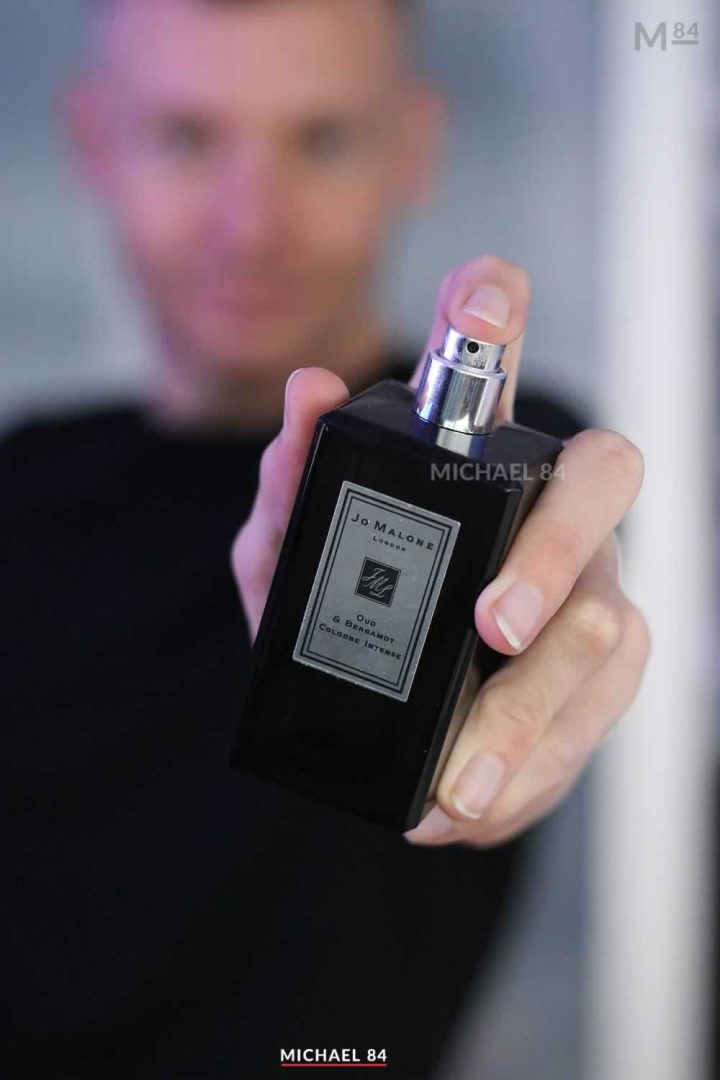 It's an older fragrance, but Jo Malone Oud and Bergamot Cologne Intense is a scent which smells really nice.
I got this several years ago and thought I should give an updated review on this fragrance.
Ever wondered what Jo Malone Oud And Bergamot smelled like?
Here's my full review and if it's still worth getting right now.
What Does Jo Malone Oud and Bergamot Small Like?
Right off the bat Jo Malone Oud And Bergamot is a scent which smells fantastic. It's a modern masculine scent which as the name suggests features bergamot and oud as the notes extensively. Cedarwood is another note which is utilised in this scent, rounding off the citrus-woodiness of the scent.
Combined these give a stylish modern male fragrance. I feel that this is quite a seductive fragrance, and it's one that should definitely get compliments.
It's actually described by Jo Malone as a unisex scent, but the citrus and warm woody features of this makes me really categorise this as a manly smell.
How Strong is Jo Malone Oud And Bergamot?
Jo Malone Oud And Bergamot is described as "cologne intense". If you've read my fragrance strength & concentrations post you'll know about the differences in fragrance types.
Once you spray Jo Malone Oud And Bergamot you'll definitely smell it. It's very powerful, and everyone around you will smell it.
Sadly, this does not last.
The scent has incredibly poor longevity on the skin. I get a couple of hours at the most for this fragrance before it starts to really die down.
This is strange, because the style of scent which it is, a dark and woody type usually lasts longer than a fresh scent.
So the good thing about it is initially it's powerful, there's no need to over-spray. The bad is that it will only last a couple of hours.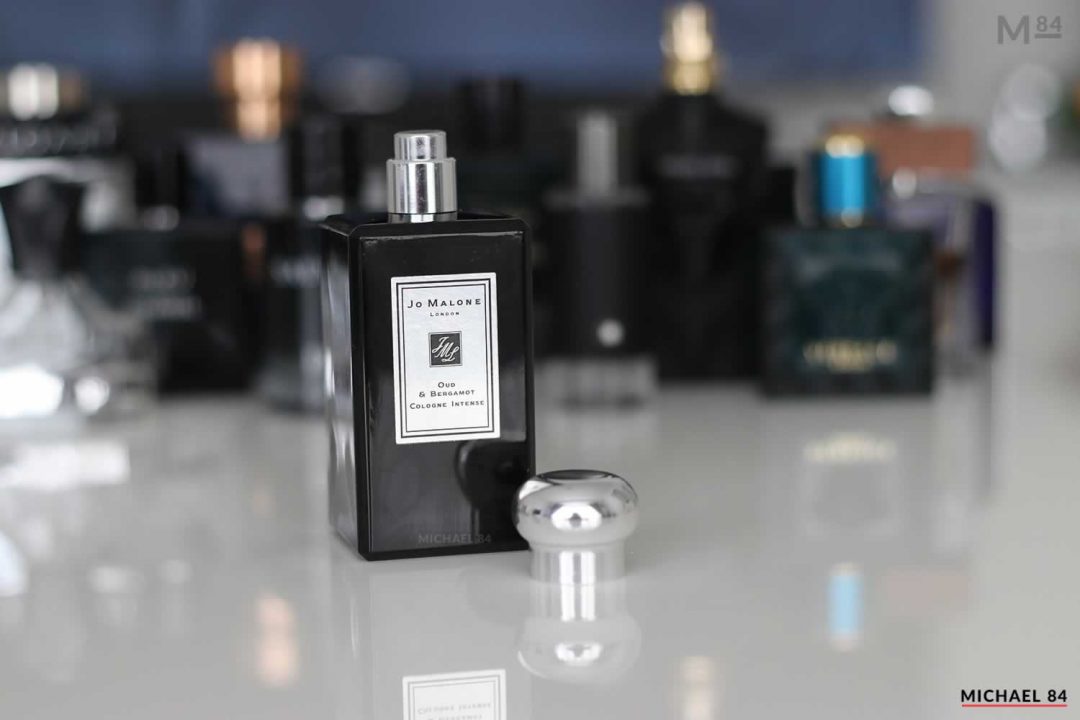 Jo Malone Cologne Bottle
The bottle is a nice rectangular shaped bottle in a dark glass colour. There's silver branding to the front, with the brand name as well as the name of the scent.
It feels quite premium in the hand, with the chunky glass along with a nice silver chrome dome type of top.
The Atomiser produces a decent spray. It's not a large wide spray as with others, but it's not a short burst either. I'd say it's a little on the small side, but not the worst I've experienced.
Originally there were a 100ml and 200ml bottle available when I bought this. It appears now there is only a 50ml and a 100ml bottle available.
When & Where To Wear Jo Malone Oud and Bergamot
For me Oud & Bergamot is definitely an evening fragrance. It's one I'd wear on a night, whether it's a night out with friends, date night or some casual or formal event.
Since it's got that elegant type of vibe to it I wouldn't wear it to something super casual, or a summer event such as a BBQ or something like that.
I think it works its magic best in cooler months, or in more smart-casual or semi-formal occasions.
What Clothes To Wear With This Scent
As it's a modern masculine style of scent with a touch of elegance, a clean shirt or at least a smart t-shirt dressed up is a good pairing with this scent. A suit and tie would go well too, so you can keep it in mind for any formal occasions.
Who Is Jo Malone Oud and Bergamot For?
The mature and masculinity of this fragrance makes me feel like it's suited to a slightly older crowd. I am thinking that it's a scent for over 21, possible finding it's best home in fragrances for men in their 30s (and over).
Of course younger men can wear this, but I think there's better options out there for a youthful scent.
Is Jo Malone Oud And Bergamot Worth It?
These days Jo Malone Oud And Bergamot costs £102 and £145 for a 50ml and 100ml bottle respectively. This scent was launched in 2010, I got it in 2014 and now it's quite an expensive fragrance.
There's a lot of competition which wasn't there originally, such as Dior Sauvage EDT which is far less expensive and for me, better.
There's also the fact it doesn't last very long, which for me is the biggest deal breaker.
Personally, I would look to buy other fragrances before considering oud and bergamot.
Jo Malone Oud and Bergamot Key Takeaways
Pros
Very nice and inviting scent
initially powerful smell
Cons
Poor longevity – scent only lasts a few hours
Too expensive
Other Details
Best season to wear – All Rounder
Scent type – Masculine, slightly woody
Age Recommendation – 21+
Best Worn – Evening, Casual, Formal, Date Night
Longevity – Jo Malone Oud And Bergamot is an intense cologne and the longevity is poor. Expect to get around 2 hours from this.
Projection – The fragrance projects very well, there is no need to over-spray. You can smell this one from a reasonable distance.
Top Notes: Bergamot
Middle Notes: Cedarwood
Base Notes: Oud
Verdict
Jo Malone Oud And Bergamot Cologne Intense is a really nice inviting masculine scent. It's downfall is the price and the performance, which don't really live up to the good initial smell you get from this fragrance.
If you're looking for an inviting scent that starts off powerful but only lasts a few hours, this may fit the bill. But these days there are better alternatives which you can get for a similar or lower price.
If it's my money, I am picking something else, or going for an alternative which is still premium but less expensive. I'd look at Chanel, Dior, Gucci, Hermes or Versace which produce premium seductive scents that last longer and are better in my opinion.
For an alternative, check out all my fragrance reviews which has over 100 fragrances and scents in the blog.
Let me know what you think of Jo Malone Oud And Bergamot Cologne Intense.