Guys!
I have to talk about one a product which I think is fundamental to your grooming regime, it's something which I've mentioned countless times as being my number 1 product for guys, it is post shave balm, otherwise known as aftershave balm.
If there's one skincare product for guys, this is it! This is the one I use religiously and can't recommend highly enough, no matter if you love your skincare products or could never imagine using them.
This is the one you need, and I'll explain why.
Skincare and grooming products can be overwhelming for us men, there's a ton of them, and historically, we've not used them so much. There's face washes, scrubs, cleansers, toners, moisturisers, day cream, night cream, masques, serums, exfoliators and a ton more which I have missed out. But the one which I think is essential, is post shave balm.
So let's get down to the basics and the details.
What Is Post Shave Balm?
As the name suggests, it's simply a balm or cream which you use post-shave, aka after you've had a shave. Back in the day guys used aftershave, and some still do, which is not great. I'll go into this in more detail below.
Did you know some guys don't use an aftershave balm? I can't believe it!
Post shave balm softens the skin, keeps it smooth and fresh, but most of all, keeps it cool, helping eliminate any signs of razor burn or any uncomfortable feeling. If I didn't use any cream after I've shaved, my face would just feel horrible, and definitely irritating.
Here's a more detailed explanation of what is post shave balm.
How I Use My Post Shave Balm – My Routine
It's pretty easy to use, and there's nothing to it at all. Some people have a couple of questions about how to use it or what you do after it's applied, so here's my quick and easy checklist of how my routine goes:
Apply my shaving gel; My current gel is King Of Shaves, which is what I usually use. Rarely do I use a pre-shave treatment, but you can do if you want extra luxury.
Shave in the usual way.
Rinse off any remaining gel, and towel down.
Apply my post shave balm. You don't need a huge amount of cream, but enough to cover your face, neck, and everything you've shaved. Make sure you've rubbed it in thoroughly; You shouldn't see any cream on your face.
That's it.
You don't rinse off post shave balm, just massage it into the skin. Don't use too much, or you'll have too much solution to massage into your skin, and conversely don't use too little, you want a nice amount of coverage.
It's as simple as that! The benefits are that you'll feel a lot cooler and more comfortable in your facial skin, and there should be minimal razor burn and irritation, if any at all.
Post Shave Balm vs Aftershave
As I've mentioned above, there used to be (and still is) a feeling that aftershave should be used, after you shave. I mean, the name says it all, doesn't it?
Well, not these days.
Most people now acknowledge that aftershave isn't the greatest choice when it comes to what to use after you've had a shave. It dries out the skin in a lot of skin types, which is the opposite to what a balm will do, adding moisture. They're also bad for people with sensitive skin.
Traditional aftershaves contained alcohol, and were about closing pores and killing bacteria and any other nasty stuff. When you shave pores are open and so exposed to dirt or bacteria, so using aftershave was seen as a good thing, to close and pores and kill anything it came into contact with. They also had a scent to them, which is what we all love about them.
Today what we call aftershaves are mostly not aftershaves, but an eau de toilette. They are more focused on the scent, and not something you should use after you have a shave. It will depend on the time you shave, but a lot of the time, you'll not want to smell of a strong scent.
It's worth mentioning that some EDT and EDP also come alcohol-free, so you'd not get the benefit of using them after you shave anyway.
Post Shave Balm And Aftershave/EDT Together
If you want to use a scent such as an aftershave or eau de toilette after you've had a shave, you're perfectly fine to put that on top of the post-shave balm. Most of the balms are fragrance-free or have a very light scent to them.
The Best Post Shave Balms
Over the years I've used quite a few different post shave balms and aftershave balms, and I've got a couple of favourites. In all honesty, most of them I've used are quite similar, but some have different qualities than others.
Here's just a couple of my favourites which I can personally recommend.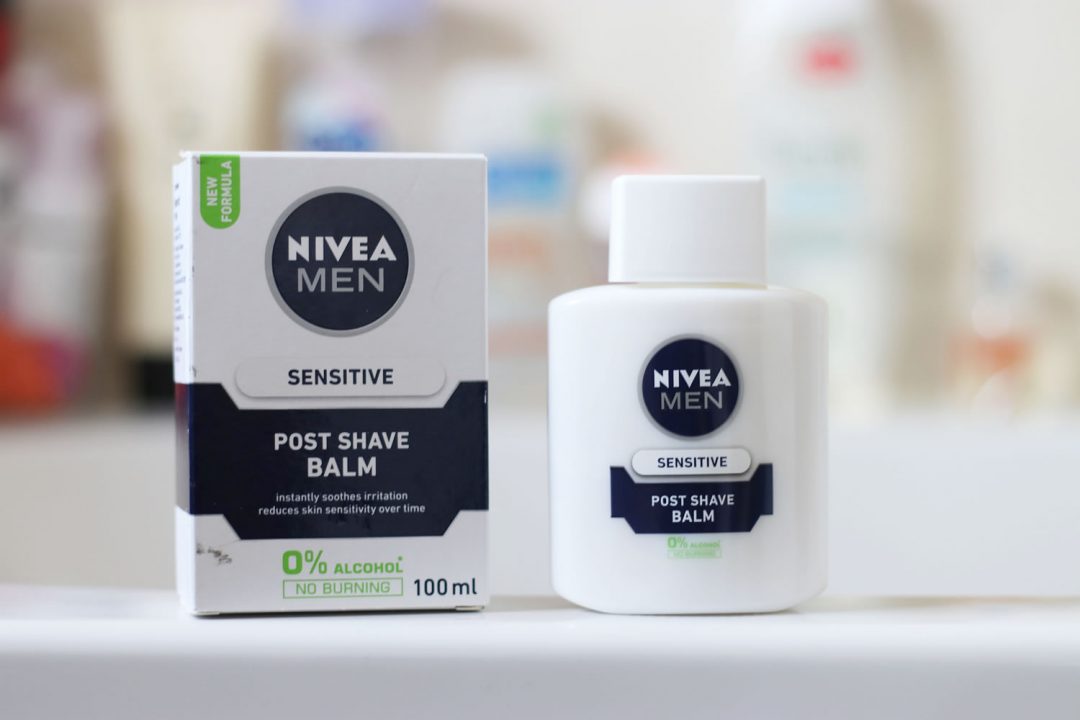 NIVEA For Men Post Shave Balm
This could be considered the daddy of the post shave balm world – Just don't tell your girlfriend or wife you have it…Apparently they've found out that it makes a good primer for their beauty routine!
Nivea is a brand well known for it's skincare products, and their post shave balm has a reputation of being good, and I can honestly say it is. It comes in a few variations, the standard which I've used for years, as well as the sensitive skin version.
This could possibly be the first ever post shave balm I used back in the early years, I always remember the glass bottle which is comes in, rather than the plastics which are used by the majority of other brands.
It contains 0% alcohol, has a very light "clean" scent and it's priced very competitively. You can expect to pay anything from as little as £2.50 (when it's on offer) to £6 for a 100ml bottle. My advice is to shop around.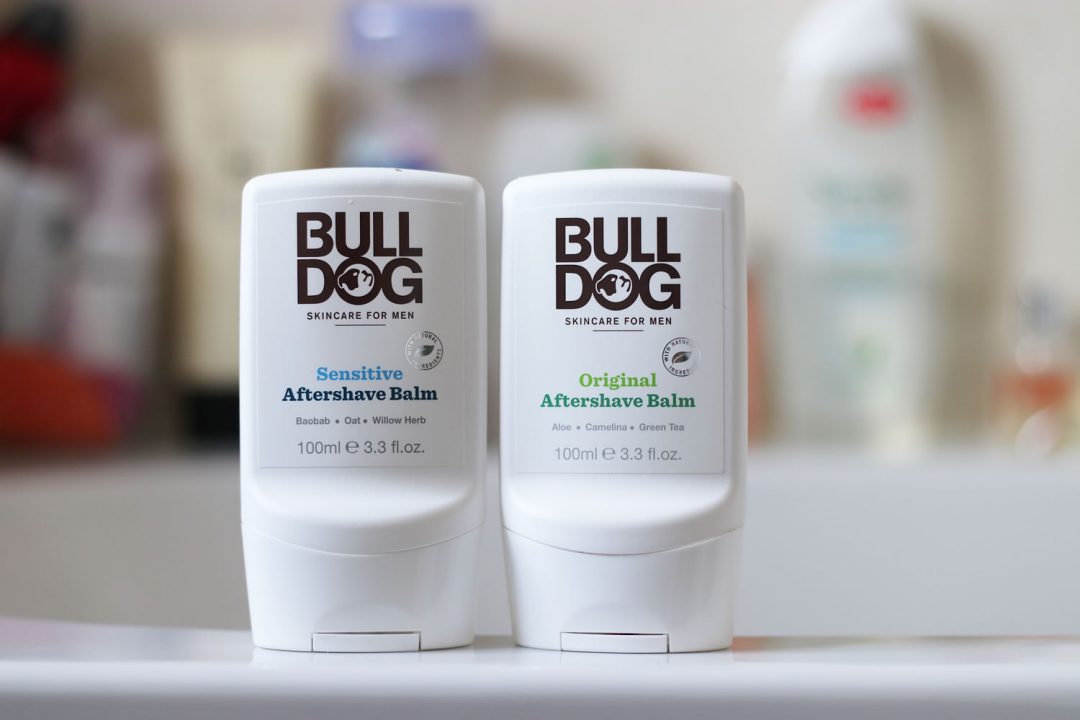 Bulldog Aftershave Balm
Bulldog have aftershave balm in 2 different formulations; The standard which has aloe, camelina and green tea, along with a sensitive skin option, which has baobab, oat and willow herb. They are both really nice to use on the skin, keeping it cool and smooth after having a shave.
You can pick it up for £5 at Bulldog here.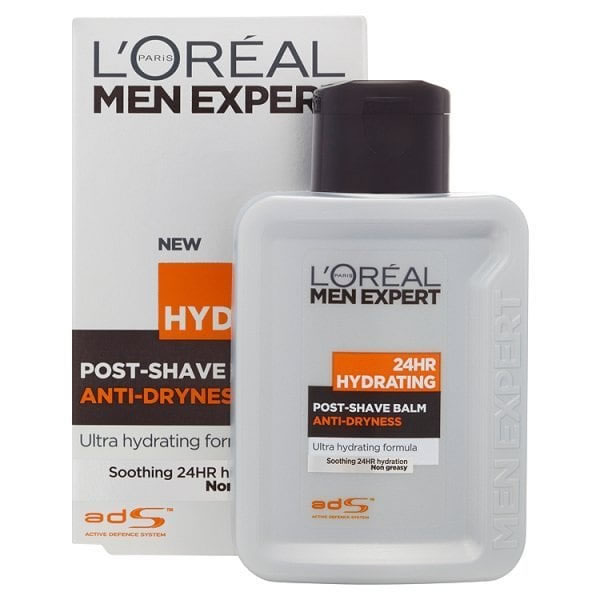 L'Oreal Men Expert Hydra Energetic Post Shave Balm
Another great option, L'Oreal Men Expert Hydra Energetic Post Shave Balm is a silky smooth aftershave balm which does what you'd expect it to. It's very light and fresh, and comes with the reputation of the Men Expert line from L'Oreal which many people, including myself really like.
It comes in a standard and sensitive variant, and is priced at anything from £2.50 – £5 depending if you can get it on offer; So just like above…Shop around!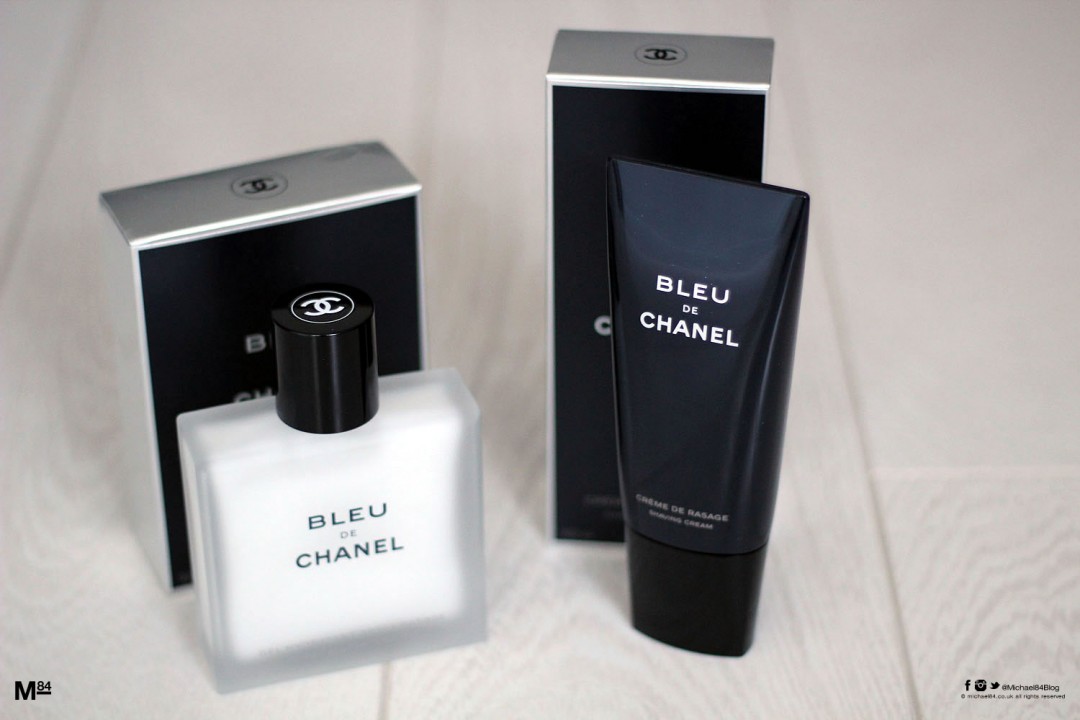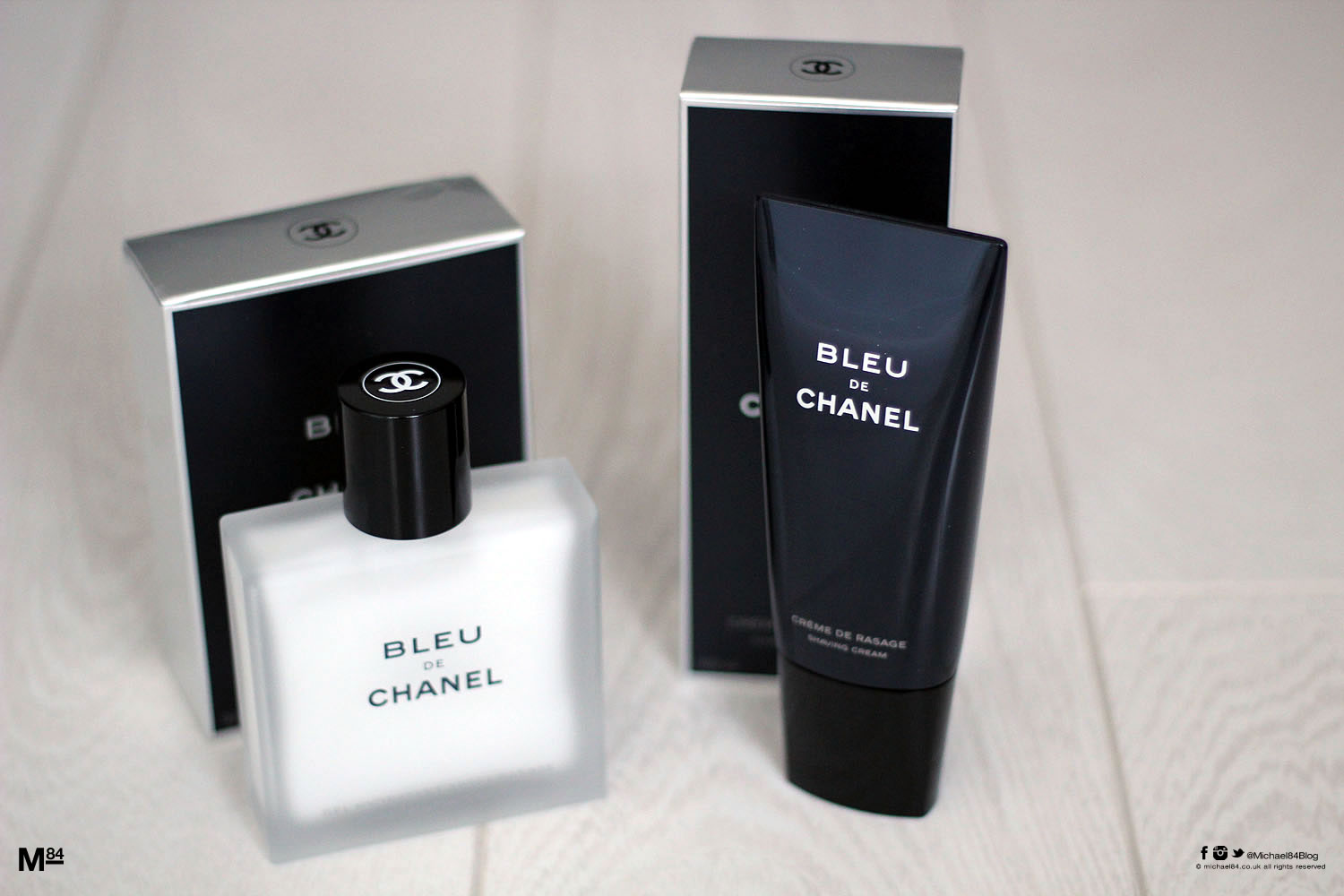 Bleu De Chanel Aftershave Balm
If you want something more luxurious, Bleu De Chanel Aftershave Balm is something you need to get. I was lucky enough to try this as it was released, and it is a good one. It comes in a premium glass bottle, and you'll feel it's greatness on your skin.
The best thing about this one is the scent; It's Bleu De Chanel. If you own the EDT and want to maximise the fragrance and really lock it in, layering the balm with the eau de toilette will have you smelling great, and your skin feeling smooth.
You can get it at Chanel for £39 for a 90ml bottle. Get it at Chanel.
Dove Men+Care Hydrate Post Shave Balm (Discontinued?)
Imagine my shock when I was researching for this post and went to find one of my old favourites, Dove Men+Care Post Shave Balm, and it didn't exist. It looks like this one is officially discontinued, but it was a good one.
You can still find this in some places, and if you can get it for a good price, it is worth getting. Dove+Men Care post hydrate is really nice on the skin, the smooth and milky cream soothes nicely, has that light clean smell and works well.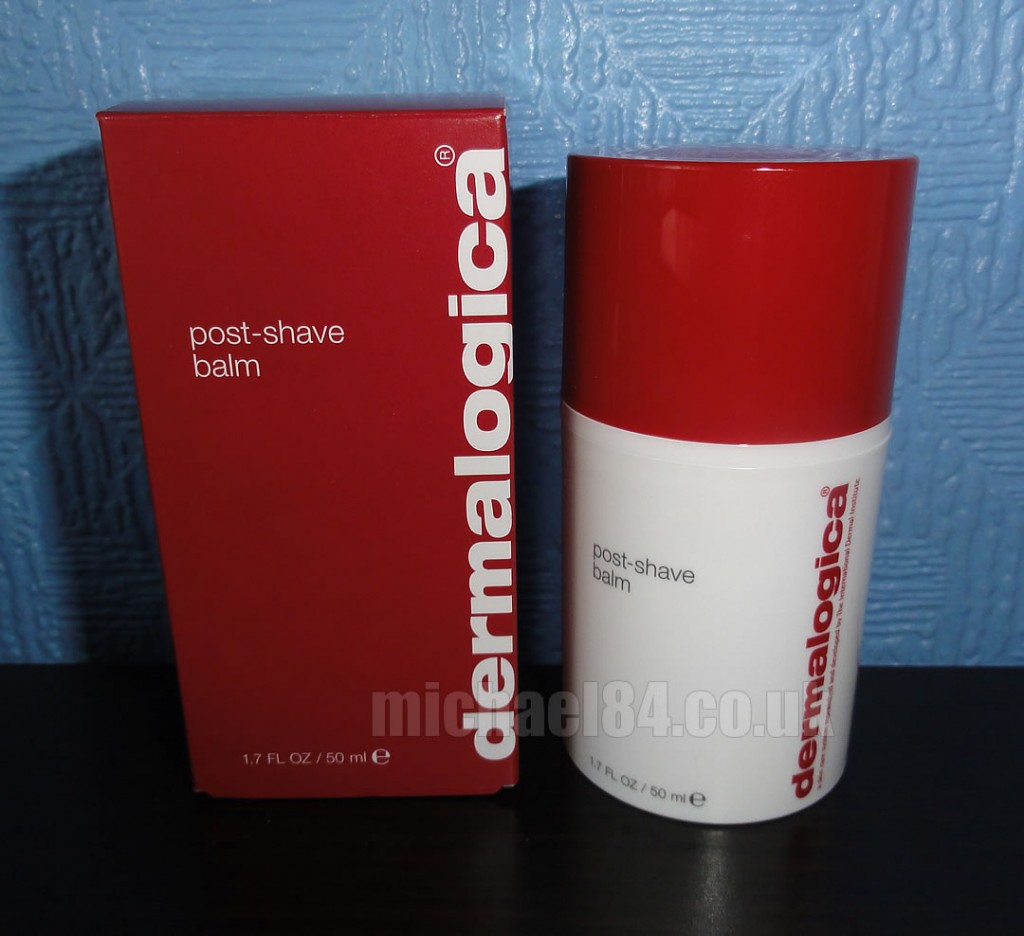 Dermalogica Post Shave Balm (Discontinued?)
If you want something more premium and luxury, Dermalogica Post Shave Balm is a one you have to try. Dermalogica is synonymous with high end skincare products, and do a nice shaving range for men – This can be identified by it's red and white colour scheme.
This is apparently discontinued now, which is a shame, but you can get it in a couple of places which still stock it. It was an expensive product at around £20 – £30 for a small 50ml bottle.
Verdict
If there's one skincare item that guys should be using, I think post shave balm, or aftershave balm as some may call it, is that product. Not only is it essential to your shaving regime, it also acts as an overall moisturiser for your skin, keeping it fresh, clean and soft.
If you haven't already got this product as one of your essential shaving items, now is the time to add it. If you already do, then I hope the small list above of my favourite brands helps you out, although you've probably tried a few of them already.
Let me know what you think of aftershave balm and if you have any favourites.