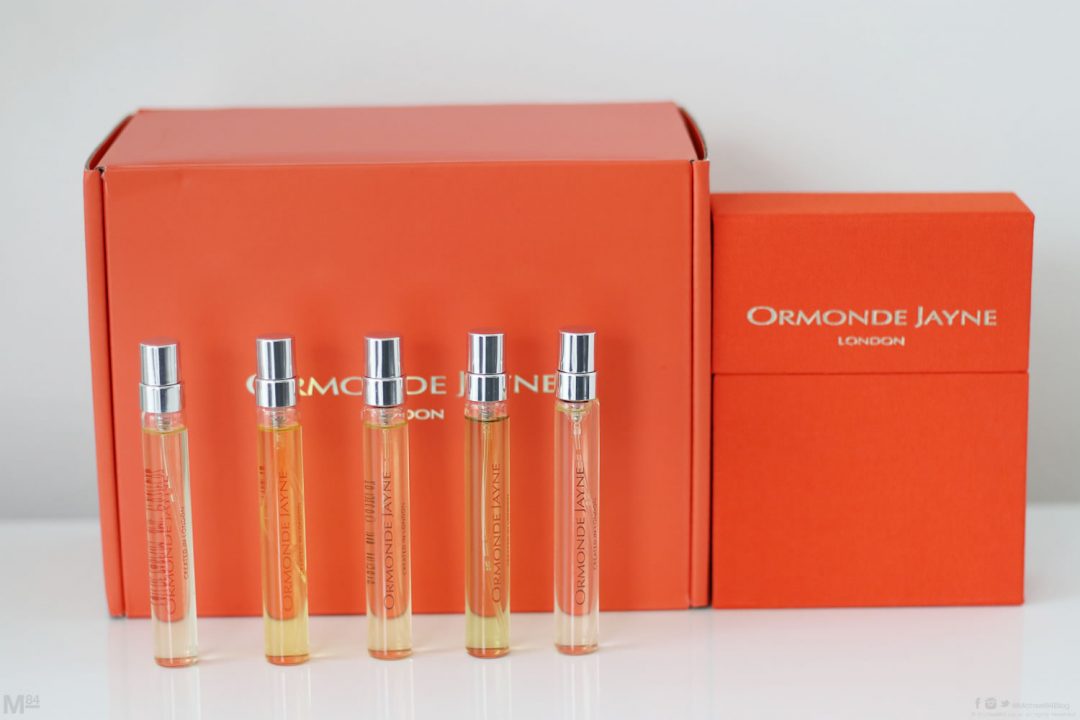 Ormonde Jayne London is a British perfume house which began with humble beginnings but was driven by passion to create luxury fragrances for men and women.
I have been lucky enough to give some of the scents a try, with their Travel Lab 2, a collection of the finest men's fragrances.
The Travel Lab 2 contains 8ml bottles of 5 different scents, which are Ormonde Man, Isfarkand, Zizan, Montabaco and Nawab Of Oudh.
As always I will start off with the packaging. The box is a compact size which houses the five bottles which are housed securely in place inside, with the closing flap being magnetised. The box is orange with a material feel, and has simple clean branding to the front in a gold finish.
The bottles themselves come with atomisers which deliver a nice amount of perfume when sprayed.
Ormonde Man
Created in 2004, Ormonde Man is a masculine scent as you'd expect from the name, but utilises the softer notes rather than sharp kicks of spice. It's a really interesting scent, a one which could be worn for almost any occasion in any season, but I would wear this on an evening out.
What they say: "Ormonde Man, a most sophisticated fragrance, despite its unconventional ingredients. Complex and full of character, sultry and mystical, the fragrance exudes soft woody notes, but it is the infusion of oudh oil, the world's most prized essence since time immemorial, that sets it apart, elevating the scent to one of true distinction."
head – juniper berry, bergamot, pink pepper, cardamom, coriander seeds
heart – oudh, black hemlock
soul – vetiver, cedar, sandalwood, musk
Montabaco
As the name may suggest, Montabaco is a fragrance which has tobacco in it's soul, and is a good one. I've had some other fragrances which are tobacco heavy and get it wrong, and this one thankfully doesn't. You get a really nice dose of the notes which are aromatic, the combination of the leather, woods and tobacco is just right. It's subtle, but you know that you're wearing it.
I think it would be another great scent for an evening, it's warmth works well in the Autumn or Winter.
What they say: "Montabaco is a perfume to capture the essence of Latin America: leather, suede, wood and tobacco leaf repeated over and over again creating a suggestive sensuality and Latino temperament. It sits above the rich floral presence of magnolia, jasmine and rose.
It is all unashamedly seductive yet profoundly simpatico."
head – air note, orange absolute, bergamot, juniper
clary sage, cardamom
heart – magnolia, hedione, rose, violet, tea notes
soul – tobacco leaf, iso e, suede, sandalwood, moss, tonka, ambergris
Nawab Of Oudh
Nawab Of Oudh is a very interesting scent, and it's quite hard to describe. Inspired by central India, it's a warm and spicy scent like nothing else I have tried. Initially it was quite pungent, but quickly started to tone down and became quite a smooth smelling fragrance.
Although it's warm there's a strong hint of greens and citrus, which would make a good scent for day or an evening, and would work best in the Spring or Summer.
What they say: "Nawab (Ruler) of Oudh is a province of central India. The perfume is inspired by the Nawabs who once ruled over it. It is a potent blend of amber and rose with a soft oudh edge. Yet, surprisingly, not one ingredient stands out from the others.
It achieves a perfume synergy that defies traditional analysis, releasing a pulsating pungency, brooding and hauntingly beautiful, a rich tapestry of fascinating depths, be jewelled veil to conceal its emotional complexity and extravagance."
head – green notes, bergamot, orange absolute, cardamom, aldehyde
heart – rose, magnolia, orchid, pimento, bay, cinnamon, hedione
soul – ambergris, musk, vetiver, labdanum, oudh
Isfarkand
Created in 2005, Isfarkand is a sensual fragrance. This smells like the most spicy in the collection, with the woody notes mixing with peppery ones to create an all round musky type of scent.
It feels more of a sophisticated and modern masculine type of smell which I like, rather than that traditional male smell you may associate which musky fragrances.
What they say: "Super cool in style, vibrant and sensual. Beautifully balanced notes of lime, mandarin and bergamot all wrapped up in pink pepper, cedar and moss make Isfarkand an uncomplicated yet dynamic scent."
head – lime, mandarin, bergamot
heart – pink pepper
soul – cedar, vetiver, moss
Zizan
Created in 2008, Zizan is a powerhouse of a scent. They say it has everything a man could want in one scent, and it does. You'd think that would be a mash up resulting in something terrible, however I can say it's really nicely balanced, and the end result is so many styles of scent in one, and it works.
You get a sense of the greens and citrus, but then it's also quite a fresh hit, you also get some warm spices and woody notes.
What they say: "Zizan, a perfume like no other because it has everything a man could possibly want in a single spectacular scent. This is a powerhouse perfume. Expect a deluge of boisterous Sicilian lime, lemon and bergamot but to smooth the biting edge, a brilliantly refined concentration of vetiver."
head – sicilian lime, lemon, bergamot, clary sage, pink pepper, juniper berry
heart – bay, violet, jasmine
soul – vetiver, cedar, musk, amber
If I could use only one word to describe all of the scents it would be beautiful. That is what they are, and can get a really sense of the luxury and elegance when you smell them. The good thing about these is you can get a real taste of them all with the Travel Lab 2. As the name suggests it's perfect for travelling, where you can have a different scent for every evening.
If you want to try out some of the scents, it's also the perfect opportunity before getting a larger bottle of your favourite.
You can get the Travel Lab 2 from the Ormonde Jayne website here.
Made To Measure
To add an extra touch of class, the made to measure service is available from the brand new Ormonde Jayne boutique in London. The service includes choosing your favourite perfume and having it poured to your desired strength.
The service also includes personal touches, with in-house engraving available.