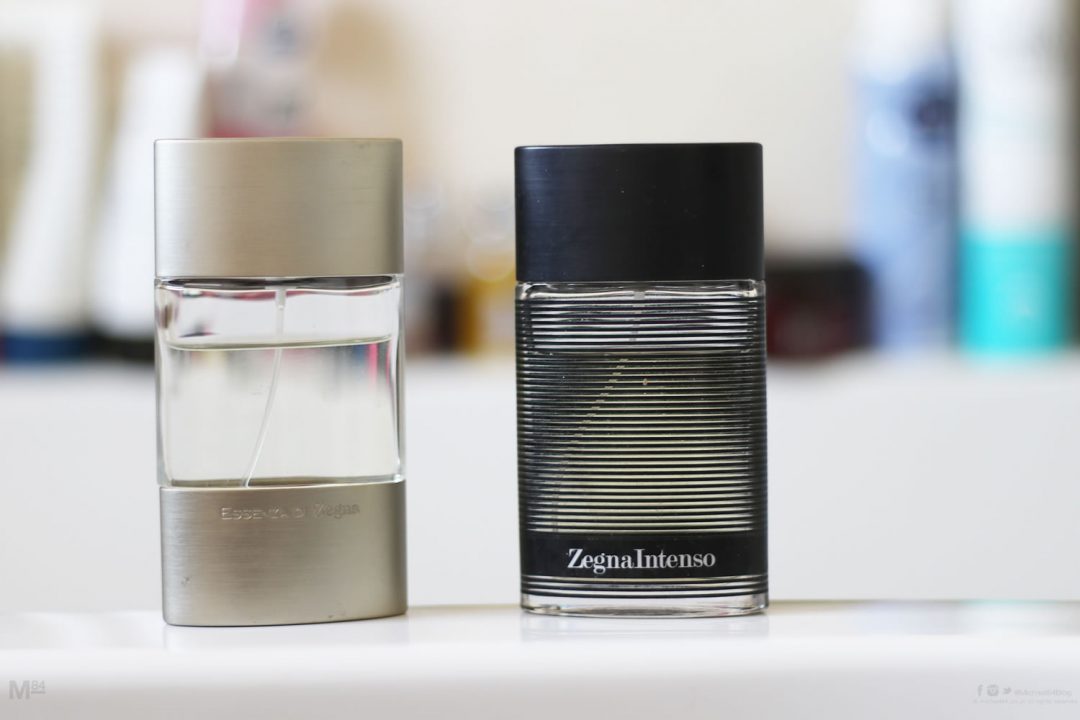 Essenza Di Zegna and Zegna Intenso are two fragrances which I got quite a while ago. Released around 2003 and 2007 respectively by Ermenegildo Zegna. The Italian fashion house is known for it's elegance, and these two scents can certainly be described as that.
Both bottles are a similar style, with the Essenza being a light coloured clear bottle, and the Intenso being dark, and having stripes throughout in the style of closed blinds.
Essenza Di Zegna is a slightly fresh and aquatic style of smell, with hints of amber and musk as it settles down. It's quite a strange combination, which makes determining it as a night or day scent is quite difficult. This means I could recommend it as either day or night wear, probably on a more casual basis. It's a slightly warm aroma, but not something you'd exclusively classify as something for a winters night.
Zegna Intenso is a really nice, inviting scent, which slightly resembles Armani Code. It's slightly woody and aromatic, and is perfect for date night, a night out with the lads, or any kind of situation where you want to smell like a warm and inviting individual.
Both scents are quite individualistic, and quite underrated in the fragrance market. Neither is a stand out scent which is going to be a must have for someone who's looking for that one killer bottle of cologne, but if you're looking for something which others aren't wearing, either of these could be worth thinking about.
As both scents are quite old now, you can shop around and pick up either for a great price. It's worth buying if you can get a good deal.
In terms of the longevity, as these are both EDT and not particularly strong, the longevity is fair. Expect to get 4 or 5 hours before the scent really starts to fade away, especially Essenza, the lighter of the two. The projection is also quite small, so people at the other end of the room are unlikely to smell the scent.
If you've got or worn either of these fragrances from Ermenegildo Zegna, let me know what you think of them.
Essenza Di Zegna
Best season to wear – Spring/Summer
Scent type – Aquatic/Fresh
Age Recommendation – 21+
Best Worn – Daytime, Casual
Zegna Intenso
Best season to wear – Autumn/Winter
Scent type – Aromatic/Woody
Age Recommendation – 21+
Best Worn – Nightwear, Casual, Date Night, Out With The Lads