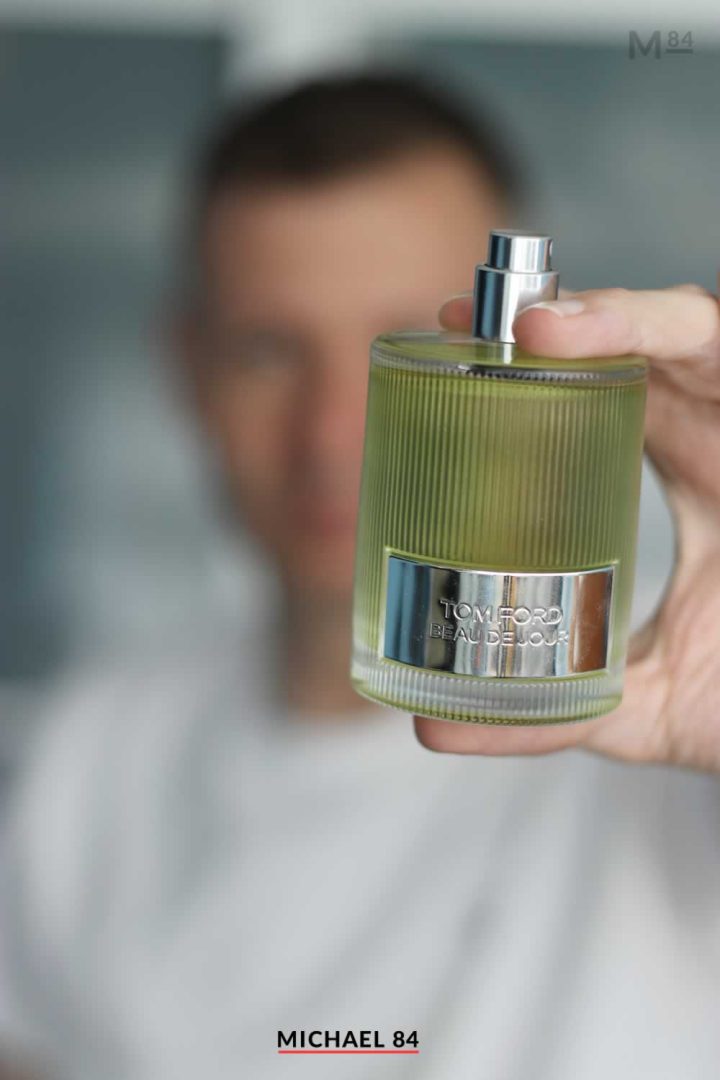 It's been a while since I bought a brand new fragrance, but since it's a new season and I recently had a birthday, that's exactly what I've done.
I had been checking out a few Tom Ford fragrances over the past couple of weeks and a few smelled really good. I decided to bite the bullet and get one, and settled on Beau De Jour Eau De Parfum.
Here's everything you need to know about Tom Ford Beau De Jour, including what it smells like and why I got this now.
Initial Thoughts
As you'll know, I have a lot of fragrances, and I mean I own a lot of fragrances! I love the smell of so many, whether they're cheap or expensive, I always choose a scent based on what it smells like to my nose.
But since I have so many, I've kind of decided that I would invest in less bottles, and go for more expensive or niche fragrances.
The good smelling cheapies are very good bang for your buck, but when I try some of the more expensive ones or niche scents, you really do get something different in the scent. It's hard to explain, but you can smell that the scent does have different characteristics than the more mainstream ones.
With all of that said, I have been trying out a few Tom Ford scents to see which I like. It's a perfume house I already know, owning Grey Vetiver and Noir to name only 2.
It's warm and the summer season, so I narrowed down my choices to two: Costa Azzurra EDP and Beau De Jouer. As you can see I chose Beau De Jouer first, but I may get the other later.
What Does Tom Ford Beau De Jour Smell Like?
Beau de Jour is a really interesting scent which starts off with a strong hit of lavender at the top which gives quite a powdery and earthy type of smell to it. The combination of oakmoss and lavender make this a fougere scent, and it's a good one at that.
Other notes include patchouli and amber in the base, along with mint, rosemary and geranium in the middle. There is not a strong hint of mint, unlike other scents which feature this heavily such as Versace EROS.
The combination of all the notes leaves this Beau de Jour smelling aromatic and earthy with a hint of a fresh green style, alongside some light woodsy notes.
How Long Does Beau De Jour Last?
Beau De Jour is an Eau De Parfum (EDP) and you'd expect it to last, but being a fresh scent you may think it might not. I am happy to say I was pleased with the performance of it, and it lasted a good while on my skin.
I was able to get 7 to 8 hours and I could still smell it on my skin. I also tried this one day and had a shower, and I could still smell hints of the scent.
Needless to say, it does have good staying power, despite it being a fragrance on the light side of the scale.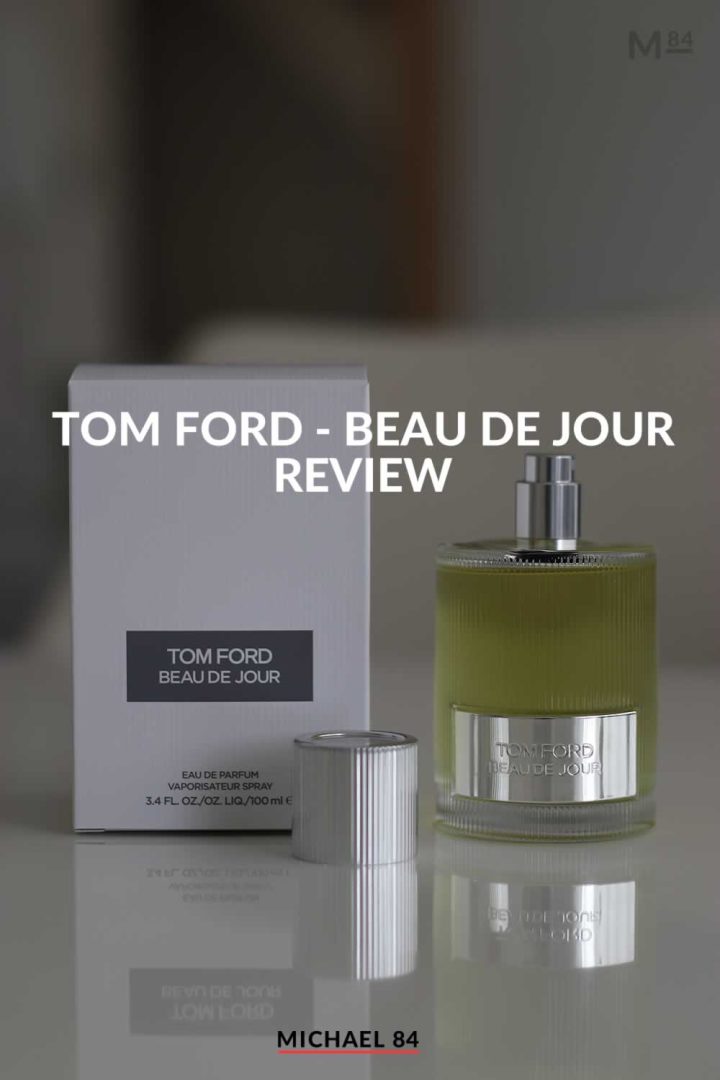 The Beau De Jour Bottle
The Beau De Jour bottle is pretty distinctive, and it's a nice one too. It's a large chunky cylindrical shape bottle in a clear translucent glass. The glass is ribbed, as too is the bottle top which is chrome silver in colour.
There's a nice chrome silver branding to the front too, in the shape of a rectangular metal chrome piece with the Tom Ford Beau De Jour etched out.
It's available in 50ml bottle and 100ml bottle sizes, and the bottle you can see here is the 100ml bottle which I got.
It's from the Tom Ford Signature line, which shares a similar bottle design as other bottles in the line.
When To Wear Beau De Jour
I feel that Beau De Jour is a universal scent which means that it can be worn pretty much any time. I have bought it in the summer because I think it's best worn in this season, but I can equally see myself wearing it all year round.
There's warmer scents for the winter of course, but this one works well in the summer sun, and I feel it will work in the crisp cooler temperatures too.
I'd wear this one on a night out in the summer, or as a day to day scent. It's not super heavy, so it makes a good signature scent too.
What Clothes To Wear With Beau De Jour
When I think of clothing to pair with Beau De Jour, I think of something smart or smart casual. It's not a formal stuffy type of scent, but it's not super casual either.
I feel the perfect pairing would be a clean crisp shirt or t-shirt, a pair of chinos or smart denim. A clean shirt with trousers would work, and throwing a blazer over your outfit along with wearing this scent will add some elegance.
Who Is Beau De Jour For?
When it comes to working out who would like Beau De Jour other than myself, it's kind of tough. I feel it's not a youthful scent, and is better suited to older guys. It makes a great fragrance for over 30s or a scent for over 40s, when you can afford to spend a little bit more on smelling good.
Whatever your age, you can't really go wrong wearing this.
Tom Ford Beau De Jour Key Takeaways
Pros
Elegant and pleasant fragrance
Unique smell
Can be worn any time
Good signature scent
Cons
Reasonably Expensive
Fairly Mature
Best season to wear – Spring/Summer
Scent type – Aromatic, Fresh, Green, Powdery 
Age Recommendation – 30+
Best Worn – Day, Evening, Formal, Casual
Longevity – Beau De Jour is an EDP and I was able to get 7 to 8 hours from this.
Projection – As this is a light scent the projection isn't huge, but it is noticeable. Those around and close by can smell it.
Top Notes
Lavender Extract
Middle Notes
Rosemary, Oakmoss, Mint, Geranium
Base Notes
Patchouli, Amber
Verdict
Tom Ford Beau De Jour is a fantastic scent which is something different to anything I own. The strong lavender at the top is met with combinations of fresh spicy and earthy tones with light woods, which give this a unique type of smell to my nose.
My search was for a scent that would work well in the summer and feel quite elegant, and Beau De Jour does that for me. It has a good longevity for a lighter style of scent, and will be nice to wear this summer and for many more to come.
You can read more fragrance reviews on the blog, and let me know what you think of Beau De Jour if you own it.