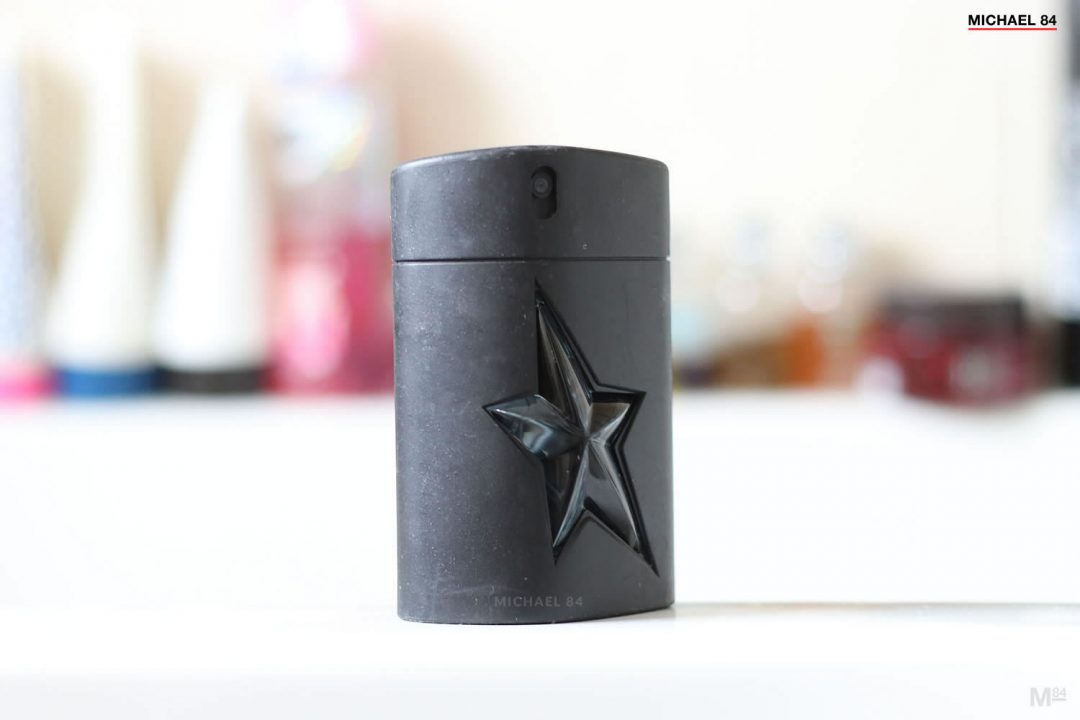 This week's fragrance review takes me back a few years to a scent which I got without trying. Mugler A* MEN from Thierry Mugler is a scent that a lot of people like. So, without trying it out, I got this one for Christmas several years ago.
Is it as good as people were saying?
Here's everything you need to know about Mugler A* MEN.
The Bottle
First of all I'll start with the bottle. It looks pretty good on the shelf, but when you pick it up, I'm not a fan. It's made from rubberised plastic, quite light weight and is easy to pick up. This is a 50ml bottle, with other size bottles available.
It has the Star logo to the front which is translucent, so you can see the fragrance in the bottle.
The atomiser is also coated with rubber. This makes it pretty difficult to spray, giving a bad first experience to the fragrance.
What Does Thierry Mugler A Star Men Smell Like?
When it comes to the smell itself, I am not a fan. I simply don't like the style of the scent. It's a very sweet scent, but not fruity or citrus. This is more like a mix of vanilla, coffee, chocolate and caramel.
While this sounds like a nice mix, when it comes to a scent I want to wear, a combination of these notes doesn't suit me personally.
I do like the smell of each of those three I've mentioned, but not in a scent. The coffee is fairly strong initially, and the sweetness of the caramel and chocolate come through.
It has that kind of nice smell, but not one which I'd pick out to wear. If I smell it in the background of a place I visit I may like it, but as for spraying onto the skin, there's too many better.
When & Where To Wear Thierry A Star Mugler
Personally, I can't see a situation when I'd want to wear this fragrance. It is an interesting smell from a pure fragrance point of view, but other than that, it's not one I've worn very often.
If I did choose to wear Thierry A Star Mugler, it would be as a casual scent for everyday wear. Not for an event, just a fragrance to splash on to give myself a nice aroma.
Should You Buy Muglar A* MEN?
Muglar A* MEN is several years old now, and there's plenty of other fragrances out there which are better in my opinion. It's also hard to come by, although as it's an old one you can find it in various places for not so much money.
Expect to pay around £40 – £45 if you shop around for this scent.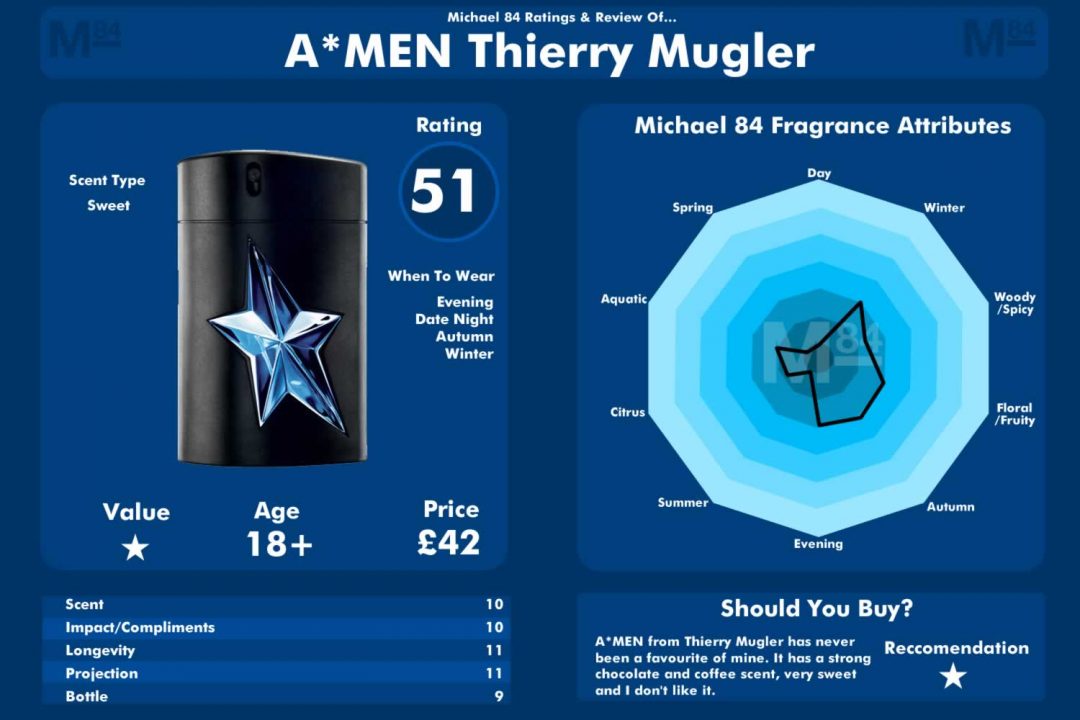 Perfumer – Jacques Huclier
Longevity – Muglar A* MEN is an EDT, and lasts a reasonable amount of time. I get 4-5 hours with this one.
Projection – The projection is OK, those close to you will be able to smell.
Best season to wear – Autumn/Winter
Scent type – Sweet
Age Recommendation – 18+
Best Worn – Evening, Casual
Top Notes – Bergamot, Helonial, Lavender, Peppermint
Middle Notes – Coffee Bean, Tar, Patchouli
Base Notes – Tonka Bean, Vanilla, Caramel, Chocolate, Musk
And there you have it, everything you need to know about Muglar A* MEN. you can check out more perfume reviews on the blog if you're looking for a new scent to add to your collection. Let me know what you think of this fragrance.