So two of the brands which I love when it comes to fragrances and EDT's are Gucci and 212 by Carolina Herrera. I have got a few 212's and have liked them for a while, and I have some Gucci's too, which I love probably more than any.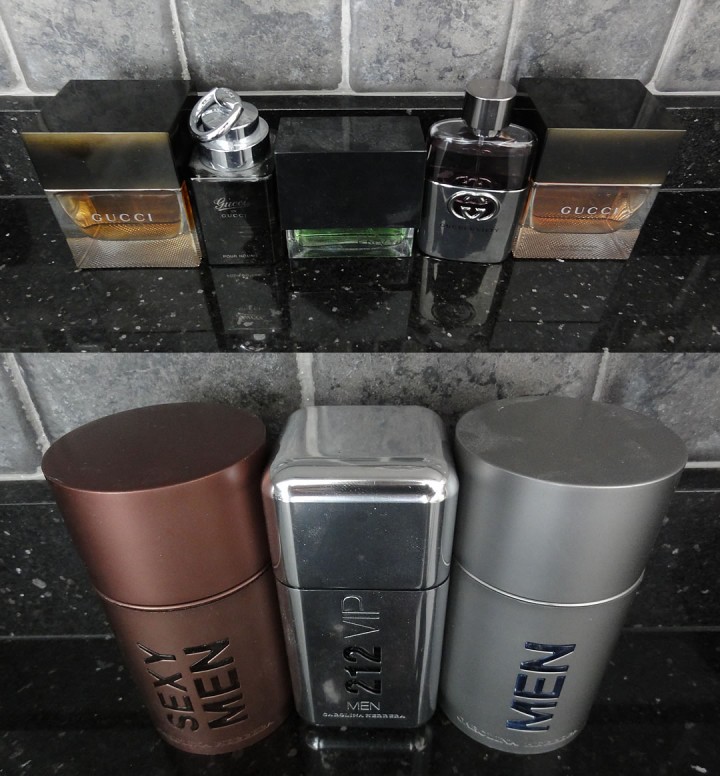 I have 2 prestige Gucci's the bottles on the left and right. I got these for Christmas one year, and do not use them much. The smell is very strong, and is an old school musky smell. One is an EDT spray and the other is aftershave lotion. This is what I call "man smell" because it smells like old traditional aftershave. The bottle in the middle is Gucci Envy, which could be my all-time favourite scent. I love it. I got a bottle in 2006, and loved it so much I had to track down another bottle last year and finally did. Its quite hard to come by these days, and is old. I also have Gucci by Gucci, which smells amazing. Very strong and powerful, it is a really good smell. The newest to the collection is Gucci Guilty. This smells a little less powerful than the previous, but is still a nice smell.
Now to the 212. The first to the left is the first one I got, and the best out of the three. It is 212 Sexy Men. Its a strong and powerful smell but quite light and fruity with a little bit of spice. The next is the bottle on the right, simply called 212 Men. This is a more fresh smell, but still smells pretty good. 212 VIP Men is the bottle in the middle, and has a magnetic top just like the previous two. Again this is a nice smell, and is currently the newest in the collection.
Do you own any of these? What do you think?
Thanks For Reading...Want More? 🙌
Hi, I'm Michael 👋 I'd love you to subscribe to my newsletter for exclusive content & updates on my blog straight to your inbox. (No spam, I promise!)