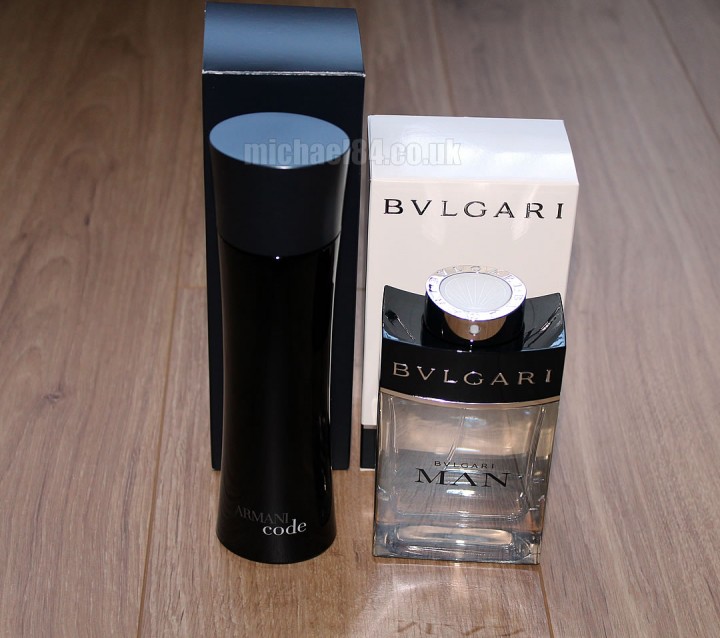 I did get some brand new EDT's and fragrances for Christmas, but I wanted to get some old favourites, but not any old bottles, I wanted the large bottles.
I usually buy 50ml bottles, and I have loads of them, I actually don't know the number since I got new ones, but its somewhere more than 50. Since I have so many, and I wear different ones, I rarely run out of the same one, even my favourites. I recently bought a large Gucci by Gucci 100ml bottle, and have decided that I will buy my favourites in the larger bottles, to ensure I don't run out.
Bvlgari MAN is one of my favourites, and I got it a couple of years ago, more or less when it was released. It's such a really nice smell, and even though I have half a bottle left, I decided to get a large 100ml bottle.
I got Armani Code in about 2005 and loved it. It's a real evening kind of smell, and when I smell it, it reminds me of going out, probably because I did wear this a lot 😀 It's one of the few bottles I have which I actually ran out of, and I had not bought a new bottle, so have not had it since about 2007. I never ever got around to buying it again, since I wanted to try new scents, I love it but there are loads more out there. So, years later, I decided that I would re-live the past and get a bottle. Armani Code comes in an even bigger bottle, this is their biggest and is 125ml.
Large bottles do not come cheap, not for these anyway. the 100ml Bvlgari MAN was £58 and the Armani Code 125ml was £65. The girl on the counter said I had expensive taste 😉
Thanks For Reading...Want More? 🙌
Hi, I'm Michael 👋 I'd love you to subscribe to my newsletter for exclusive content & updates on my blog straight to your inbox. (No spam, I promise!)