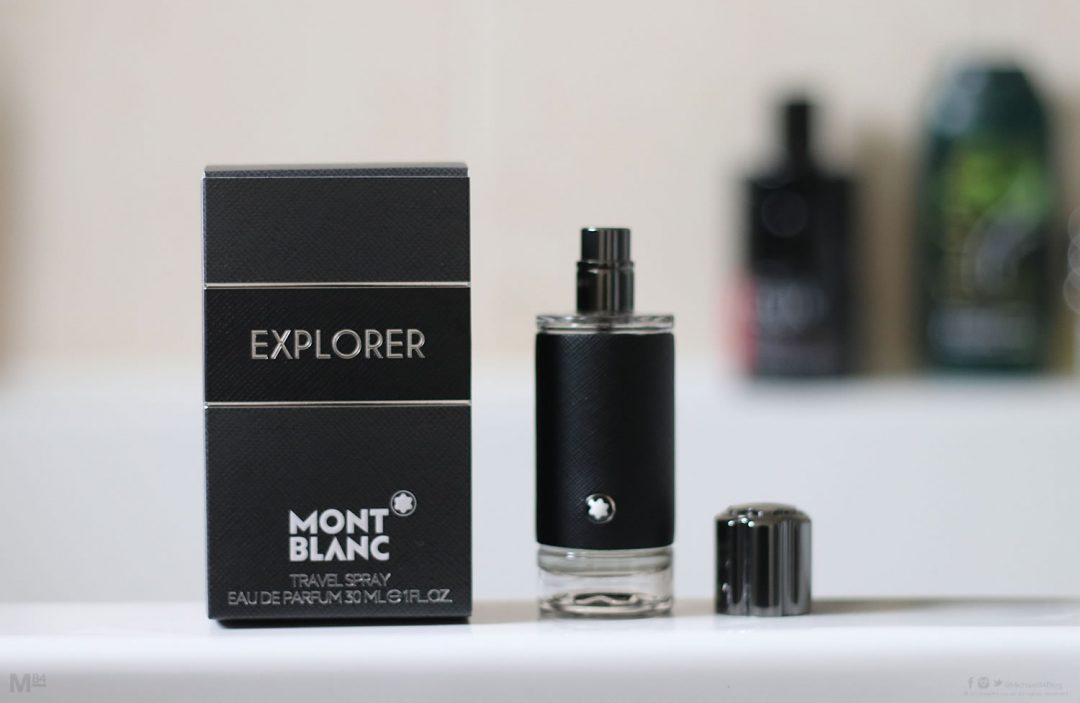 It's a new year, so it's a good time for a new fragrance review. This one has been gaining popularity quite quickly, and was only released in 2019, so is fairly new. This is Mont Blanc fragrance for men.
I got a bottle over Christmas, and this is what I think of it.
First of all, I should explain who or what the Mont Blanc brand actually is. If you've heard the name surrounding expensive pens and other stationary and think it's similar, you're right. It is the same company. For 2019, they have brought out this fragrance, Mont Blanc Explorer.
This isn't their first go at a fragrance, with other scents such as Legend, Legend Night and Emblem being a few more which they produce.
As always, I have to start of with the bottle. It's a nice and simple glass design, with a wrap around gripping faux-leather type of fabric covering most of the bottle. It makes it easy to pick up and holds nicely in the hand, and doesn't look bad either.
There's no words or any other branding, other than a simple trademark Mont Blanc star embellished on the bottle in a clean manner.
Then there's the bottle top, which has grooves cut into it so it's shaped like the logo, with the logo also on the top. It's all nicely done, and looks the part. It's also made from metal, and you can feel the click when you push the top back down on the bottle. It has that premium feel to it.
The atomiser sprays out a nice amount, a few sprays and you're good to go.
So what does Mont Blanc Explorer smell like?
A few have already mentioned that it has some essence of Creed Aventus, and I have to agree. That is of course, not a bad thing. It has a nice blend of citrus and spice to it, with a little bit of soft woods, and it smells really good.
With it being so close to Aventus, it's quite hard to describe it any other way. There's a little bit of spice, soft woods, orangey-citrus and even amber mixed in to give this scent what it is.
It's a masculine type of scent, but it isn't over powerful or over bearing at all. I would say that this is more of an evening scent, but since it's not offensive at all, you can easily wear this one through the day, around town or to the office.
Mont Blanc Explorer is a fragrance which is going to get you compliments. I think it's a good all rounder, if you're the kind of guy who like a signature scent, this could be it. If you're like me and like different scents for different occasions, this will be a welcome edition to any collection.
It is an Eau De Parfum (EDP) so performance is expected to be good, and it's pretty good. There's 30ml 50ml and 100ml bottles, so you can try out a 30ml bottle which they call a travel size, and if it works out, buy a bigger bottle.
If you like this please let me know. As always, you can see more of my fragrance reviews if you're looking for a new scent, or want to know about a particular fragrance.
Longevity – Mont Blanc Explorer is an EDP and lasts a reasonable amount of time. I got around 6 hours before it started to fade.
Projection – The projection is decent, with those close to you being able to smell it, without it filling the room.
Best season to wear – All Rounder
Scent type – Aromatic, soft woody & orange-citrus
Age Recommendation – 21+
Best Worn – Daytime, Evening, Casual, Formal
Top Notes: Bergamot, Clary sage, Pink pepper
Middle Notes: Vetiver, Cocoa, Leather
Base Notes: Ambrofix, Patchouli, Akigalawood