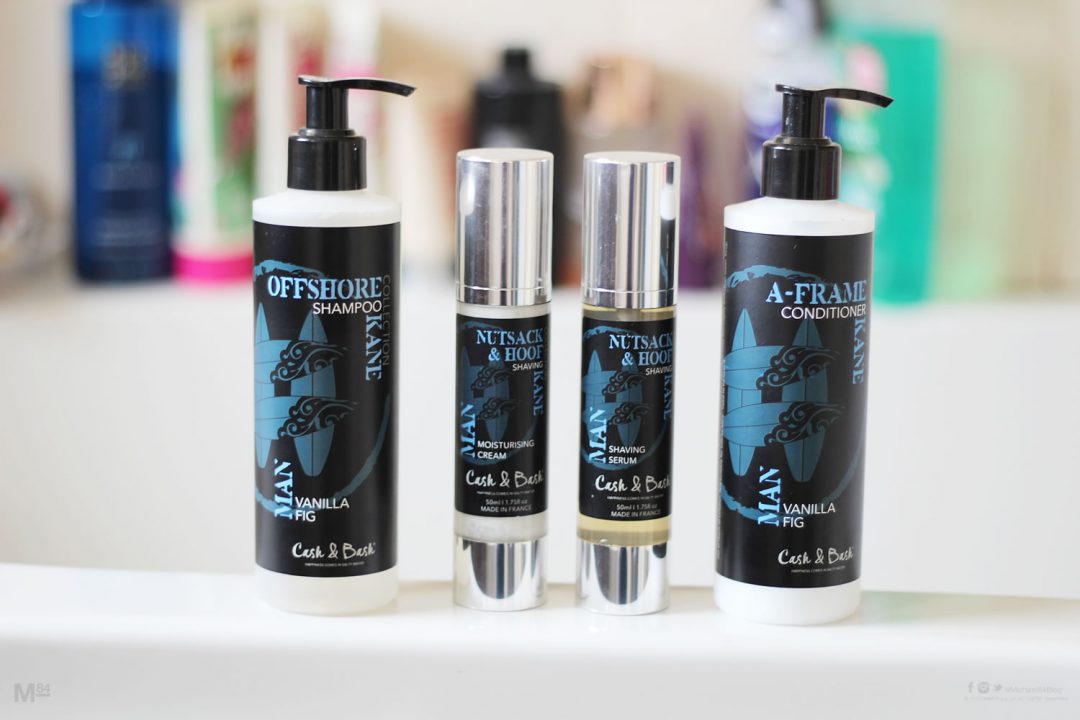 Coming from Jersey by the way of Australia is Cash and Bash, an independent hair and skin care brand all about premium ingredients which are both natural and earth friendly. The guys sent over a couple of their cool products to try out.
Cash and Bash are cousins, who've created this brand with the slogan, 'Happiness Comes in Salty Water', which comes from roots of travel, adventures and surfing. When the duo came together in Bondi, they exchanged ideas and shared passions, and decided to create hair and skin care products for their fellow surfers and like-minded people, and are now available to everyone worldwide, via their website.
The ethos of Cash and Bash is to create products as natural and organic as possible. All are Paraben, SLS, MCI and Methylisothiazolinone free, and are crafted from premium ingredients from France, UK and Jersey and not tested on animals.
Their collection is split between Man Stuff and Women Stuff, and since this is a guy's blog, I will be focusing on the Man Stuff, The KANE Collection. There's a whole range of different product types, from body scrubs to shampoos, moisturisers, oils and shaving serums.
The OFFSHORE SHAMPOO and A-FRAME CONDITIONER are really nice. The packaging comes in the form of nice simple plastic bottles with pump action tops, making dispensing easy. The first thing you'll notice is the scent, the smell is amazing. It's really inviting, you will want your hair to smell like this. They are both made with natural vanilla and fig extracts, and you'll want the body wash which has the same extracts too. Pick up the shampoo for £12 with the conditioner being £13.
The shaving serum has the interesting name NUTSACK & HOOF. It can be used as a shaving serum for your bit's and pit's, a face wash or just messaged into the skin. Once again I have to talk about the scent, which is so nice. This one comes with natural extracts of peppermint and vanilla infused in rice bran oil which is clearly a great combination. I tried this out as a shaving gel, replacing my own gel which I love. It's decent, but I don't think that the glide is as good as the gel I like to use, not as smooth or as a close shave. It's still something which you can use as an addition to shaving gel, rather than a replacement. You can pick this up at the moment for £32.
Last up is the NUTSACK & HOOF MOISTURISING CREAM, which can be used in combination with the shaving serum. The scent from this one is a crispy zesty citrus smell, using a combination of natural and organic extracts of neroli, mandarin and rosewood oil. It leaves the skin feeling smooth as well as a citrus, crisp smell, which is perfect for the summer. You can pick this up for £30.
All Cash and Bash products tame the elements of hair and skin damage. Cash coming from a medical background, only uses ingredients which are anti inflammatory, anti bacterial, anti fungal which aid towards rashes, ingrowing hairs, itchiness and acne.
You can find all of these along with the whole MAN STUFF at the Cash and Bash website here, and be sure to check out their Twitter, Intagram and Facebook to keep on top of everything Cash and Bash, including Sky and Jiffy.
Written in collaboration with Cash & Bash
Thanks For Reading...Want More? 🙌
Hi, I'm Michael 👋 I'd love you to subscribe to my newsletter for exclusive content & updates on my blog straight to your inbox. (No spam, I promise!)