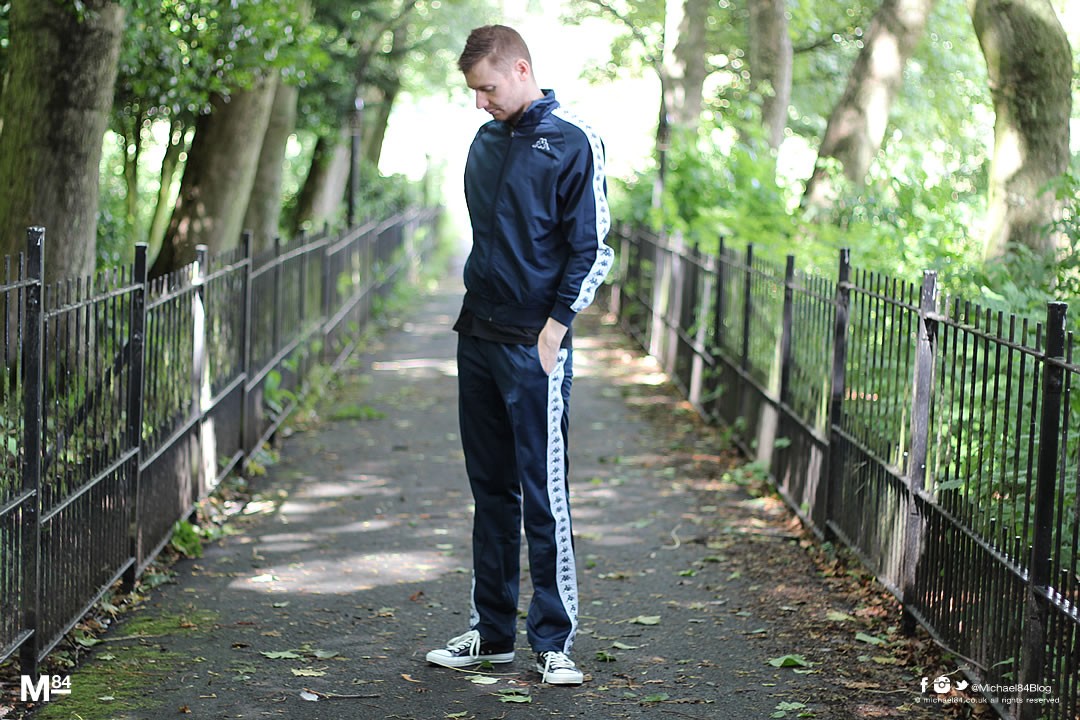 Kappa is the 90's brand which just keeps on giving! It made a comeback around 4 years ago, and has been popular in the casual scene and streetwear world ever since.
I am glad I got my tracksuit back in 2014, ahead of the trend by quite a bit, and I always knew that the 90's trends would make a comeback in a big way.
Why wouldn't they…They were brilliant the first time round, and are just as good today!
If you've been reading my style blog then you'll know my love of clothing from the 90s. There's now plenty of shops and online retailers selling Kappa, which is quite different to when I got mine, having to buy it from Kappa Italy.
There's varying designs which are available, some new, some inspired from 90's trends, and others which are taken straight out of the 90's and sold today, I'll call this the Authentic Kappa just for the purpose of distinguishing.
As you'll know, what was popular was the repeat taping design on their clothing…From the track tops and bottoms, 3/4 zip tops, sweatshirts and T-shirts. This was the trademark, and this what made them what they are.
If you want to truly rock the 90's Kappa Banda style, there's plenty of pieces available which you can get right now.
Here's my favourite pieces.
First of all I have to start with the track jackets. For me growing up in the 90's, it was all about the tracksuits, and in particular, the jackets. You can wear these as a stand alone jacket, and there's a few colours which are really cool.
I already have the navy blue (along with the pants), with other colours such as white, red and green. All of these colours look brilliant. The white is super clean, the red pops, and that green…Looks incredible!
The jackets made the perfect 90's house party outfit, teamed up with the other clothes here or from other 90's vintage brands.
These are £55 a piece.
You can pair the jackets with some track pants, or wear either on their own. Or, you can wear the track pants on their own too. Wear them with a T-shirt, either matching or not, track bottoms are the perfect casual relaxed piece to wear when you're just chilling out.
The track bottoms come in at £45 a pair.
Shorts for Summer? Kappa has these too. They've got some colours to match the jackets, so you can either wear them as a pair, or just wear the shorts with something else. There's that cool green colour, the red and the always clean white.
You can grab a pair of shorts for £39.
Finally there's some T Shirts too. The easiest item to wear, you can team them with almost any other clothing, and it will work. Complete with the Kappa Banda taping on the sleeves of the T-shirt, there's three colours to pick from.
Get these for £35 each.
And there you have it, plenty of cool Kappa from the 90's to 2019 which you can buy right now. If you want to get into the 90's trend, there's been no easier time.
You can check out the other latest menswear trends, and let me know what you think of these pieces. Will you be adding any to your wardrobe this season?
Thanks For Reading...Want More? 🙌
Hi, I'm Michael 👋 I'd love you to subscribe to my newsletter for exclusive content & updates on my blog straight to your inbox. (No spam, I promise!)