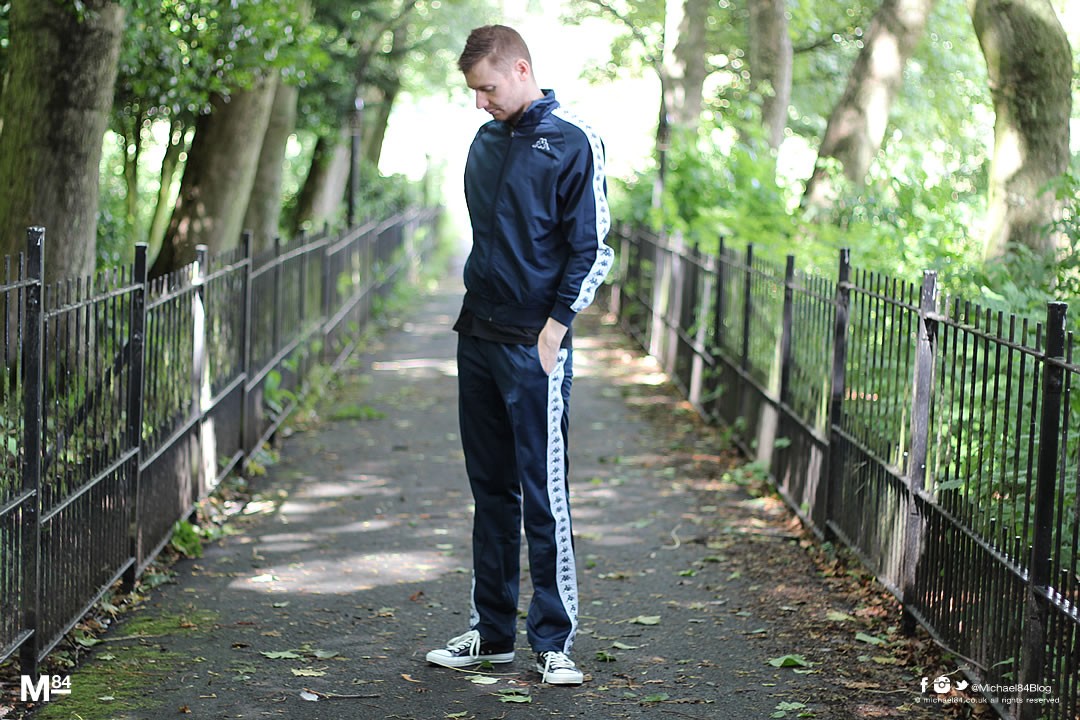 When it comes to fashion trends, I have always loved 90's style. It's the decade which I grew up in, so the clothing from the decade always has fond memories for myself.
It was in the past, and was a bit retro, but then several years ago came the re-emergence of the 90's trends, with the biggest menswear labels of the day making a comeback.
Are you looking to get some 90's style, or create the perfect outfit? Read the guide below to know the best brands, key pieces of clothing and must have items for any 90's style outfit.
90's Style: Cultures & Sub-Cultures
When it comes to thinking about what to wear, the nineties was a decade with a huge number of cultures and sub-cultures. It was split up into several pop culture scenes: There was music, football and general fashion.
For music, you might of loved Brit Pop, grunge, pop, or dance, with each genre having their own uniform. It was all about sportswear for the football fans, and if you liked your gear in general, it was anything with a fashion label.
90s Outfits
When it comes to piecing together an outfit for 90's style, there's a few key pieces you need to think about. These items of clothing are something you'll already own, but it's all about getting a few things right. You need to focus on the fit, branding and colours. If you're heading to a 90's party there's plenty of outfit choices you can make, so you'll look the part.
T-Shirts
When it comes to wearing T Shirts in the 90's, it was all about two thing: An oversized fit, and a logo. It was about having something which was loose, baggy and comfortable.
This usually meant buying clothes which were one size too big, a style faux pas if you're dressing with style today, however for this look, it's the way to go.
Big brands of the day were Calvin Klein, POLO By Ralph Lauren and Tommy Hilfiger, all from the USA. European brands such as Diadora, Ellesse and Kappa were also very big, with Fred Perry coming out of the UK.
Sweatshirts
When it come to sweats, sweatshirts (not hoodies) were the king in the 90s. The cool, chilled out and laid back look was the king of dressing when you wanted to stay warm.
Just like with tees, it was all about big logos to show off that you had the latest and greatest brand among your friends.
Along with pull overs, 3/4 zip tops were also really popular, and the same fashion brands as mentioned above lead the way.
Track Jackets
The usual uniform for kids in the 90's would consist of a T-shirt and track jacket. Jackets were good, because of the versatility. You could wear them zipped up, you could wear them open with a tee, or you could tie them around your waist.
Whether it's cold, warm or hot, a track jacket was one of the most fundamental fashion items to own. They're light, you could usually get matching bottoms and they were on trend. There were so many brands with so many styles and their own take on track jackets.
In the mid 90s there was the infamous Kappa, and throughout the 90s there were the iconic Adidas (which we now call Adidas Originals) as well as Fred Perry, Ellesse and Umbro to name a few.
Ellesse Track Jackets
Trainers
Were you Adidas or Nike?
That's more or less the only question there was when it comes to trainers.
I was very much Nike, as was most of my generation, with the infamous and coveted air bubble. These were popular among the younger kids, with the older ones being torn from Air Max along with Adidas, who had some massive hits with the Samba and Gazelle trainers.
You can't forget about Reebok, who had the brilliant Reebok Classic trainer. Just like the rest, they made a comeback, and I got myself a pair of Reebok Classics recently.
There was also the Puma Discs which were memorable, as well as the Reebok Pump trainers which gained a bit of popularity.
Bucket Hats
You could not go to a summer festival without seeing someone wearing a bucket hat. If you liked Brit Pop, or even if you didn't, you probably owned a bucket hat.
They were massive in Brit Pop, and you'd see people like Liam Gallagher wearing them on Top Of The Pops or in magazines, which made them cool. If they're cool, you have to wear one.
Baseball caps were OK, but if you really wanted an alternative for headwear bucket hats were the way to go. There was a huge amount of style, colours, and patterns available from all the big clothing brands.
Kangol had a lot out there, as did the other labels of the day. Kangol was probably made more famous for it's headwear for it's celebrity wearer, Samuel L Jackson.
In 2014 and 2015 bucket hats, like other 90's trends has had a big resurgence, and there's a big range available today.
Light Denim Jeans
Unlike modern trends of dark wash denim and black jeans, light wash denim was the thing to be seen in. It was all about wearing a pair of Levi's 501 jeans in a light or mid wash, with a straight leg or boot cut fit.
Jeans were about light blue washes, relaxed fits, and rips if you like them or could afford them, ripped jeans were more expensive, with the premise that "you had to pay someone to put rips in them, that's why they cost more".
If you were from Newcastle you'll know all about Geordie Jeans, if you're not then the big brands were Levi's, Ralph Lauren, Pepe Jeans, Tommy Hilfiger and Calvin Klein.
Double Denim
It wouldn't be the 90's if we didn't talk about double denim.
If you're unaware of the double denim trend, it's exactly as it sounds. A pair of denim jeans on your lower half, and a denim jacket in the same colour wash. Ladies and gentleman, that is the double denim.
It was popular in the 90s, as being seen worn in pop music circles with bands like B*Witched, along with Britney Spears and Justin Timberlake.
Band T Shirts
Music was a big part of the 90's as we've already established. From punk to pop, dance, and of course Brit pop.
It was Oasis vs Blur with a bit of Pulp and Ocean Colour Scene thrown in, it was the Stone Roses, The Prodigy and underground rave-ups.
The best way to show your alliance with what kind of music you were into was a band T-Shirt, and there were plenty available, and some still are. The lemon Stone Roses T-shirt is a particular favourite, get the licenced one.
Polo Shirts & Shirts
Polo shirts were popular, and were the perfect balance of being smart while maintaining a casual look. One of the most popular brands for polos were Fred Perry.
When it comes to shirts, long sleeve and short sleeve were both common. They key here is that they should be un-tucked.
Brands such as Calvin Klein, Tommy Hilfiger and Ben Sherman among others were the choices of the day.
Digital Watches
Digital watches were popular back in the 90's, and certain ones have become legends of the decade, such as the G-Shock watches, or Baby-G if you're a girl, and the ultimate boys watch, a Casio digital watch.
Whether you go for the gold metal strap or rubberised one is entirely up to you.
How To Get The Brit Pop Style
Boot Cut Jeans
Long Sleeve Shirt
Bucket Hat
What to wear for a Brit pop look really comes down to whether you were Blur or Oasis. If you're Blur, then it can all be about T-shirts and jeans, with a bucket hat. Oasis on the other hand, you'll be sporting a parka and light denim, or if you want to look smart, a long sleeve un-tucked shirt.
How To Get 90's Sportswear Style
Calvin Klein Logo T Shirt
Kappa Track Pants
Track Jacket
Nike Air Max 95
The Sportswear style is all about showing off those logos. Wearing a large logo T Shirt from CK along with a pair of Kappa track pants is a key look from the 90's. Wear a track jacket around your waist for when the temperatures drop, and finish off the look with a pair of Air Max trainers.
How To Get The Grunge Look
Ripped Jeans
Oversized T Shirt
Leather Jacket
I was never a fan of grunge, but the very dark style was popular in the 90's. This look is all about rebellion, so toned down is something it's not. The ripped jeans come with a T-shirt, and the look wouldn't be complete without a leather jacket.
90's Fashion Brands You Should Know
Tommy Hilfiger
A trendy American import, Tommy Hilfiger and the trademark Red and white logo could be seen all over the place in the mid to late 90's. Popular fashion from Tommy Hilfiger were denim, and smarter pieces.
Kappa
Kappa, the Italian sportswear kings of the mid-90's. Infamous tracksuits and track jackets were backed up with tees and other tops.
Adidas Originals
It was just Adidas back then, and they're responsible for perhaps the most iconic track jacket of them all. The three stripes in classic colours can still be bought today, it's worn and loved. Adidas 'poppers' which were press-stud tracksuit bottoms were a huge hit, and the Gazelle trainers were also loved.
Calvin Klein
Calvin Klein was thought of as one of the coolest premium high street brands back then, if you had a CK top or pair of jeans then you were considered at the height of fashion. They were much 'posher' than your traditional pair of 501's.
Fred Perry
The number one choice when you had to buy a polo shirt. With it's minimal styling and tipped collar and sleeves, Fred Perry tops were clean cut and smart, without being formal.
Fila
Another sports brand which done well in the 90's was Fila. If you ever wanted a casual T-shirt or track top they were always a viable option, and they are back in 2015!
Ellesse
Another big hitter making big waves in the 90's which has returned is Ellesse. Another go to fashion label when you needed a jacket or casual tee.
Reebok
One of the biggest sports brands in the 90's alongside Adidas, Nike and Puma. They were responsible with the Reebok Classics trainers, the much loved trainers which even makes it into Mike Skinner's The Streets lyrics (Let's put on our Classics and we'll have a little dance shall we?).
Ralph Lauren
Another of the American imports, Ralph Lauren brought their signature line along with Polo Sport, both of which were seen as high end high street fashion, which was popular but worn sparingly.
Diadora
Last of the Italian sports brands in the list, they will always be remembered for the fluorescent coloured sports tees; Yellow and orange options were available, with plenty of other more neutral colours of tees and trackies.
DKNY
Donna Karen New York was more edgy and another American brand which was popular back in the 90s. With large printed graphics, you only needed four letters, DKNY.
Puma
More popular with sportswear and footwear, Puma made everything from tees to trainers and sweatshirts to bags and accessories.
United Colours Of Benetton
A more contemporary fashion brand with nice sweatshirts, tees and probably pioneered coloured jeans in the UK in the 90's Benetton had a lot of boutique style shops selling their cool wears.
Verdict
The 90's was an amazing decade for fashion, but just like in the past right up to the present day, the fashion you wore depends on your own personal style.
Sportswear and casual clothing were the big things back then and a hit in popular culture. However there was also a massive amount of different sub-cultures and styles in existence each with their own take on the 90's classics.
Many styles, fashion labels and clothing has been brought back, and has never looked better. Long live the 90's! 😀
You can find more fashion tips over in the style guide, and learn how to dress your very best no matter what your style.