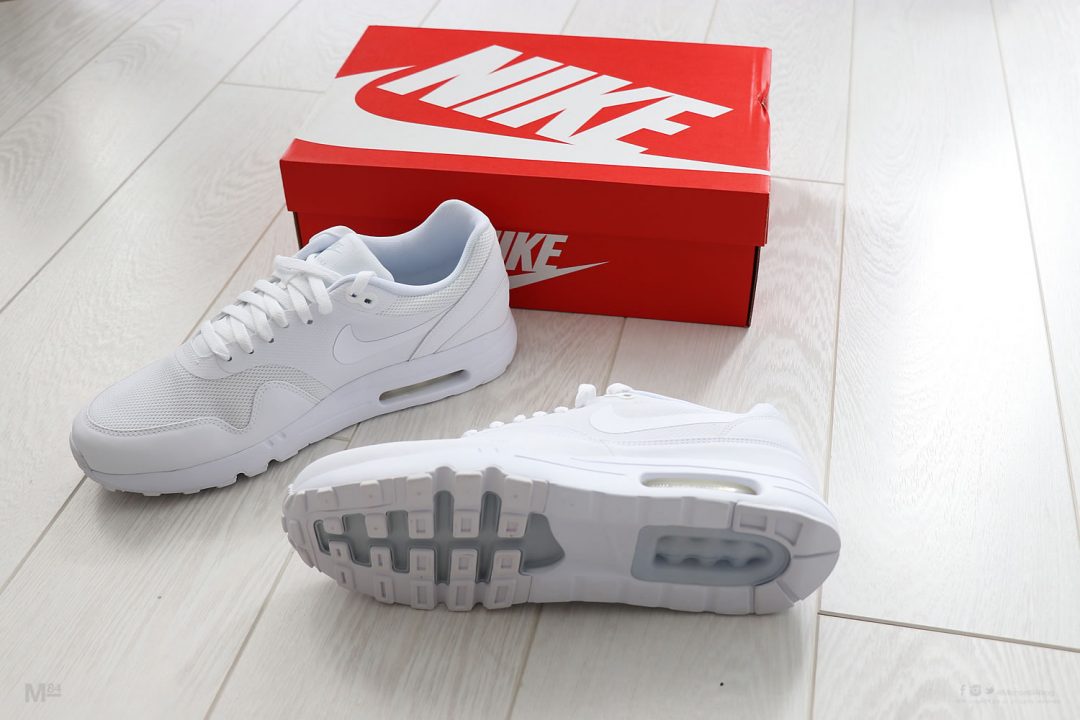 I finally got some white trainers for Summer!
Yes, I went ahead and got a pair of white trainers! With so many options available I picked out the limited edition Air Max Jewel, bought them, and then cancelled them! 😀
Then I found a pair of Air Max 1 Ultra 2.0 which were in the sales, and thought I better get these quick! Then Nike reduced them further so I ended up paying more than I should have! ?
My story of white trainers for Summer… I haven't really had any. I did buy some Adidas Superstar trainers several years ago, and I never really wore them. I still have them, and they look to have become faulty, with the toecap going a creamy-yellow colour, so I don't really wear them.
I'm going to create a white trainer guide for the blog as I do like white trainers. I was going to buy a pair last Summer but couldn't decide which pair to get, and ended up getting none.
Now I have taken the plunge and opted for a pair of Air Max, the Air Max 1 Ultra which I really like.
First of all I have to talk about the trainers I didn't buy. The Air Max 1 Jewel Black Diamond…I think these look so good and I did actually go through and buy them, and after thinking about it, decided to cancel the order.
Why? Well because they're made of hard leather.
I've never tried them, but I think that the hard leather may not be too comfortable, especially in the heat of the Summer, and are undoubtedly heavier than the Ultras.
The second pair of trainers I considered, and may also end up getting as a secondary pair, are a pair of Adidas Stan Smith's. Yes, I know they're a similar hard leather, but if I get a pair I'll only be wearing them now and again, so for that comfort can take a back seat.
So let's me tell you about the pair I did end up getting, the Air Max 1 Ultra 2.0. They're light and breathable, bright white and all white, including the Iconic swoosh, which is something I was looking for.
I got a pair of the Ultra Moire trainers a couple of years back and love how light and comfortable they are, so picking out this pair as a white pair was a really easy decision.
The mesh is really lightweight and works well with a textile upper, the fit is quite snug around the sides and the width of the trainers, but I'm used to that from the Ultra Moire.
So I've finally joined the white trainer club 😀 I may also get a pair of Adidas Original Stan Smith in the near future too, or another 'smarter' pair of white trainers. But for now, I will enjoy these 🙂
When it comes to creating an outfit using these white air max, there's so many things which can be worn.
A light pair of chinos would work, as would a pair of indigo denim. For the ultimate in contrast, wearing black jeans with these white trainers looks really cool. The black and white are complete contrasts with each other, so both shine when wearing them together.
Let me know what you think of these, or if you have any other recommendations for all white trainers for this season let me know.
Check out the latest cool trainers of the year right here if you're looking for a brand new pair of sneakers.
Thanks For Reading...Want More? 🙌
Hi, I'm Michael 👋 I'd love you to subscribe to my newsletter for exclusive content & updates on my blog straight to your inbox. (No spam, I promise!)