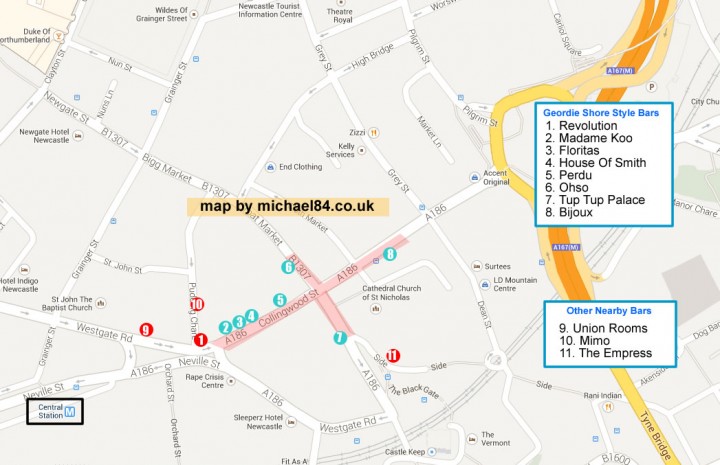 When I go out in Newcastle I keep hearing people talk about Geordie Shore, or are asked by tourists and people who have come up to Newcastle where so-and-so bar is, or in general people talking about bars which are seen in Geordie Shore. Well here is a guide to Newcastle, and the bars featured in Geordie Shore.
Background
First of all if you are coming to Newcastle then you probably want to go to more bars than the ones featured in the show; You will probably be here for a whole night or two, and Newcastle has so many bars to choose from. Not only that, most bars are set in areas, the main ones being:
The Diamond Strip (Collingwood Street)
The Gate
The Quayside
The Bigg Market
Everything In Between
As you can see from the map, if you wanna do a Geordie Shore style bar crawl then you don't have far to walk; All these bars are more or less on the same street, almost next door to each other. For the purpose of this I have included some other bars since some are similar, in the same area or just on because you should go to more bars! 😀
You'll also notice it's really close to the Central Station, so easy to get to 🙂
The Diamond Strip
It's currently considered the cool and trendy place to go, and has bars such as Madame Koo, Floritas, House Of Smith, Perdu and Bijoux. Round a couple of corners you have Tup Tup Palace (nightclub) and Ohso. Geordie Shore were famously banned from Perdu and all the bars it's associated with (The Fluid Group), but I have included it in this guide because it's the same type of bar as the rest.
The Bar Crawl – Old skool style, no pre-drinking, this is Newcastle, go out for the whole night, not at 11PM!
Start Off – Union Rooms
Let's make this easy, you can walk pretty much in a straight line for this bar crawl and have a great night. We'll start at Union Rooms. The Union Rooms is a Wetherspoons chain and is usually a good place to start. It can be busy, but it's a good place to get a couple of early drinks in, they are cheap, sell a big variety, and you can just chill a little bit before the real start of the night 😀 If you want to start with food, you can get it there, since they do meals. There is no music in this bar, it's definitely a "meeting" or talking bar.

This is what Revolution looks like, on the corner, with the other bars just down the road

Inisde Revolution on the higher level, it's pretty full!
Revolution – Cocktails, racks of shots, music, vodka
I love this place, the building is big and amazing, it was actually a former bank. Cool architecture, but let's talk about the drinks. Revolution is typically a vodka bar, but it does sell beer and other drinks. They do racks of shots, where you can get 12 shots, as well as pitchers of cocktails for all your mates. It's usually always packed, lots of girls, good music. Price is not the cheapest, but if you get a cocktail you WILL taste the alcohol in these. It's almost always busy, sometimes it can take a while at the bar but this is a great place.
Floritas Bar
Official Website
Walk past Madame Koo and you will find Floritas next door. Here you will be able to get more drinks, listen to the house music, dance, chill, talk, whatever floats your boat. Have a cocktail, get a beer, or if you wanna splash the cash get a bottle of your favourite spirit or champagne.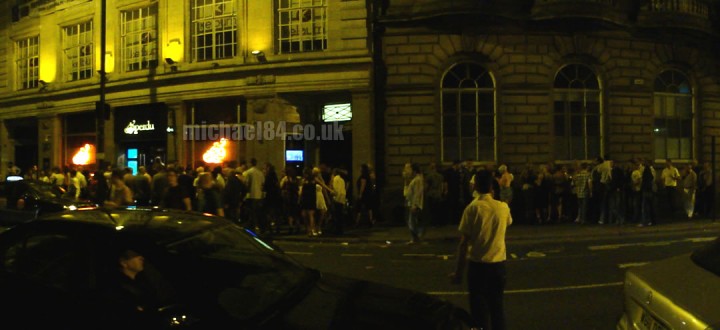 You can sort of see the queue for Perdu, this part of Newcastle gets busy at peak times
Perdu
Official Site
They banned the Geordie Shore cast from going here, but I have included Perdu because it's a similar type of bar and in the same area. If you are going on a Saturday night at the end of the month expect to queue at peak times, and their door policy can be quite selective. The music is house, and the drinks are not the cheapest, it's still a decent spot and can attract a good crowd. If you don't wanna queue, head round the corner to….
Ohso
Just round the corner from Perdu is Ohso. Walk in and you have a choice to make; Go upstairs, for a slightly quieter experience where there is music, or to the larger downstairs. Be wary of the times you go, despite it being a bar and not a club they charge after a certain time to get in.
Bijoux
Official Site
A favourite of the Geordie Shore lot which means it's got a lot busier, Bijoux is down the street from Perdu/Floritas and across the road. It's quite a small bar with a back area with seating, the main bar area has tables with a bit of a dancefloor, with a small VIP area. Book yourself a comfortable table which is basically on the dancefloor for an amazing night.

House of Smith, used to be Baby Lynch
Madame Koo, House Of Smith or Tup Tup Palace
It's probably time to hit a club now, and the choice is yours. You can head back up the road to Madame Koo or House Of Smith, or check out Tup Tup Palace. Koos is a place for everyone, various music and a diverse crowd. Tup Tup and House Of Smith are the places to go if you are looking for a more upscale end to your night, with house music pumping at Kinky Disco in Tup Tup you can dance the night away. Both clubs embrace the "Dress to impress" statement, to fit in with the crowd you have got to be looking your best.
It's probably 3AM now, so time to get something to eat and go home! 😉
Official Sites: House Of Smith, Madame Koo, Tup Tup Palace

Mimo, billed as a cocktail bar, just round the corner from Revolution
Other bars – Mimo
Official Site
There are a few more bars I have added which are in the area. Mimo is just round the corner from Revolution. They offer a load of cocktails at a reasonable price, if you are looking for a drink or two early on it could be the place.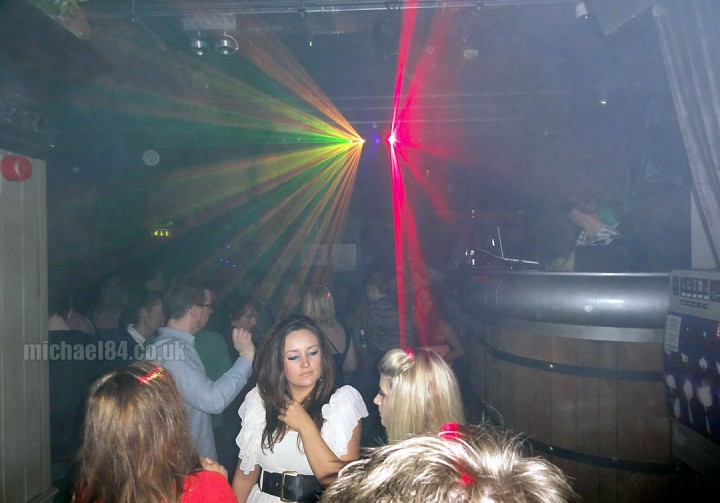 A night I had in Empress, check out the lazers!

The Empress
Official Site
A late bar which can be good, The Empress is really jumping with loads of great music and a good crowd. The drinks are pretty good, it can take a while to get served depending on how busy it is, and there is usually some kind of offers on.
"A good night out is more about the people you are with, rather than the places you go. You can have an amazing night out anywhere with the right group of people."
Have fun in my amazing city, Newcastle 😀 If you want to know more about all the best bars in the Toon, check out my Newcastle Bar Reviews which has the latest information and updates on Newcastle nightlife.
Credits
Photography: Michael84.co.uk (iPhone/Sony HX5/Canon 600D) do not use this pictures without written permission.